6 Campus Rec resources you may not know existed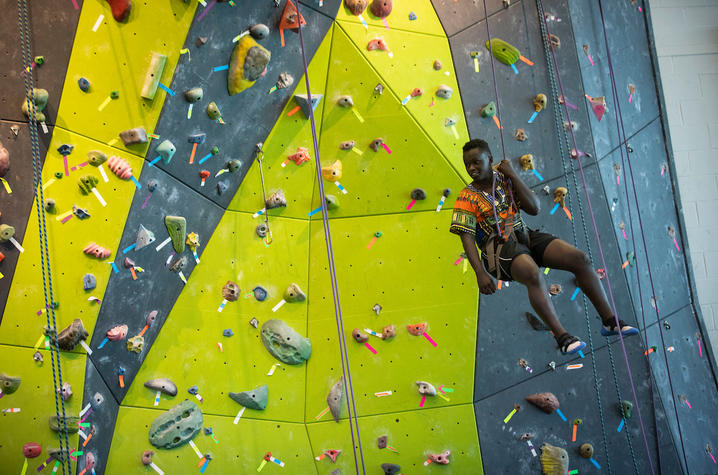 LEXINGTON, Ky. (Jan. 9, 2023) — The New Year presents us with what many people see as a clean slate. A time to reset, kick old habits and start new, healthy ones. Campus Recreation, housed in the Office for Student Success at the University of Kentucky, co-signs this idea. 
"The New Year is a great time to set goals and make a plan to reach those goals," said Mark Lattin, director of Campus Recreation. "Campus Recreation is ready to help you achieve those health goals through our wide variety of programs and services."
Their mission is simple: provide quality recreation and wellness programs that promote student success and healthy lifestyles. Through their mission and their unique services, Campus Rec is the perfect place for you to start your clean slate. 
Here are six resources that you may not know Campus Recreation has available that can help you put those New Year's resolutions in place. 
1. Fitness assessments with a certified personal trainer
These are great for anyone who is new to the gym and not sure how to start making progress toward their goals or for the avid gym-goer who wants to get an update on how they are progressing. Campus Rec offers two different types of assessments based on what you are looking for. You can read more about these here: www.uky.edu/recwell/fitness/fitness-assessment. These are free for all students and can take up to one hour.
2. Equipment orientations with a personal trainer
This is a great service for anyone new to Campus Rec facilities or someone unfamiliar with gym equipment. increase your confidence in the gym by having a personal trainer take you around the facilities and show you how to set up and use different equipment. Four different orientations are available: Cardio Equipment, Functional Equipment, Barbell/Free Weight and Selectorized Weight Machines. Sign up for one orientation, or all four! These are free for students and you can learn more and sign up at www.uky.edu/recwell/fitness/equipment-orientation. 
3. Reservable power rack space in the Johnson Center
Students can now book at no charge a 50-minute reservation for one of six new power rack's in the Johnson Center up to two days in advance. This is great for students balancing tight schedules or those who want to have a longer uninterrupted session on a power rack and deadlift platform. Make your reservation here: https://recwellservices.uky.edu/booking#. 
4. Adventure trips
Adventure trips are perfect for all types of students. Campus Rec has trips ranging in skill levels needed so that all students are able to get outside and find some adventure. Trips range anywhere from a day hike to a weeklong backpacking trip so you choose your adventure level. Trips can vary in price based on the length of trip and equipment needed. However, transportation and everything you need is provided with the cost of your trip. Learn more and register for a trip at www.uky.edu/recwell/outdoor-pursuits/adventure-trips. 
5. Recreation Swim at Lancaster Aquatic Center
Looking for a quick, nonimpact workout? Join Campus Rec during Recreation Swim hours for lap swim at Lancaster Aquatic Center (right next to the Johnson Center, attached to Seaton Center). All you need is a student ID and a bathing suit. Campus Rec even has towels and daily use lockers available for you. Check out the hours at www.uky.edu/recwell/aquatics/pool-hours. No registration required!
6. Climbing wall
Campus Rec's 1'400 square foot climbing and bouldering wall in the Johnson Center will challenge everyone from the beginner to the advanced. All levels of climbers from first timers to professionals are welcome! Campus Rec has all the equipment you will need, including a motivating staff to help you through a tough climb, so all you have to bring is your student ID. Check out our climbing wall hours at www.uky.edu/recwell/outdoor-pursuits/climbing-wall. No need to register or reserve your spot ahead of time!
For more information on all the programs, services and facilities at UK Campus Recreation, visit www.uky.edu/recwell.
At the University of Kentucky, students are at the center of all that we do. From the moment you become a Wildcat through graduation and beyond, the Office for Student Success is committed to supporting you. Comprised of five areas and 25 units, together, they have one vision — to help students live a life of meaning. Student Success works through an equitable, holistic and inclusive lens to design and deliver unparalleled services and support a diverse community of learners in achieving their wildest ambitions. In the Office for Student Success this is what we do — this is who we are. You can explore resources available to you here. If you have additional questions, you can reach a Student Success team member by calling the helpline 859-218-YouK (9685).