Houston, There's No Problem - the Wildcats are Back in the Final Four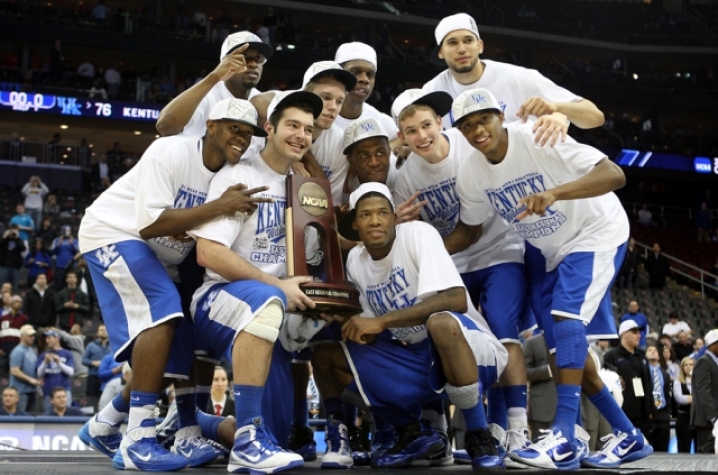 Click here for a photo gallery from the East Region Championship game.
NEWARK, N.J. (AP) - Kentucky spent 13 straight springs watching other schools play in the Final Four, a destination college basketball's winningest program considers its birthright.
At most places, that's hardly a drought.
In the Bluegrass, it's a lifetime.
Now coach John Calipari and the Wildcats are two wins away from a national title. Finally.
Brandon Knight scored 22 points and fourth-seeded Kentucky advanced to the Final Four for the first time since their 1998 national title with a 76-69 win over second-seeded North Carolina on Sunday in the East Regional final.
"We got Kentucky back," senior center Josh Harrellson said. "A lot of people doubted us. A lot of people really didn't think we'd be the team we are. We really pulled it together as a team, and we're back now."
The Wildcats (29-8) will play Connecticut in Houston on Saturday night after turning back a late surge by the Tar Heels (27-10), who erased an 11-point deficit before running out of gas in the final 2 minutes.
DeAndre Liggins added 12 points for Kentucky, including a 3-pointer from the corner with 37 seconds remaining to help lift the Wildcats.
A season after falling a game short of the Final Four behind a roster filled with future NBA stars, the Wildcats are heading to the national semifinals for the 14th time behind Knight's heady play and Calipari's relentless energy.
He revitalized the flagging program a year ago behind superstar John Wall. In Calipari's second season, he delivered on his promise to return Kentucky to glory.
Even if the guy who hired him wasn't sure this would be the year Kentucky would end its 13-year drought between Final Fours.
"I thought he was building toward it, but I didn't think this was the year," Kentucky President Lee T. Todd, Jr. said.
It didn't look like it in January, when the Wildcats couldn't win a close game. It didn't look like it in February, when they couldn't win on the road.
Calipari admitted it didn't look that way two weeks ago, when his team was relegated to a fourth-seed despite convincingly winning the Southeastern Conference tournament.
The powers that be put Kentucky in the same bracket as top overall seed Ohio State.
"I just thought the path to get here would be so ridiculous," Calipari said, "that we would have to play out of our minds or people would have to get knocked off."
Done and done.
For the complete story, click here.
For Final Four ticket information, click here.
To hear from the players after the game, click here.