Biennial Wood Expo Offers Family Fun, Educational Activities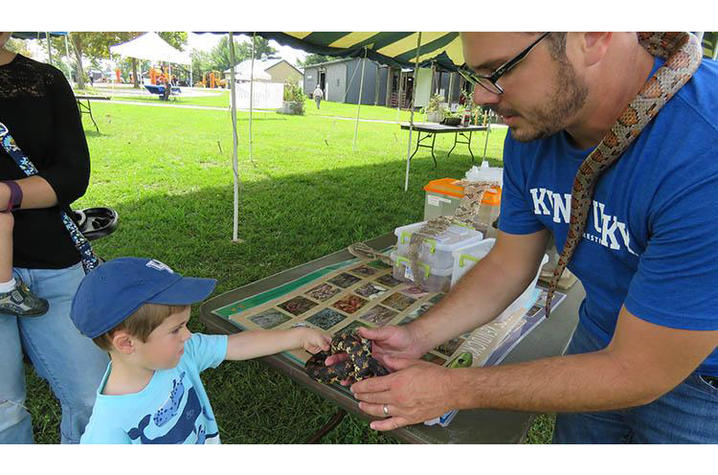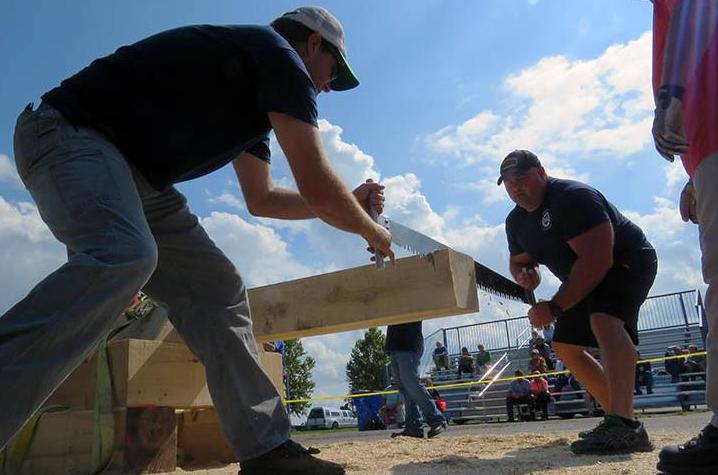 LEXINGTON, Ky. (Sept. 18, 2019) —The Kentucky Wood Expo returns to Masterson Station Park in Lexington from 9 a.m. to 5 p.m. Friday, Sept. 20, and 8:30 a.m. to 4:30 p.m. Saturday, Sept. 21. The University of Kentucky Cooperative Extension Service will have a big hand in two days of educational and fun activities for the entire family.
The biennial event, sponsored by the Kentucky Forest Industries Association, offers classes, competitions and more than 50 exhibits and demonstrations for everyone from the forest professional to lovers of wood and wildlife. Sawmill, pallet, logging, secondary and wood processing machinery will be on display along with a wide range of support services. Logger education classes will be offered, as well as educational opportunities for woodland owners.
Activities designed to interest everyone will include chain saw carving demonstrations, open lumberjack competitions, knuckleboom and skidder contests, log guess, craft displays and a silent auction to benefit the Log a Load for Kids and the Kentucky Children's Hospital.
From 9:30 a.m. to 1 p.m. Friday, youth of all ages can join the UK Forestry and Natural Resources Department, the Kentucky Department of Fish and Wildlife, and the U.S. Forest Service to learn about Kentucky's forests, wildlife, insects and forest products. Students have a chance to win an MP3 player in a game of "Guess the Weight of a Log." 
Also, on Friday, UK extension forestry specialists from the College of Agriculture, Food and Environment will offer training sessions for woodland owners. From 10 a.m. to 2 p.m., specialists will offer a session on timber economics, which will answer questions including how to manage timber and how to get the most out of it while sustaining the land for future harvests. From 2 p.m. to 4 p.m., a session on invasive plant management will be offered.
At 3 p.m. Friday, police and fire department teams will compete for bragging rights in lumberjack games that will include cross cut, underhand chop, axe throw and chainsaw cut.
A demonstration of small-scale logging will take place from 10 a.m. to noon Saturday. Safely harvesting timber using smaller equipment can result in conservation of natural resources and improved woodland management. The presentation will include exposure to general practices and equipment demonstrations to help landowners safely and efficiently cut and move logs and firewood. Demonstrations will be hosted by exhibitors and will include the use of ATV-mounted skidding plates, log arches, farm tractor log winches, ATV and tractor log loading trailers, chainsaw cutting and portable sawmilling.
"We want to give woodland owners and farmers the tools to be able to get started. It will help them make an informed decision, whether they're trying to start a small firewood operation or just trying to use a little bit of wood off their property," said Chad Niman, UK primary forest products specialist. "It also allows them the opportunity to think through the hard work and investment cost, compared to working with a knowledgeable logging professional."
Though not required, participants interested in the UK extension sessions are encouraged to preregister at http://ukforestry.org or by calling 859-257-7597. UK programs are free with Kentucky Wood Expo admission. Admission is $7 at the gate or $5 by calling 502-695-3979 in advance. Admission for children ages 6 to 12 is $5 and children under 6 get in for free. For more information on this year's expo, go to http://www.ukforestry.org.