Calling all Cyclists! Let's Get Flashy on Friday, Oct. 18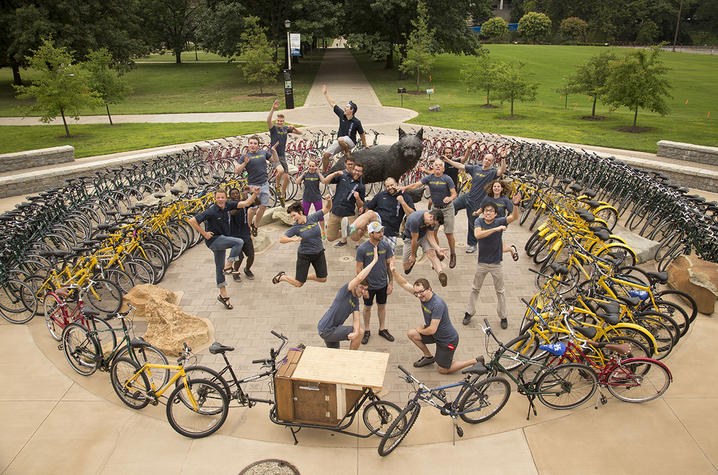 LEXINGTON, Ky. (Oct. 9, 2019) — Ever thought about participating in a flash mob? Well, this is your opportunity. University of Kentucky Transportation Services is celebrating the 15-year anniversary of Wildcat Wheels Bicycle Library (WWBL) with a cyclist flash mob. Just show up at the Rose Street Plaza — the area of Rose Street between Huguelet Drive and Funkhouser Drive — at noon Friday, Oct. 18. Bring your bicycle and get ready to smile for the drone.
Transportation Services staff plan to capture UK cyclists en masse and from up high. They will arrange cyclists to spell out "UK," create the shape of a bicycle and the number "15," time permitting. The resulting photos will be displayed in large scale at WWBL and shared widely on social media.
"Wildcat Wheels has really been the hub of the cycling community at UK for so long, it's hard to fathom how many people it's helped over the last 15 years," said Sandra Broadus, UK Transportation Services' alternative transportation manager. "I remember going there when I was a student, and it's still the same in so many ways."
In recent years, Wildcat Wheels has annually served between 6,000 and 7,000 students and employees who need help with bicycle maintenance. During its 15 years on campus, the  program has grown tremendously, helping pave the way for UK's designation in 2018 as a Gold-Level Bicycle Friendly University.
The WWBL shop is located on north campus, on the first floor of Blazer Dining. It employs knowledgeable and friendly students in a distinctly casual environment. It provides free bicycle check out options and repair assistance to students and employees for both short-term and long-term use and has an education-based repair shop, where student mechanics assist while students and employees learn to fix their own bikes. Gently used parts are available in exchange for volunteer time.
"I'm so excited to be here to help Wildcat Wheels celebrate this huge milestone, and I look forward to what's ahead for the organization in the future," Broadus said.
The future of the bicycle library is bright; funds are currently being raised to build a new Wildcat Wheels bike shop in order to help meet UK's cycling needs for the next 15 years.
To learn more about WWBL, visit the website, follow on Facebook or contact Wildcat Wheels by email at wildcatwheels@gmail.com.