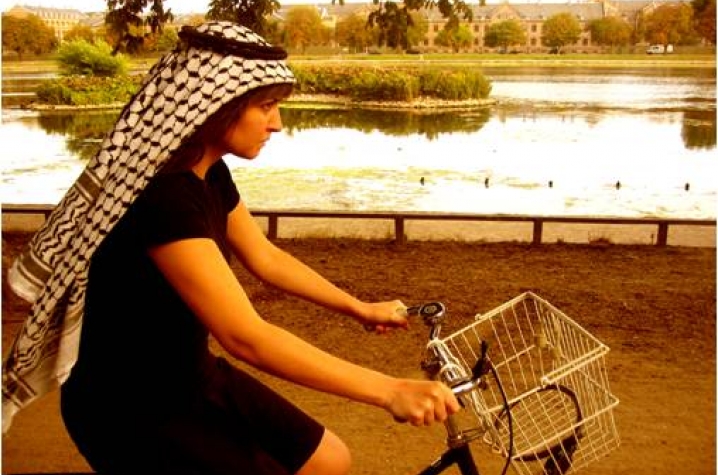 LEXINGTON, Ky. (Sept. 16, 2011) − The Art Museum at the University of Kentucky will present an illustrated talk on veiling by Jennifer Heath, the curator behind the museum's current exhibition "The Veil: Visible and Invisible Spaces." "(Dis)covering the Veil: History, Lore, and Politics" will begin at 2 p.m. Sunday, Sept. 18, in the President's Room at the Singletary Center for the Arts.
Jennifer Heath is an award-winning arts journalist, critic and author based out of Boulder, Colo. As part of her talk, "(Dis)covering the Veil" she will discuss her exploration of the complex and diverse practices of veils and veiling. Heath brings a unique perspective to an investigation of the veil, her childhood included years in Afghanistan, where the veil is prevalent, and was followed by many travels throughout the Muslim world.
"The veil has become a clichéd symbol for what the West perceives as Muslim oppression, tyranny and zealotry – all of which have little to do with the real reasons why Muslim women veil," says Heath.
Heath's profound interest in Islam and the history of cultures associated with it led her to author several books including "The Scimitar and the Veil: Extraordinary Women of Islam"; "The Veil: Women Writers on Its History, Lore, and Politics"; and "A House White With Sorrow: A Ballad for Afghanistan."
"(Dis)covering the Veil" is made possible with support from the Gaines Center for the Humanities. A donation of $5 is suggested to attend this talk.
"The Veil: Visible and Invisible Spaces" is a provocative exhibition that features 33 pieces from artists from the United States, Europe, South and Central Asia, and the Middle East divided into three thematic sections--the sacred veil, the sensuous veil and the sociopolitical veil. As part of the exhibit, Heath invited videographers, filmmakers and new media artists, as well as painters, sculptors, performance and installation artists, to investigate and re-imagine the veil. The show addresses issues such as modesty, oppression, liberation, freedom of expression, spirituality, nature and magic.
The exhibition "The Veil" runs to Oct. 9, at the Art Museum at UK. Admission to the exhibition is $8 for the general public, $5 for seniors, and free for all students and UK faculty, staff and alumni.
MEDIA CONTACT: Whitney Hale, (859) 257-8716 or whitney.hale@uky.edu