Former National Geographic Photographer Sam Abell Speaking on Campus Tonight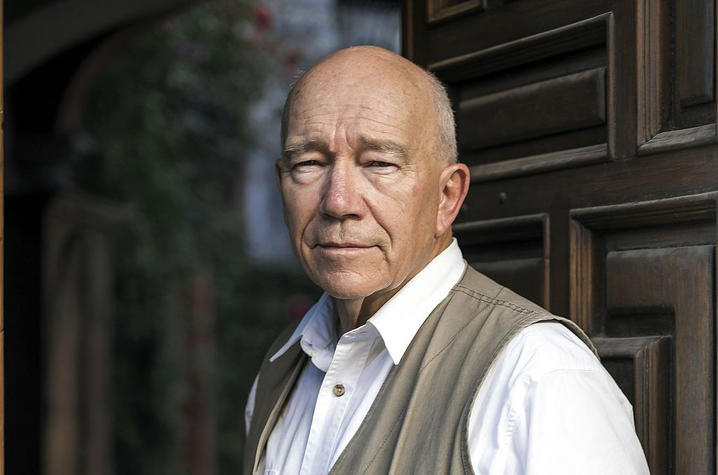 LEXINGTON, Ky. (April 19, 2018) — His pictures graced the pages of National Geographic for 33 years, and on Thursday this UK alumnus will deliver the 41st annual Joe Creason Lecture.
The University of Kentucky School of Journalism and Media, within the College of Communication and Information, will also recognize the photographer, Sam Abell, and eight other distinguished alumni as part of its Journalism Day Activities. The Creason Lecture, the announcement of the winners of the "David Dick What a Great Story!" Storytelling Awards and the introduction of the school's distinguished alumni will begin at 7:30 p.m. Thursday, in the Kincaid Auditorium of the Gatton Business and Economics building. The public and the university community are invited. 
The alumni to be recognized, in addition to Abell, are a popular and beloved Courier-Journal columnist; the editor of the newspaper of record for education; the founder of a public relations firm; an award-winning reporter, publisher and internet editor; a journalist whose career spanned 40 years including stints covering the Carter and Clinton White Houses and as a Washington correspondent; a two-time Kentucky Kernel editor-in-chief with a successful law career; a former reporter and editor who has served as communications director for three different Lexington mayors; and a Pulitzer Prize-winner for the Lexington Herald-Leader.
Sam Abell (JOU/'69) began his photographic career before he ever stepped on the UK campus. The son of two teachers, he cites the influence of his father, a geography teacher and sponsor of a photography club, in the development of his career choice. He won an award in a national high school photography contest in 1960 for a black-and-white picture of his father standing at a train station. At UK, he became the editor of the Kentuckian yearbook, producing a two-volume set. After graduation, an interview led to his career taking photographs for National Geographic and a series of popular books. He is a teacher, an artist and an author. He was inducted into the Kentucky Journalism Hall of Fame in 1991 and into the university's Hall of Distinguished Alumni in 2000.
Gene Clabes (JOU/'69) is an award-winning reporter, former owner/publisher of a group of award-winning community weeklies in Northern Kentucky and the associate editor of the Northern Kentucky Tribune, an online news site. He has also been a college journalism instructor and served as president of the Kentucky Press Association. A native of Henderson, Kentucky, he started in journalism in high school as a sports reporter for The Gleaner, was managing editor of the Kernel, was an award-winning education reporter for The Evansville Courier and government reporter for the Evansville Press. He was inducted into the Kentucky Journalism Hall of Fame in 2004 and was awarded the Distinguished Alumni Award by the UK College of Communication and Information in 2005.
Joe Creason (JOU/'40) was born in Benton in far Western Kentucky. After graduation, he edited newspapers in Benton and Murray, Kentucky, before accepting a position in 1941 as a sports reporter, which led to opportunities as a feature writer and columnist for The Courier-Journal. His popular column, "Joe Creason's Kentucky," began in 1963 and documented the lives of everyday Kentuckians. The articles were collected into two books and a record album. He was also president of the UK Alumni Association. The Bingham family, owners of The Courier-Journal, other friends of Creason, and UK alumni established the Joe Creason Lecture Series, which began in 1977 with a lecture by nationally syndicated columnist James J. Kilpatrick. He was inducted into the Kentucky Journalism Hall of Fame. He will be represented by his son Bill Creason.
Virginia Edwards (JOU/'78) oversaw the 90-person, $14.5 million-a-year nonprofit corporation that publishes Education Week and edweek.org as president of Editorial Projects in Education from 1997–2016. From 1989–2016, she served as editor-in-chief of Education Week — the premier "newspaper of record" for precollegiate education in the United States. She also served as editor of edweek.org, which reaches an audience of more than 1.2 million registered users. Before joining Educational Projects in Education, she worked for two years at the Carnegie Foundation for the Advancement of Teaching and, for nearly 10 years before that as a reporter and editor at The Courier-Journal. She was inducted into the Kentucky Journalism Hall of Fame.
John R. (Jack) Guthrie (JOU/'63) founded Guthrie/Mayes Public Relations, one of the largest independently owned public relations firms in Kentucky. He sold his interest in 2005 to three senior staff members. Guthrie began his career in 1964 in the public relations department of Philip Morris Inc. in New York City. He was appointed community relations manager for the company's Louisville facilities in 1967 and moved back to New York as director of communications for Philip Morris in 1969. He returned to Louisville as president of the Kentucky Derby Festival (1971-1977) where he was the driving force that propelled the two-week event into national prominence as one of the nation's largest civic celebrations. He was appointed to the UK Board of Trustees for a six-year term as alumni trustee in 1996. Guthrie was named president of the UK Alumni Association in 1988 and remains on its board of directors. For eight years, beginning in 1993, he was president of UK's School of Journalism Alumni Association and chairman of the Kentucky Journalism Hall of Fame Committee.
Walter M. Grant (JOU/'67) was born and raised in Winchester, Kentucky. After graduating from high school, where he was editor-in-chief of the high school newspaper, he attended Centre College for one year before transferring to UK so he could major in journalism. He served as editor-in-chief of the Kernel during both his junior and senior years at UK. After graduation he moved to Washington, D.C., where he served as editor of the College Press Service for one year. He then enrolled in law school at Vanderbilt University and graduated first in his class. During his third year in law school, he served as editor-in-chief of the Vanderbilt Law Review. Grant joined the law firm Alston & Bird, still one of the largest law firms in Atlanta and the Southeast and was named a partner in the firm. While maintaining an active law practice, Grant also served as editor-in-chief of the Georgia State Bar Journal for three years. In 1983, one of Grant's clients, Contel Corporation, persuaded him to join Contel as its general counsel. Grant continued in this capacity for eight years until Contel was acquired by GTE Corporation, which later became a part of Verizon Communications. After serving as general counsel of three other companies in different industries, Grant decided to take a different path. Since then, he has been involved in several businesses in different capacities and has served as a member of the board of directors of several companies.
William Neikirk (JOU/'60) is an award-winning journalist, working for more than 40 years as a Washington correspondent, columnist and editor. He was chief economics correspondent, White House correspondent during the Carter administration, and Washington Bureau news editor for the Chicago Tribune in the 1970s and early 1980s. He later served as the newspaper's assistant managing editor for business news in Chicago and then returned to Washington to cover the Clinton White House. Before joining the Tribune, he worked as a reporter for the Associated Press in Lexington and Frankfort, Baton Rouge, Louisiana, and Washington, D.C. His awards include the Merriman Smith Award for presidential reporting. He was a runner-up for the Pulitzer Prize for a series on the impact of foreign trade. He wrote two books: "Volcker: Portrait of the Money Man" and "The Work Revolution: How High-Tech Is Sweeping Away Old Jobs and Industries and Creating New Ones in New Places." Now retired, he and his wife, Ruth, both born and raised in Kentucky, live in Northern Virginia. He was inducted into the Kentucky Journalism Hall of Fame. He is unable to make the trip to UK and will be represented by members of his family.
Susan Straub (JOU/'77) started her career working in newspapers, first in Georgetown and then in Northern Kentucky. She was promoted to the position of a suburban editor at The Cincinnati Post. After 10 years as a reporter and editor, she began working in public relations, and soon found her way to the Lexington Mayor's Office, serving as communications director for then-Mayor Pam Miller, Lexington's first woman mayor. Today, Straub is working for her third mayor, Jim Gray. When she began her work at City Hall, Lexington was a city of 225,000. Now the population tops 318,000. The dramatic growth has brought dramatic change, and Straub has enjoyed the opportunity to keep her community informed and translate the complicated work of government into language everyone can understand. She has two sons and is a devoted and doting grandmother of two young Straubs.
Michael York (JOU/'74) was the political writer for the Kernel and broke two national stories as a student covering democratic Sen. George McGovern's 1972 presidential campaign. He worked part-time as a reporter for Durham Morning Herald while attending law school at University of North Carolina. He helped put out the first edition of The Legal Times in Washington, D.C., then he joined the staff of the Lexington Herald. York won awards from the Kentucky Press Association and shared in the 1980 E.W. Scripps First Amendment Award. He won the 1986 Pulitzer Prize for Investigative Reporting with Jeffrey Marx for a series of stories on NCAA rules violations in UK basketball and at other schools. York moved to Washington in 1983 as the Lexington Herald-Leader's correspondent, then to The Washington Post in 1987 as investigative reporter. He formed a law firm, Wehner & York, in 1994, which represents journalists, bloggers and news websites, among other clients. He has been inducted into the Kentucky Journalism Hall of Fame.