Education Activist Steve Perry to Speak at UK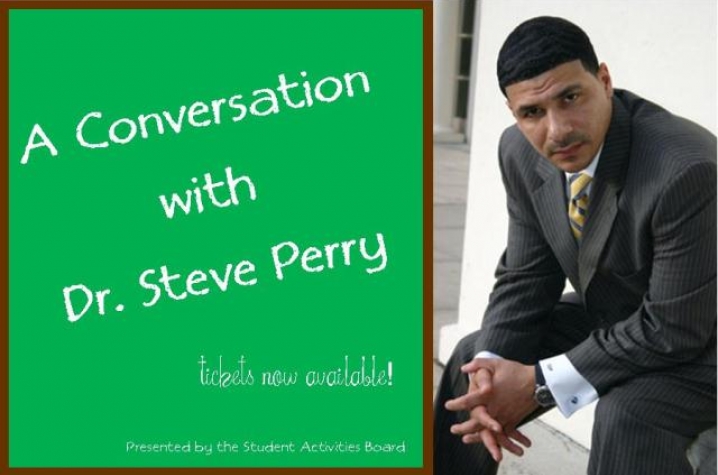 LEXINGTON, Ky. (Oct. 28, 2011) – Although America is considered the land of opportunity, not all children have the opportunity to have a first-class education.  Activist and education advocate Steve Perry will address this issue when he speaks on how community members can help America's children get the education they need and deserve at 7 p.m. Thursday, Nov. 3, in Memorial Hall. This event is sponosred by the Student Activities Board's Multicultural Affairs Committee in.
Students, faculty and the general public can pick up a free ticket at the Student Center ticket office weekdays 9 a.m. to 4 p.m. For questions, contact the ticket office at (859) 257-TICS.
Born into poverty, Perry grew up to believe success in life is determined by where you end, not where you start. Using this philosophy as his guide, he made a mission to transform the lives of poor and minority children and provide them with access to better education. Perry is best known as the founder of Capital Preparatory Magnet School in Hartford, Conn., which has boasted a 100 percent graduation and enrollment in four-year university programs for a period of six years.
In his most recent book, "Push Has Come to Shove: Getting Our Kids the Education They Deserve (Even if it Means Picking a Fight)," Perry describes what steps need to be taken to transform the educational experience and ensure that all American schools deliver a first-rate education to its students.
"We are told from a very young age that it is necessary to invest in higher education, but unfortunately in a country where education programs are constantly being slashed to save our budget this seems nearly impossible," said Alli Sehon, director of SAB Multicultural Affairs committee. "Having a visionary like Dr. Perry come speak will not only be inspiring for educators but for students as well." 
The Student Activities Board brings more than 100 entertaining, educational and enriching programs that are reflective of contemporary issues and trends to the University of Kentucky annually. These programs are designed to enhance the college experience for students, faculty, staff and the greater Lexington community.
Connect with SAB at http://www.uksab.org, follow on Twitter at http://twitter.com/UKSAB or like SAB on Facebook at http://www.facebook.com/UKSAB. For more information about SAB and SAB events, contact publicrelations@uksab.org or text a question beginning with SABQ, followed by your question or comment, to 411-247.