UK Campus, Public Celebrate UK Core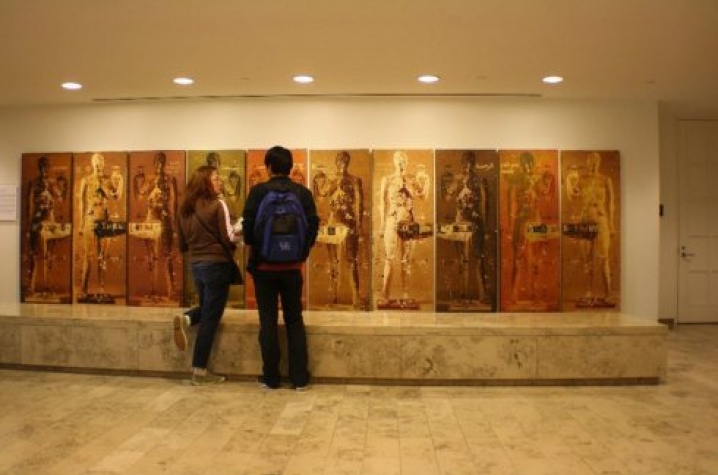 LEXINGTON, Ky. (Sept. 1, 2011) — The University of Kentucky is celebrating a new chapter in its general education program with a campus and community celebration of citizenship on Sept. 6. 
The UK Core celebration will take place from 1-2:30 p.m. Tuesday, Sept. 6, in the William T. Young Library on UK's campus. The event can also be viewed live online at  www.uky.edu/GenEd/
The idea of preparing students with the critical thinking skills they need to succeed in a competitive global economy plays a central part in UK's new general education requirements, also known as UK Core.
UK Core, which is fully integrated into all undergraduate degree programs as of the fall 2011 semester, is a course of study that all students, regardless of major, must complete, replacing the University Studies Program (USP) requirements that UK has had in place since the mid-1980s.
In honor of UK Core, Young Library is also hosting a major 10-panel art work by Lexington artist Marjorie Guyon.
Guyon's "Nation of Nations" is an exploration of people, place and promise in a series of 10 paintings. Each panel depicts a 6-foot-8-inch figure — a bit taller than human scale.  On each one, the phrase, "Have Mercy on Us," is written in a different language: Cherokee, Chinese, Spanish, Swahili, Cyrillic, Haitian, English, Arabic, Hindi and Hebrew.  In addition the titles of the 10 paintings echo the anthems, "My Country, 'Tis of Thee" and "America the Beautiful."
In addition to showcasing Guyon's "Nation of Nations" artwork, The UK Core celebration will also feature student testimonials and performances by UK Opera Theatre and UK Department of Theatre.
Journalism student Ashley McIntyre and nursing student Meng Zhang will share their experiences as students in one of UK Core's Arts & Creativity pilot classes.
A quartet comprised of UK opera students Ellen Graha, Julie LaDouceur, Luther Lewis and Michael Preacely will perform the American spiritual "He's Got the Whole World in His Hands."
UK theatre majors Dominique Luster, Madison McGhee, Michael Sheehy and Abby Sheridan will perform a six-minute excerpt from Ariel Dorfman's "Speak Truth to Power: Voices from Beyond the Dark."
Adapted from a book by Kerry Kennedy, this "Speak Truth to Power" features the testimonies of ordinary people from all over the world who witnessed injustices in their communities and decided to do something, often times at the peril of imprisonment, torture and death. This piece addresses the UK Core component on citizenship.
The celebration will even find its place in the virtual world of Second Life on the University of Kentucky Island (UKy Island). The event will be live streamed in Second Life where people inworld will conduct a "This I Believe..." activity with the Nation of Nations Voice Thread in the island's Perennial Peace Garden, which was built by Gaines Fellow and international studies student Jessica Anderson.
Sharon Collingwood (avatar Ellie Brewster in Second Life), the director of Ohio State University's Women's Studies Program, will offer mini-orientations of the Nation of Nations voice thread on a tablet inworld for new Second Life users so they can add to it during the celebration from within Second Life. Outside the virtual world, Jen Bartlett, head of reference services at UK Libraries, will be on hand at The Hub to give guidance to Second Life Users.
The President and Provost will host a public reception immediately following the celebration.