UK Celebrates Second Anniversary of Tobacco-free Campus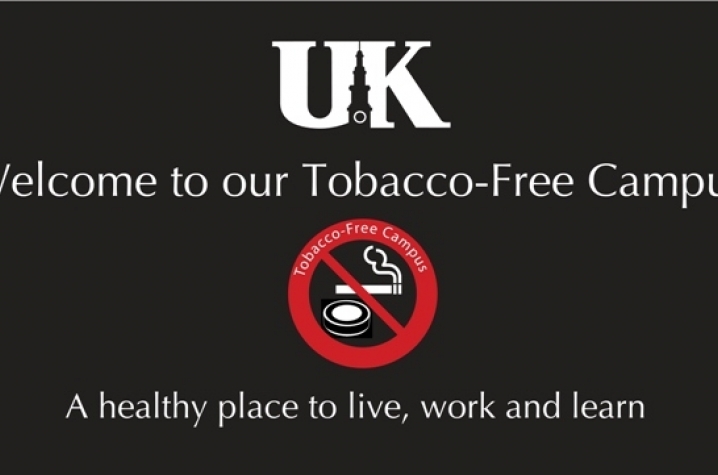 LEXINGTON, Ky. (Nov. 11, 2011) − As the University of Kentucky joins with college campuses and health groups across the nation to mark the American Cancer Society's 36th Annual Great American Smoke Out on Thursday, Nov. 17, the UK campus will also mark the second year anniversary of going tobacco-free.
UK's tobacco-free policy began Nov. 19, 2009, with the goal of making UK a healthier place to live, work, and learn. The initiative is spearheaded by the Tobacco-free Task Force, co-chaired by Ellen Hahn, professor in the UK College of Nursing and Anthany Beatty, assistant vice president for Campus Services. The members of the task force represent a diverse cross-section of students, staff, and faculty from departments and service areas at UK.
"The reason tobacco-free campuses are a national trend is due, in part, to the exorbitant health care costs associated with tobacco-related illnesses. Kentucky spends over $1.7 billion per year treating sick smokers," said Hahn, who is also director of the Kentucky Center for Smoke-free Policy.
"As the University of Kentucky approaches its second anniversary as a tobacco-free campus, we continue to see significant increases in the number of employees and students taking advantage of our tobacco cessation aid programs," UK President Eli Capilouto said. "Tobacco use causes far too many completely preventable deaths and health ailments in Kentucky. I am proud of the fact that our flagship university has become a statewide leader in tobacco cessation initiatives and treatment. The impact of that bold move two years ago continues to ripple across the state."
Since the implementation of the tobacco-free policy, which prohibits the use of all tobacco products on campus (cigarettes, chew, pipes, cigars, snuff, electronic cigarettes, etc.), the university has seen a dramatic increase in employees and students enrolled in programs to quit smoking or use tobacco. In the two years since the campus went tobacco free, employees and students were seven times more likely to attempt to quit smoking and/or use tobacco compared to before the policy was in effect for the entire campus. The university provides free nicotine replacement products for employees, sponsored dependents, and students enrolled in tobacco treatment programs.
"Tobacco-free environments make it easier for people to quit and lower the chances that young people will start smoking," said Audrey Darville, tobacco treatment specialist, UK HealthCare.
A tobacco-free policy has been in effect at the UK Medical Center and all UK HealthCare-owned facilities within Fayette County since November 2008.
"Overall, the response to the policy by students and employees has been very positive, with most people complying with the policy," said Anthany Beatty, co-chair of the Tobacco-free Task Force.
Events are planned across campus as part of the week long observance of the second year tobacco-free anniversary.
Sunday, Nov. 13: Free to Breathe Lung Cancer 5K Walk
8-11 a.m. (walk begins at 9:15 a.m.)
Albert B. Chandler Hospital Pavilion A (Registration in the Rose Street Plaza)
Monday, Nov. 14: Media Event and Celebration!
10-11 a.m., Room 230, Student Center
Data on the effects of the tobacco-free policy will be presented. Employees and students will share their stories. All will enjoy anniversary cake.
Tuesday, Nov. 15: Why I Like Tobacco-free! 'Snap Shot Station'
9 a.m.-noon, Room 206, Student Center
Tobacco-free Take Action! Ambassadors will host an opportunity for employees, students and visitors to write down or talk about why they like UK's tobacco-free campus.
Wednesday, Nov. 16: Free Fountain Drink Frenzy Wednesday
8:30-11:30 a.m., Rose Street walkway, Classroom Building/POT, Medical Center campus
Message card distribution with a free fountain drink coupon on one side and a reminder about the tobacco-free policy and treatment resources on the other.
Thursday, Nov. 17: Great American Smoke Out: 'Don't Go Cold Turkey…Learn S'more about Quitting.'
11 a.m.-2 p.m., Rose Street walkway, Classroom Building/POT
Free cold turkey sandwiches, s'mores, hot chocolate, and information about quitting.
For more information about UK's tobacco-free policy, go to: www.uky.edu/Tobaccofree