UK Office of LGBTQ* Resources hosting campus Pride Week starting April 6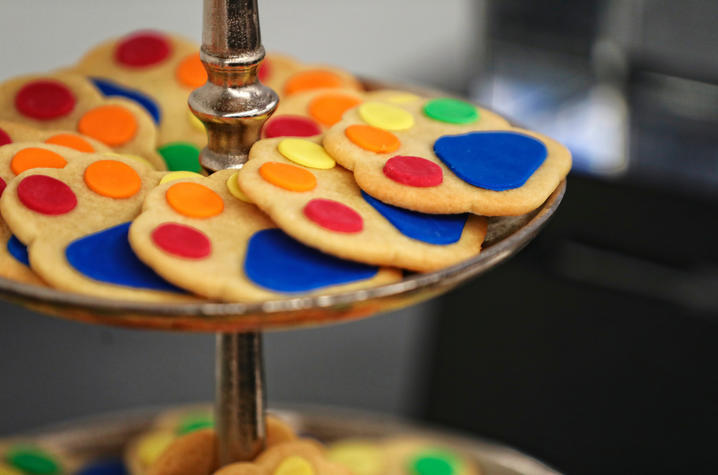 LEXINGTON, Ky. (April 4, 2023) — The University of Kentucky Office of LGBTQ* Resources, housed in the Office for Student Success, will host Pride Week beginning April 6.
While Pride Month is nationally recognized in June to provide students, faculty and staff with an opportunity to honor Pride on campus, UK celebrates Pride Week every April.
Throughout the week, campus acknowledges the diversity of identities, experiences and histories in the LGBTQ* community and recognizes all who have and continue to advocate for LGBTQ* lives, rights and visibility.
"Pride events are about human rights; they empower LGBTQIA+ individuals to reclaim the rights and freedoms they are denied, and the public space they are often excluded from," said J'Lissabeth Faughn, director of LGBTQ* Resources.
Educational and social events will take place throughout the week around campus — providing a space to engage in important conversations that impact our communities and allow opportunities for us to grow together.
Events include: 
GAYLA Drag Show, sponsored by Gender Sexuality Alliance | 7-9 p.m. Thursday, April 6 | Cat's Den
Queer a La Mode Social | 3-5 p.m. Monday, April 10 | Gatton Student Center Starbucks
What's the T? Conversation with a Drag Professor | 3:30-4:30 p.m. Tuesday, April 11 | Dinkle-Mas Suite
Lavender Graduation | 5-7 p.m. Wednesday, April 12 | Singletary Center for the Arts
Campus Wide Safe Zone | noon-1:30 p.m. Friday, April 14 | Martin Luther King Center
What's the T? Queering Glee | 3-4 p.m. Friday, April 14 | Dinkle-Mas Suite                           
Faughn believes this year's Pride is more important than ever.
"People are still attacked and harassed because of their (real or perceived) sexual and gender identity. Homophobic and transphobic hate crimes have a devastating impact on LGBTQIA+ communities," she said. "We want to have social activities, so folks can come together and support one another."
More about the Office of LGBTQ* Resources
The Office of LGBTQ* Resources is housed in the Dinkle-Mas Suite in the Gatton Student Center.
The suite, open 9 a.m.-4:30 p.m. Monday-Friday, serves as a hub for accessing services, which includes community building, education and advocacy initiatives that support students, faculty and staff in succeeding as their open and authentic selves.
Throughout the entire year, individuals can also visit the suite to access direct or referral services related to on-campus housing, holistic health and inclusive institutional identifiers. 
At the University of Kentucky, students are at the center of all that we do. From the moment you become a Wildcat through graduation and beyond, the Office for Student Success is committed to supporting you. Comprised of five areas and 25 units, together, they have one vision — to help students live a life of meaning. Student Success works through an equitable, holistic and inclusive lens to design and deliver unparalleled services and support a diverse community of learners in achieving their wildest ambitions. In the Office for Student Success this is what we do — this is who we are. You can explore resources available to you here. If you have additional questions, you can reach a Student Success team member by calling the helpline 859-218-YouK (9685).