VIP Center Recognizes Domestic Violence Awareness Month With Week of Action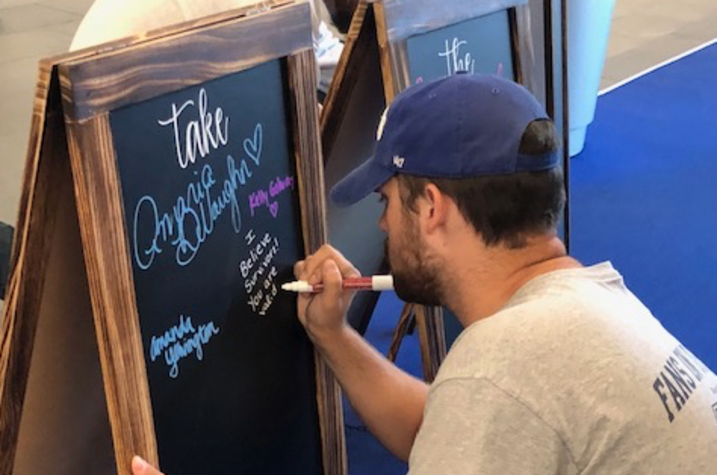 LEXINGTON, Ky. (Oct. 7, 2019) — In honor of Domestic Violence Awareness Month (DVAM) during the month of October, the University of Kentucky Violence Intervention and Prevention (VIP) Center is hosting the VIP Center Week of Action. 
"As with all forms of interpersonal violence, domestic violence is something that anyone can experience; it does not discriminate," said Taryn Henning, director of the VIP Center. "So when we have statistics that tell us one in four women and one in nine men have experienced severe intimate partner physical violence, which can be from domestic or dating violence, a picture is created for us that this is beyond any doubt an important issue that needs to be addressed."
The Week of Action is dedicated to raising awareness about the impact of interpersonal violence and the role the university plays in making a difference in the UK community. Led by the Green Team, the center's group of peer educators, this week is intended to share resources and knowledge while supporting the center's work to shape a violence-free campus. 
The VIP Center addresses sexual and gender-based violence, which can include sexual assault, rape, stalking and intimate partner violence and warmly welcomes students, faculty and staff from all backgrounds who want to learn how to be a proactive bystander or who are seeking free, confidential services.
"At UK, the VIP Center works to address interpersonal and domestic violence in a variety of ways," Henning said. "We work to offer advocacy services to help students, faculty and staff who have been exposed to domestic violence. We also work to prevent this violence from occurring through offering Green Dot bystander intervention trainings and through teaching students about what consent looks like."
The Week of Action will run from Monday, Oct. 7, through Friday, Oct. 11. The schedule is as follows:   
Tabling
Tuesday, Oct. 8 | Gatton Student Center
3-5 p.m.  
Note to Self — Journaling Workshop
Wednesday, Oct. 9 | VIP Center
noon-1 p.m. 
Note to Self is a self-care journaling session in a safe space for students to enjoy an intentional moment for self-care. This workshop will promote reflection, focusing on positive visualization techniques. Attendees will nurture their creativity while discovering new self-care methods. Free journal and supplies provided to all attendees! Tabling  Thursday, Oct. 10 | Gatton Student Center
8-10 a.m.   
Additional DVAM events in the Lexington community: 
Sweet Dreams Drive Against Domestic Violence 
Oct. 7-31
Looking for a chance to do good? Donate bedding supplies, pajamas, baby supplies or plush toys to the residents of Greenhouse 17. All donations must be new and can be dropped off at the VIP Center. 
End The Silence Candlelight Vigil  Thursday, Oct. 17 | Robert F. Stephens Courthouse Plaza 5:30-7:30 p.m. 
National Wear Purple Day Thursday, Oct. 24
To learn more about the VIP Center's services, visit the center's website here. If you have additional questions about the VIP Center, you can reach the staff at 859-257-3574 or by email at vipcenter@uky.edu.