$1.6M gift to Markey will establish endowed chair in gynecologic oncology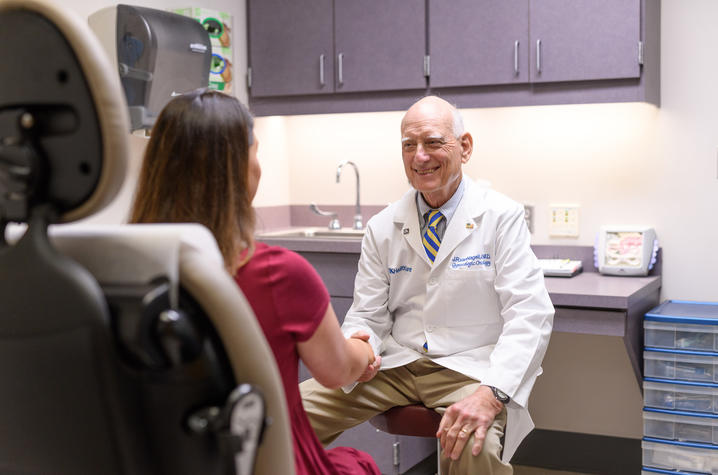 LEXINGTON, Ky. (Feb. 6, 2023) — The University of Kentucky Markey Cancer Center has received a $1.6 million gift to establish the John R. van Nagell, Jr. Chair in Gynecologic Oncology. The gift will be formally accepted at a later date, subject to UK Board of Trustees approval.
Given from the Telford Foundation to UK HealthCare, the donation will create an endowed chair in honor of John R. van Nagell Jr., M.D., medical director of UK Markey Cancer Center's Ovarian Cancer Screening Program. 
The $1.6 million donation will be matched by $800,000 from UK's Research Challenge Trust Fund (RCTF), to result in a total gift of $2.4 million that will support the senior level faculty position.
A national leader in gynecologic oncology, van Nagell has 56 years of service at UK, specializing in the diagnosis, research and treatment of women's cancers.
"We are incredibly grateful for this gift and the Telford Foundation's continued support of the gynecologic oncology program," said UK President Eli Capilouto. "The endowed chair is a fitting honor for van Nagell's decades of service as a physician-scientist and will continue his legacy of research and service in the Commonwealth and beyond."
Van Nagell joined UK HealthCare as a resident in 1967, about 16 years before the creation of the UK Markey Cancer Center. In 1987, he started Markey's Ovarian Cancer Screening Program, an ongoing research endeavor that provides free ovarian cancer screenings by transvaginal ultrasound to women across Kentucky. 
"I am extremely grateful to the Telford Foundation for this generous and significant donation," said van Nagell. "Mr. Telford was a wonderful friend and a dynamic business leader who was dedicated to improving cancer care for Kentucky women. This donation will help establish a Program of Excellence for Research and Treatment of Women's Cancer in the Markey Cancer Center and will help us expand the University of Kentucky Ovarian Cancer Screening Program throughout the Commonwealth."
Ovarian cancer is the leading cause of gynecologic cancer mortality in the U.S. This year, the American Cancer Society estimates that approximately 13,770 deaths from ovarian cancer will be reported in the U.S., making it the fifth leading cause of cancer mortality in women.
Under the direction of van Nagell, UK's Ovarian Cancer Screening Program has provided more than 345,000 free screenings to more than 49,000 women throughout Kentucky. 
In addition to saving hundreds of lives through early detection, the research program has had a global impact, helping clinicians and scientists understand more about early ovarian cancer detection, including identifying malignancies and women at risk of developing ovarian cancer. 
"With Kentucky leading the nation in both cancer incidence and mortality, nowhere in the country is funding for cancer resources more important," said Mark Evers, M.D., director of the UK Markey Cancer Center. "One of Markey's most valuable resources is its outstanding clinical faculty, and investments like this gift help us recruit the best and brightest in the field of cancer."
Endowed faculty positions are highly coveted achievements and play a central role in retaining and attracting the highest-level clinician-scientists and researchers. With an endowed position, the donated money is permanently invested and generates annual spending distributions, which are used to support the goals and objectives of its named role in perpetuity. 
"This generous gift recognizes Dr. van Nagell's many decades of research, education and clinical work, and it provides us with additional resources to continue making advances in this field," said UK Provost and Acting Co-Executive Vice President for Health Affairs Robert DiPaola, M.D. "At UK, we recruit and retain faculty who are leaders in their field, and gifts like this ensure that we are able to do that for generations to come."
The Telford Foundation has provided ongoing support to help maintain the ovarian cancer screening program since it was launched, with recent donations laying the groundwork for expansion to four new clinical screening locations across Kentucky.
Since receiving a National Cancer Institute Designation in 2013, Markey's clinical, research, and education and outreach efforts have grown exponentially. Philanthropic support like the Telford gift plays a vital role in Markey's ability to meet the increased demand for its services. In February 2022, UK HealthCare announced a historic $10 million gift from Central Bank — the largest in UK HealthCare history — to support expanded patient care at the UK Markey Cancer Center. This gift launched an initiative to raise $90 million to improve cancer care in Kentucky. 
UK HealthCare is the hospitals and clinics of the University of Kentucky. But it is so much more. It is more than 10,000 dedicated health care professionals committed to providing advanced subspecialty care for the most critically injured and ill patients from the Commonwealth and beyond. It also is the home of the state's only National Cancer Institute (NCI)-designated cancer center, a Level IV Neonatal Intensive Care Unit that cares for the tiniest and sickest newborns, the region's only Level 1 trauma center and Kentucky's top hospital ranked by U.S. News & World Report.  
As an academic research institution, we are continuously pursuing the next generation of cures, treatments, protocols and policies. Our discoveries have the potential to change what's medically possible within our lifetimes. Our educators and thought leaders are transforming the health care landscape as our six health professions colleges teach the next generation of doctors, nurses, pharmacists and other health care professionals, spreading the highest standards of care. UK HealthCare is the power of advanced medicine committed to creating a healthier Kentucky, now and for generations to come.