Assistant Dean in College of Nursing Designated a Master of Critical Care Medicine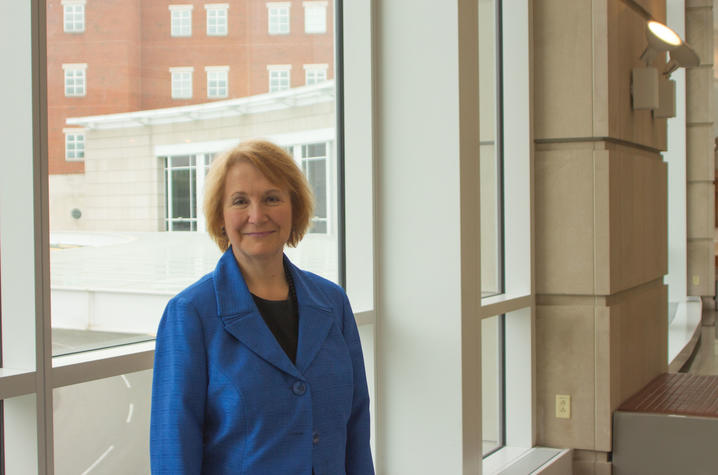 LEXINGTON, Ky. (Feb. 21, 2019) ­– University of Kentucky College of Nursing Professor and Assistant Dean of MSN and DNP Program Studies Carol Thompson was designated a Master of Critical Care Medicine (MCCM) by the Council of the Society of Critical Care Medicine (SCCM) at the SCCM 48th Critical Care Congress in San Diego held Feb. 17-20.
As the first acute care nurse practitioner (ACNP) and the second nurse to be president of SCCM, Thompson has made extraordinary contributes to advance acute care nurse practitioner education, clinical practice and scholarship. Now, Thompson is setting history again as the second nurse with the MCCM designation.
"We hope that this distinguished group of critical care practitioners and researchers will help us meet the challenge facing critical care and lead us in this millennium," said Dr. Jerry Zimmerman, president of SCCM. "The MCCM designation implies that [Thompson] will continue to advance technical and cognitive aspects of multi-professional critical care and serve as a role model for younger critical care practitioners and researchers."
This designation honors SCCM Fellows who have distinguished themselves by achieving national and international professional prominence through personal character, leadership, eminence in clinical practice, outstanding contributions to research and education in critical care medicine, or years of exemplary service to SCCM, ACCM and the field of critical care medicine in its broadest sense.
"We congratulate Dr. Thompson on this profound achievement," says Janie Heath, dean and Warwick Professor of Nursing at the UK College of Nursing. "Her recognition is a testament to her dedication, leadership and trailblazing efforts to advance acute care NP education and scholarship."
Thompson was the first ACNP on the national board of directors of the American Association of Critical Care Nurses; the first ACNP to serve on the Tennessee Board of Nursing; and was among the first 100 nurses to be certified as an ACNP. During her 31-year academic career, she developed one of the early ACNP programs at the MSN and then DNP level.
As she embraced technological advances in education, she became a founding member of the Society of Medical Simulation and developed expertise in online learning. Her scholarship interests have included dyspnea, pain, agitation, delirium and mobility in critically ill adults. Since 2013, she has delivered more than 30 international presentations.
Thompson received her bachelor's degree in nursing from Florida State University, a master's in nursing from the University of Maryland, a Ph.D. in nursing from Case Western Reserve University and a doctoral degree in nursing (DNP) from the University of Tennessee Health Science Center. She has achieved Fellow status in the American College of Critical Care Medicine, the American Association of Nurse Practitioners and the American Academy of Nursing.