Birth Experience Inspires New Purpose Practicing Midwifery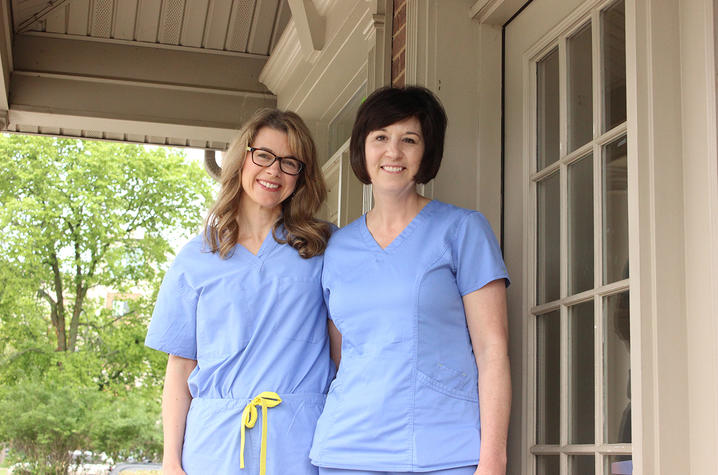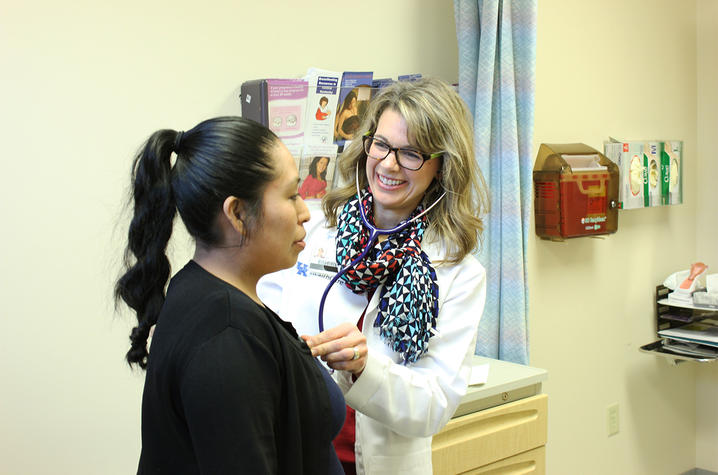 LEXINGTON, Ky. (May 30, 2017) — Certified nurse midwife JoAnne Burris describes birth as a poetic paradox: an instance of power and vulnerability in a woman's life. This important scale can tip in favor of vulnerability or empowerment, depending on the woman's sense of control and support.
After the birth of her first child in 2005, Burris related giving birth to feelings of vulnerability, frustration and helplessness, which stemmed from a traumatic birth experience in which health care providers dominated the decision-making.  
Determined to have a more positive birth experience, Burris sought care from a certified nurse midwife (CNM) when she became pregnant with her second baby in 2008. She partnered with Melissa Courtney, a certified nurse midwife who was in her first year of practice at Lexington Women's Health. CNMs place emphasis on the individual needs, birth vision and preferences of the patient, designing a custom birth experience for each woman all while ensuring a safe passage for mother and baby. For her second birth, Burris decided to use hypnosis, a natural relaxation technique to help control labor pain, and Courtney embraced the practice as part of the delivery plan. Burris also brought concerns stemming from the trauma of the first delivery, and Courtney addressed each concern with respect and consideration.
"Each prenatal visit, I felt like I would come to Melissa with a new fear," Burris said, recalling her first birth. "At each appointment, she didn't dismiss my fears. She treated me as an intelligent woman with valid concerns."
Also distinctive from the first birth experience, Courtney reinforced Burris' confidence with encouragement and affirmation that she was capable of having a natural birth. Burris never questioned whether she was in control of her body, her medical care, or the details of her birth experience. This patient-centered emphasis continued into the actual birth experience.  Burris remained in control of every decision, such as her preference for her birthing position, and Courtney followed her lead.
"We try to listen and meet women where they are," Courtney said. "We try to build their confidence in themselves so they realize they are very capable. It's the strong belief that if a woman can have a positive experience in her birth, it then sets her up for her motherhood experience."
Burris said she went into labor confident in her ability to deliver her son in a manner consistent with her preferences and beliefs. With relief she gained through the Hypnobabies technique, she was able to truly enjoy her natural birth. After her son's birth, she wrote a letter to Courtney expressing gratitude and insisting her support made a difference. She said Courtney reduced the feelings of vulnerability and tipped the scale in favor of empowerment, which led to the success of the delivery.
"During my birth, when I was ready to push,  all I remember hearing from Melissa was reassurance," Burris said. 
Burris was forever changed by her birth experience with Courtney. With two drastically divergent birth experiences, she believed the patient-centered preparation, supportive care and freedom to choose her own path pointed her toward a positive, redeeming birth experience. She felt a spiritual calling to help other women experience pregnancy and birth as a natural — not scary or traumatic — life stage and realize their potential to remain in control of their health with the supportive partnership of a CNM.
"How many other people go home and night and say, 'Today I empowered a woman in the most important moment in her life?'" Burris said. "That is what (Courtney) did for me. I want to give that gift to other women."
A year after the birth of her son, Burris quit her nine-to-five job and started the process of becoming a CNM. She returned to college to complete her associate's degree in nursing, then acquired the years of labor and delivery nursing experience required before attending midwifery school. Her midwifery training was done at Womankind Midwives, the practice Courtney established in 2011. Last fall, she was hired at the UK HealthCare Polk Dalton Clinic.
Now, with a new partnership between UK HealthCare and Womankind Midwives, Courtney and Burris, formerly provider and patient, will partner together as colleagues empowering women throughout Central Kentucky. The UK Midwife Clinic will provide midwifery services through four full-time CNMs, including Courtney and Burris, and additional resources and expertise through access to the UK Department of Obstetrics and Gynecology and the only Level IV Neonatal Intensive Care Unit. Courtney sees the collaboration as benefiting patients who want more options when considering a delivery experience. The merger also benefits both organizations, as CNMs will have the opportunity to teach holistic, natural birthing techniques to medical residents and increase the acceptance and integration of these techniques, and the large academic hospital expands its realm of women's health services to include midwifery.
"I think it's awesome that we get to work together now, being able to develop this program at UK with JoAnne is super exciting," Courtney said. "We are not only impacting Lexington, but we will hopefully impact the residents that we will work with and take that experience to their future practices."
Burris also looks forward to promoting positive health experiences for women beyond childbearing. The UK Midwife Clinic, located at 141 N. Eagle Creek Drive in Lexington, will provide a variety of services, such as general obstetrics and primary health care across the lifespan. Patients will deliver babies at the UK Birthing Center with the care of a midwife. From her personal experiences, Burris knows putting women at the center of their care and encouraging them to believe they are in control are crucial first steps for ensuring positive outcomes.
"This field focuses on empowering women through health education and promotion," Burris said. "If we can provide a sense of control and empowerment while providing safe, high-quality care, it will affect their whole family. We are treating the whole woman so she can be a force for positive health change in her family."