Body Maps Documentary Featuring UK HealthCare Patients Receives TV Industry Accolades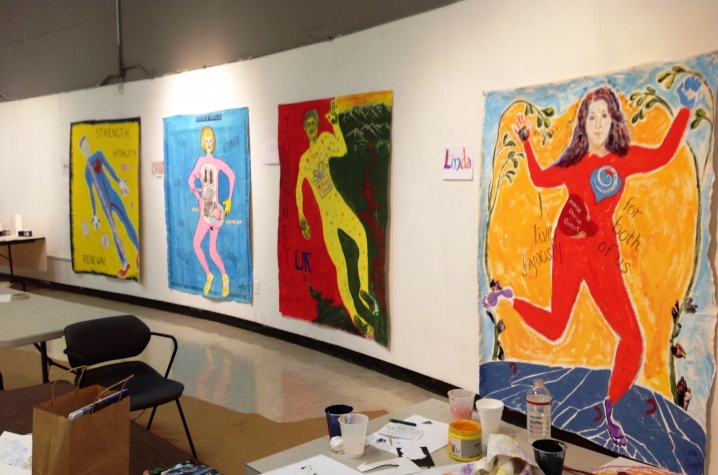 LEXINGTON, Ky. (June 9, 2014) — A local documentary telling the stories of eight UK HealthCare organ donation recipients who expressed their transplant journeys through art has earned honors from the television industry.
"Body Maps: Transplantation Inside and Out," presented by the Lexington Public Library and Kentucky Organ Donation Affiliates, was recently awarded a bronze Telly Award. Telly Awards honor the year's best films and video productions as well as outstanding local, regional, and cable television commercials and programs. The documentary also received a nomination for an Ohio Valley Regional Emmy Award, which will be presented in August.  
In February 2013, eight UK HealthCare organ donation recipients participated in a body mapping workshop at the Tuska Center for Contemporary Art in the UK Fine Arts Building. Body mapping is an art therapy exercise in which participants communicate their stories through pictures, words and symbols on a life-size canvass of their bodies. Belgium artist Xavier Verhoest, who developed the body mapping workshop for people with HIV/AIDS in South Africa, led the four-day UK workshop. The workshop was organized as a joint effort by UK Arts in HealthCare, UK College of Fine Arts, UK School of Art and Visual Studies, the Kentucky Organ Donor Affiliates, the Ruth Hunt Wood Foundation and the Art2Be organization.
The body maps of all eight patients were displayed at an exhibit in the UK Chandler Hospital in February 2013. After seeing the body maps at a Lexington Public Library exhibit the following April, film editor and director Thomas Southerland was inspired to create a documentary. He debuted the program in September 2013.
"It feels great — like the culmination of a lot of hard work," Southerland said of receiving national recognition for the documentary. "Most importantly, it's just shining a light on organ donation and the importance of it. If one person signs up for the organ registry because of this film, then I am happy."
To watch the documentary, check airing times on the channel 20 television schedule at www.lexpublib.org/cc20. KET will also air the program starting in August with specific times to be announced. 
MEDIA CONTACT: Elizabeth Adams; elizabethadams@uky.edu