College of Pharmacy Building To Open Dec. 1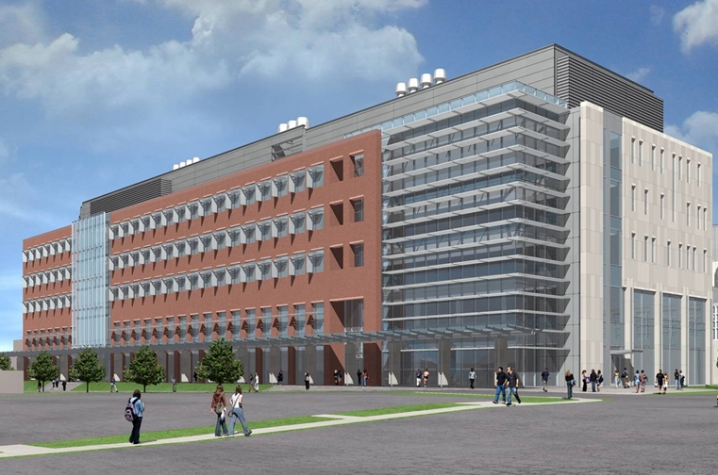 LEXINGTON, Ky. (Oct. 23, 2009) — After two and half years of construction, 225,000 bricks, 7,300 cubic yards of concrete, and 675 tons of reinforcing steel, the new University of Kentucky College of Pharmacy building is scheduled to be completed Dec. 1, 2009.
Faculty and staff will begin moving to the $134 million state-of-the-art academic and research building as soon as Dec. 2, with different areas and units moving throughout the month of December in preparation for classes to be held in the new facility starting Jan. 12. Laboratory researchers moving from the existing facility on Rose Street to the third floor of the new facility will complete their move during the first few months of 2010.
Located at 789 South Limestone, the 286,000 square-foot facility has been under construction since 2007. It will be the largest academic building in Kentucky and among the biggest in the nation. It includes a five-story atrium, two 219-seat auditoriums, a 110-seat classroom, a 54-seat classroom, a teaching laboratory with compounding laboratory and patient assessment rooms, and nine group learning rooms.
In addition, laboratory research facilities have been created to foster collaboration among researchers in chemistry, biology and pharmaceutical laboratory areas. The building also will house the Institute for Pharmaceutical Outcomes and Policy (IPOP), a new translational research endeavor focused on developing research, training and consultative programs in pharmaceutical policy, pharmaceutical health outcomes, and economic evaluation and decision analysis.
"The five-story atrium is a magnificent feature of the building," said Interim Dean Patrick McNamara. "As you stand at the base and look up and see each floor, it accentuates how from the professional program to pharmaceutical research, faculty, staff and students at the College are interconnected and strive for many of the same goals."
The facility will be equipped with the latest in wireless technology and will include a video and teleconferencing-equipped classroom allowing faculty and students on the Lexington campus to connect with the more than 300 community-based volunteer faculty members across the Commonwealth.
Funding for the building included $120 million from the Kentucky state legislature with $40 million appropriated in 2004 as first-phase funding and an additional $80 million funded in 2006. Additional funding has come from the university and private donors.
A ceremonial building dedication will be held Monday, Jan. 25, hosted by UK President Lee T. Todd, Jr. In addition, alumni are invited to participate in the "Our New Kentucky Home" Weekend Celebration being held April 16-18.