College of Pharmacy Welcomes Class of 2013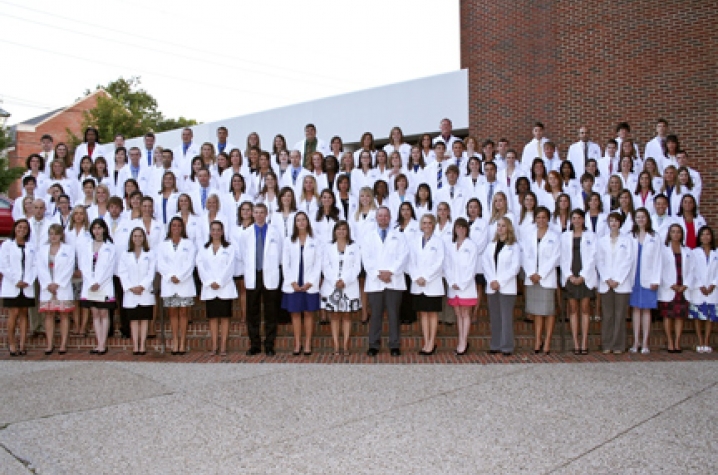 LEXINGTON, Ky. (Sept. 1, 2009) − The University of Kentucky College of Pharmacy welcomed 125 new students in the Class of 2013 during a white coat ceremony held Aug. 21 at the UK Singletary Center for the Arts.
The ceremony concluded the college's annual three-day Professional Development Workshop for new students. The workshop included an introduction to the pharmacy curriculum, an orientation to college policies and procedures, instruction in technology utilized by the program and a cultural competency seminar.
The class includes 96 Kentucky residents from 38 counties as well as students from 12 states and two foreign countries. The entering class members have an average overall GPA of 3.62. Forty-eight percent have completed bachelor's degrees; three students have obtained master's degrees; 13 percent completed the required pre-pharmacy curriculum in two years.
At the ceremony, students were welcomed by interim dean Patrick McNamara and received greetings from Alex Flannery, third year student, chair of the Kentucky Alliance of Pharmacy Students; Richard Slone, chair of the Kentucky Pharmacists Association; Durran Taylor, president of the Kentucky Society of Health-System Pharmacists; Ralph Bouvette, executive director of the American Pharmacy Services Corporation; Catherine Shely, president of the Kentucky Board of Pharmacy; and Pete Cohron on behalf of CVS Pharmacy.
Participating in the coating ceremony were UK College of Pharmacy faculty members Markos Leggas, Ken Record, Penni Black and Jimmi Hatton.  Leading students in the reciting of the Pledge of Professionalism was Anne Policastri, assistant director of experiential education and president-elect of the Kentucky Board of Pharmacy.
The UK College of Pharmacy is among the top five pharmacy schools in the nation and students graduating from the program have consistently had the highest first time pass-rates in the U.S. on the national licensing board exam (NAPLEX). The college is an international leader in pharmacy education, clinical care and pharmaceutical research and currently enrolls 518 students in the Doctor of Pharmacy program as well as 75 students in the UK Pharmaceutical Sciences Graduate Program (Ph.D.).
A new 286,000-square-foot College of Pharmacy building is under construction on the UK campus. The new state-of-the-art academic and research facility will open to students in January 2010.