Confused about breast cancer screening guidelines? Here's what you need to know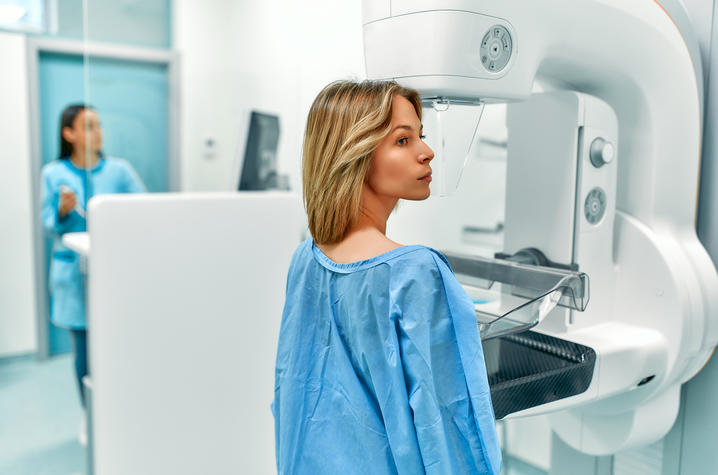 The University of Kentucky Public Relations and Strategic Communications Office provides a weekly health column available for use and reprint by news media. This week's column is by Aurela Clark, M.D., and Jennifer Wang, M.D., radiologists with the UK Markey Cancer Center.
LEXINGTON, Ky. (June 12, 2023) — New draft recommendations released May 9 by the U.S. Preventive Services Task Force advise all women to begin getting mammogram screenings for breast cancer at age 40.
The latest revision also recommends biannual screenings, which conflicts with yearly mammograms recommended by leading medical organizations and University of Kentucky Markey Cancer Center doctors.  
As the differing recommendations can be confusing to patients, we've answered some common questions to provide clarity on the matter.
What are the current recommendations on screening mammograms?
The American College of Radiology (ACR) and the Society of Breast Imaging (SBI) recommend all women of average lifetime risk (13-15%) for breast cancer begin getting mammograms at age 40 — every year. It is important to stress these women are of average risk, and these recommendations DO NOT include all women.
The new USTPF recommendations are a step in the right direction to lower the screening age to 40, which is in line with ACR/SBI guidelines. However, they suggest biannual screening instead of yearly mammograms, which is inconsistent with expert recommendations from leading medical organizations. They also do not address the increased risk faced by women with dense breast tissue or provide any screening recommendation for women over the age of 75.
As experts in breast imaging, we stress the importance of annual mammograms if patients are in good health without a hard stop at any particular age. We strongly advise patients to get screened every single year. 
Why is it still important to get a mammogram every year?
Annual screening offers the best chance for early detection, when cancer can be caught while still treatable, leading to favorable prognosis. Studies have shown that women who skip even one scheduled mammogram screening before a breast cancer diagnosis can face a significantly higher risk of death. Skipping a year allows for cancers to grow undetected, potentially resulting in a more advanced tumor at the time of diagnosis, necessitating more extensive surgical procedures and harsher treatments.
If called back for further evaluation after your screening mammogram, don't panic. Most call backs require no intervention and 80% of biopsies are benign. However, it is still very important to keep all your follow up appointments, as a small percentage of the call backs result in cancer detection, which has the best outcomes when found in early stages.
Will my insurance still cover a mammogram every year?
Most insurance companies still cover annual mammograms starting at age 40 for women of average risk. There are also programs available for those who are uninsured and underinsured. Some insurance plans also cover supplemental screening annually for women of higher risk.
What about women with higher-than-average risk factors?
The ACR/SBI urge that all women talk to their health care providers to evaluate their risk of breast cancer by age 25 to determine if they need to be screened before age 40. This is especially critical for Black and Ashkenazi Jewish descent women who are at higher risk of genetic mutations, and for Black and other minority women who are at higher risk of breast cancer at younger ages.
What factors might increase your risk?
You have family members with breast cancer (although most women who develop breast cancer have no breast cancer in their family). 
You have already had breast cancer. 
You carry certain genetic mutations, including BRCA1 and BRCA2 mutations. 
Someone in your family is a genetic mutation carrier and you remain untested yourself. 
You have been previously treated with radiation to your chest for cancer. 
You have had certain "high-risk" results on breast biopsies such as atypias or pre-cancerous lesions. 
You have dense breast tissue on mammography.
Women at higher-than-average risk should, in general, start getting screened at an earlier age. Supplemental screening is also recommended, with MRI as the method of choice due to its higher rate of cancer detection. 
More information, including the ACR/SBI's full screening guidelines for women at higher risk for breast cancer, can be found here.
UK HealthCare is the hospitals and clinics of the University of Kentucky. But it is so much more. It is more than 10,000 dedicated health care professionals committed to providing advanced subspecialty care for the most critically injured and ill patients from the Commonwealth and beyond. It also is the home of the state's only National Cancer Institute (NCI)-designated cancer center, a Level IV Neonatal Intensive Care Unit that cares for the tiniest and sickest newborns, the region's only Level 1 trauma center and Kentucky's top hospital ranked by U.S. News & World Report.  
As an academic research institution, we are continuously pursuing the next generation of cures, treatments, protocols and policies. Our discoveries have the potential to change what's medically possible within our lifetimes. Our educators and thought leaders are transforming the health care landscape as our six health professions colleges teach the next generation of doctors, nurses, pharmacists and other health care professionals, spreading the highest standards of care. UK HealthCare is the power of advanced medicine committed to creating a healthier Kentucky, now and for generations to come.