Cuban Artist's Imagined Mythological Figures Exhibited at UK Chandler Hospital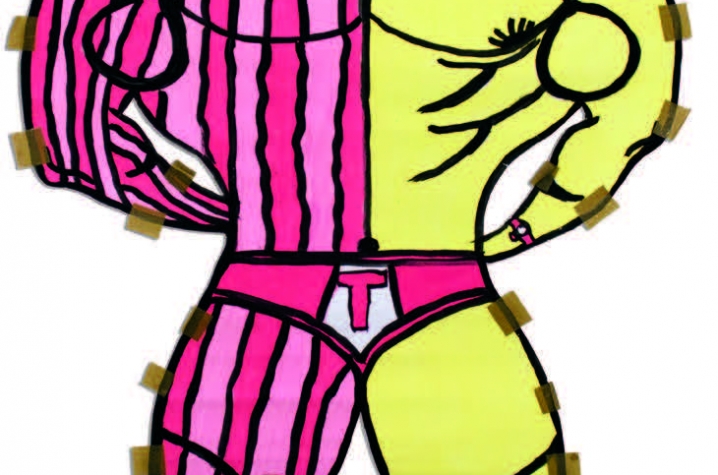 LEXINGTON, Ky. (May 14, 2015) — Without words to explain her process or motive, Misleidys Francisca Castillo Pedroso started drawing and painting muscular male figures on construction paper. She then cut out the figures, which ranged from a few inches to 8 feet tall, and methodically installed them on the walls of her family's apartment using square pieces of brown packaging tape.
Deaf and unable to speak since birth, the 29-year-old artist lives a mostly isolated existence in a small town near Havana, Cuba. Her limited human interactions occur within the confines of her family's apartment. Because Pedroso can only communicate for basic needs through rudimentary signs, no one knows the artist's own interpretations of the mythological figures and body parts she creates.
A collection of her imagined figures are currently on display in the UK Chandler Hospital East Gallery in an exhibit titled, "Misleidys Francisca Castillo Pedroso: Cut and Flex." The artwork depicts the full bodies of men with bulging muscles and brightly colored organs and ligaments, as well as paintings of stand-alone body parts, including hands, feet and heads. An integral element of Misleidys' work, the squares of brown packaging tape are maintained around the edges of each cutout.
Since she started creating the figures a few years ago, Pedroso's work has evolved with the addition of female figures in bikinis and groupings of heads joined together to depict human relationships, such as twins or families. Pedroso's mother has observed her standing in front of her drawings, looking at them and gesturing as if she were speaking to them. Misleidys looks at her paintings in the eyes, as though she recognizes them.
"Whatever the true nature of this work may be, Misleidys is clearly breathing life into her figures, creating beings that exist in the space between our world and her own," Phillip March Jones, curator for the UK Arts in HealthCare program, said.
Pedroso's work has recently appeared in Havana Biennial and Art Papers magazine. The exhibit, coordinated by the UK Arts in HealthCare program, will be on display throughout the summer.
MEDIA CONTACT: Elizabeth Adams, elizabethadams@uky.edu