Dr. Jacob Yunker Joins Ophthalmology and Visual Sciences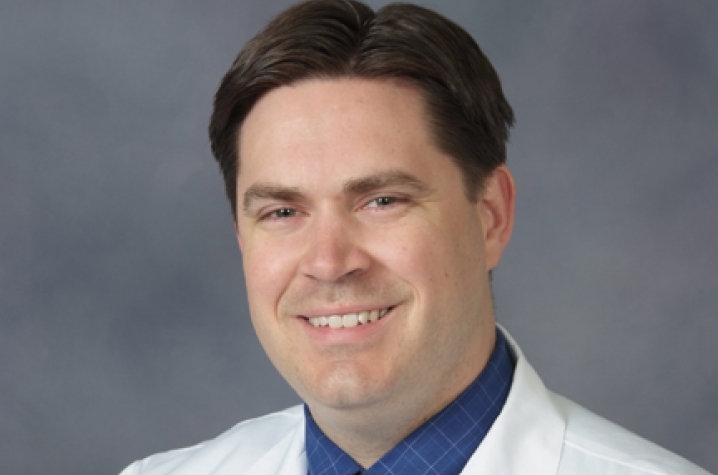 LEXINGTON, Ky. (Nov. 24, 2009) − University of Kentucky HealthCare is pleased to announce that Dr. Jacob J. Yunker has recently joined the UK College of Medicine in the Department of Ophthalmology and Visual Sciences.  Yunker specializes in retina and vitreous surgery.
Yunker's practice will include: evaluation, medical and surgical treatment of diseases of the retina and vitreous, including: macular degeneration, diabetic retinopathy and macular edema, retinal detachment, macular pucker and epiretinal membrane, macular hole, intraocular tumors and choroidal melanoma, and vitreous diseases and floaters.
Yunker is a Maysville, Ky., native.  He received his undergraduate education at Transylvania University followed by a medical degree from the University of Louisville School of Medicine. He then completed a residency at Callahan Eye Foundation Hospital and fellowship at Retina Consultants of Alabama P.C., both at the University of Alabama at Birmingham.
Dr. Yunker will see patients at the following locations:
The Kentucky Clinic
Department of Ophthalmology and Visual Sciences
740 South Limestone, Third Floor, Wing C
Lexington, KY 40536
(859) 323-5867
The Maysville Clinic
Eye Care Network
1360 Medical Park Dr.
Maysville, KY 41056
(606) 759-5341
The Somerset Clinic
Huffman and Huffman
350 Hospital Way, Suite 250
Somerset, KY 42503
(606) 679-7461
Yunker is a member of the American Society of Retina Specialists (ASRS), and he presented research on retinal detachment surgery at the recent Retina Congress meeting in New York. Yunker also is a co-instructor for courses on both diabetic retinopathy and retinal surgical techniques at the annual meeting of the American Academy of Ophthalmology (AAO).
"UK allows me to be a part of a team of experts in eye care who work diligently to serve the eye health needs of Kentucky and who develop new and better treatments through their research," Yunker said. "I grew up in Maysville, Kentucky, and I am excited about being able to come to UK and work to help the people of Kentucky have the best eye care possible."