Heart of the team: UK doctors help EKU coach get back on the gridiron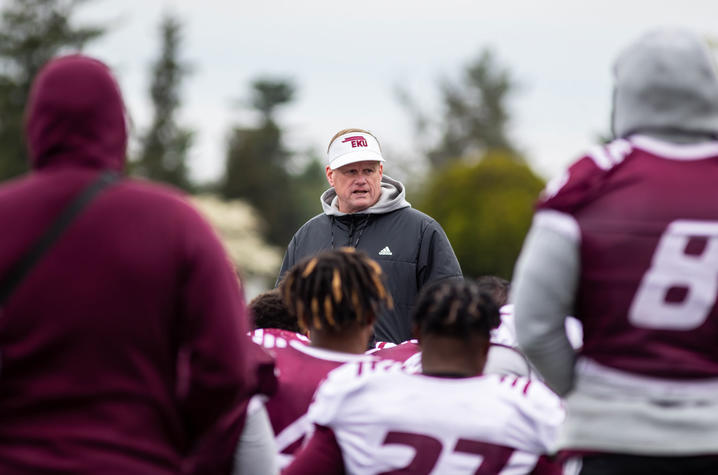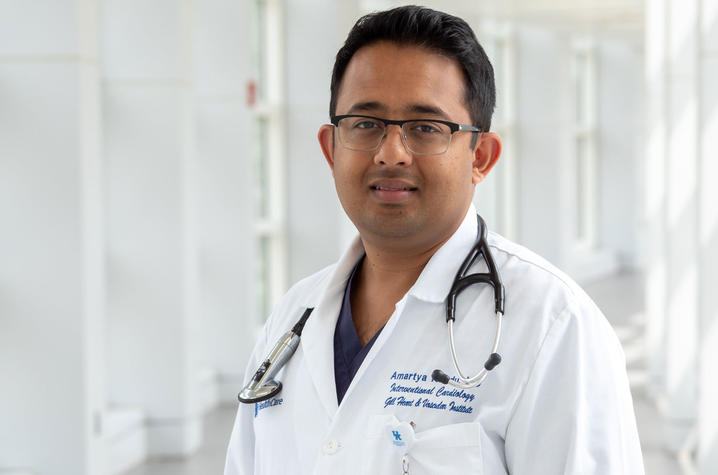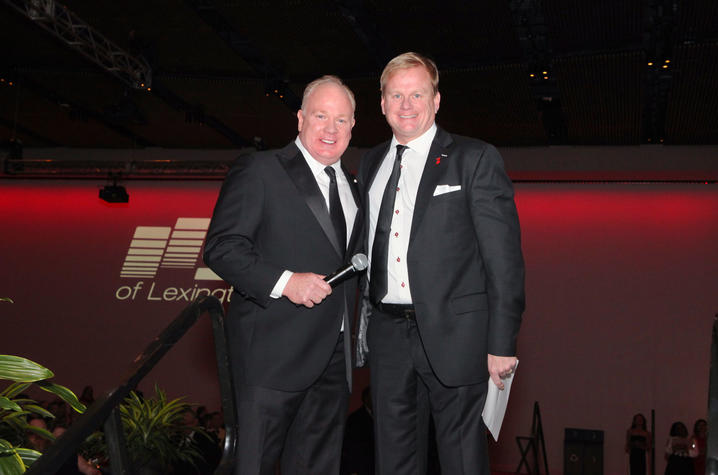 LEXINGTON, Ky. (Sept. 5, 2023) — Walt Wells was face down on his office floor, dying.
That the Eastern Kentucky University head football coach remains alive today, ready to lead his team onto the field, is a testament to the quick action and expertise of many caring people.
From the football and biological families that immediately sprang into action, to the experts at the University of Kentucky Gill Heart & Vascular Institute who nursed him back to health, it was a true team effort to save the charismatic coach — and get him back to the sidelines within weeks.
"I always say, 'If the quarterback leaves, we should be OK,'" Walt said. "If a coordinator leaves, the next guy on the offensive or defense staff should step up and call the plays.
"I just never dreamed when I said that stuff that I'd be the one that left."
'I was freaking out'
In August 2022, Walt and his staff were busy preparing for EKU's season opener against Eastern Michigan, which was less than a week away.
Thomas Bowling, EKU's director of football operations and one of Walt's former players, heard a strange noise as he restocked the fridge next to the coach's office.
Thomas called out to Walt but didn't get a reply. He rushed into the office to find the coach flat on the floor. The then 54-year-old had collapsed in the midst of a heart attack.
Bowling acted quickly. He ran to another area of the team's facility and told an assistant coach to call 911, then called two of the team's athletic trainers, Kristen Peterson and Zach Vigliotti, who rushed upstairs to Walt's office.
"I was freaking out, but I conveyed urgency," Bowling said. "We flipped Coach over and Kristen started doing CPR and talking to him, saying 'Stay with me, stay with me.' It was hard."
Walt had no pulse and was not breathing. The trainers hooked him up to an automated defibrillator and continued performing CPR while Thomas phoned Walt's wife, Jennifer.
It was Jennifer Wells who made the decision to send her husband to UK Albert B. Chandler Hospital. The family became familiar with UK HealthCare during Walt's two-year stint as an assistant football coach at UK before he joined EKU.
"They've been in Lexington a lot and they know the good work done at UK HealthCare," Thomas said. "I can't imagine how Miss Jenn felt during that ambulance ride."
Paramedics arrived about 15 minutes after the 911 call and took over. They rushed Walt and Jennifer to Lexington.
'Did you save my life?'
Heart disease is common in the Wells family. Walt's father and uncle both died from heart-related issues.
For years, Walt has dealt with atrial fibrillation, a condition that causes an irregular heartbeat and can lead to blood clots, stroke, heart failure and other complications.
Because of that history, Walt has been vigilant about taking steps to minimize the risk of life-threatening events. The former college offensive lineman dropped almost 100 pounds in his early 30s and has had yearly medical checkups ever since.
Walt had no warning signs in the moments leading up to his heart attack — no chest pain, no shortness of breath, no tingling sensations in his arm. One moment, he was in his office putting together a package of gifts to send his mother. The next, he woke up in a bed at UK Chandler Hospital. 
"Coach Wells suffered not only a heart attack, but what we call a cardiac arrest," said Amartya Kundu, M.D., an interventional cardiologist at UK Gill who treated Walt. "And the two terms, although they are used frequently together, are slightly different cardiac conditions. 
"Cardiac arrest is a condition where the heart suddenly stops pumping blood to any of the organs of the body and unless you revive that person really soon, they are not going to make it. It's estimated that about 300,000 to 350,000 Americans suffer from a cardiac arrest every year."
Kundu and his team fixed a 95% blockage in the front artery of the heart and saved Walt from a type of heart attack commonly called a "widow-maker."
They performed this emergent life-saving procedure by steering a catheter through Walt's wrist all the way to his heart, opening up the blockage and placing a stent. After that, Walt's wife and two children held vigil by his side in the ICU.
"My wife tells a story about me trying to rip out all the tubes I was hooked up to, but I don't remember anything," Walt said. 
"Fortunately, Coach Wells had been revived out of cardiac arrest by his colleagues and the EMTs before he got to the hospital," Kundu said. "We went into a standard heart attack protocol where we took him immediately to the cardiac catheterization lab. Coach Wells had a complex blockage, so it took us a few hours to work through it, but he had a great result and showed a really quick recovery."
Kundu emphasized that the football staff members who sprang to work after Walt's collapse were key to the coach's survival.
"Coach Wells was lucky that everyone around him was able to understand what was going on and immediately started taking necessary actions," Kundu said. "About 90% of people who suffer from a cardiac arrest don't make it. That's why we try to spread the news everywhere that CPR saves lives."
When Walt finally woke up the day after his procedure, his family was in the ICU along with Thomas.
"Thomas was there the day that I came to and was coherent. And I just asked him, 'Did you save my life?'" Walt recalled. "We both teared up and Thomas said, 'I did my best.' I looked at my wife and she was bawling. I look at my daughter and she's bawling … a lot of emotions come with that."  
'I know they saved my life'
Walt Wells walked out of UK Chandler Hospital three days after suffering a massive heart attack that likely would have killed him if not for the decisive action of his football and athletic training staff, local paramedics and UK HealthCare specialists at the Gill Heart & Vascular Institute.
After missing the first two games of the Colonels' 2022 season while recuperating, he returned to the sidelines and coached them to a 7-5 record and their first postseason berth since 2014. He coached with a renewed appreciation for the life he's had, and the one he gets to continue living.
"Now, it's almost like I feel 30 years old again and I want it to be full speed ahead, let's go win a national championship," Walt said. "Damn the torpedoes and let's run through the wall. 
"I realized that I'm probably looking at the back-nine of life, but there's still a lot more I want to accomplish."
A year after his heart attack, Walt remains awestruck by the efforts of those who saved his life. And he's excited about his future, on and off the football field.        
"I just recently went back for a checkup. My heart is 100%, oxygen is 100%, everything is 100%," Walt said. 
Many people have told Walt that his recovery is a miracle. 
"It's also a miracle because of what they did and the treatment that I received at UK HealthCare," Walt said. "I won't go to anybody else because I know how they handled me. I know how they handled other people that I know.
"I know they saved my life. They fixed my life. This week's the best week I've had. Last week was the best week I had. It feels like it gets better and better every week."
UK HealthCare is the hospitals and clinics of the University of Kentucky. But it is so much more. It is more than 10,000 dedicated health care professionals committed to providing advanced subspecialty care for the most critically injured and ill patients from the Commonwealth and beyond. It also is the home of the state's only National Cancer Institute (NCI)-designated cancer center, a Level IV Neonatal Intensive Care Unit that cares for the tiniest and sickest newborns, the region's only Level 1 trauma center and Kentucky's top hospital ranked by U.S. News & World Report.  
As an academic research institution, we are continuously pursuing the next generation of cures, treatments, protocols and policies. Our discoveries have the potential to change what's medically possible within our lifetimes. Our educators and thought leaders are transforming the health care landscape as our six health professions colleges teach the next generation of doctors, nurses, pharmacists and other health care professionals, spreading the highest standards of care. UK HealthCare is the power of advanced medicine committed to creating a healthier Kentucky, now and for generations to come.