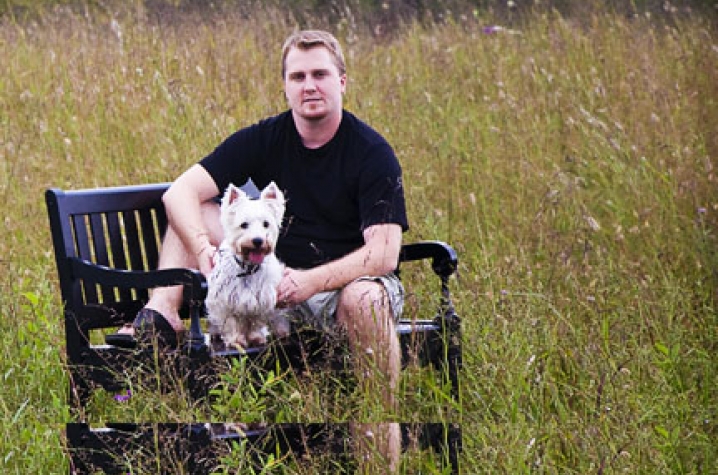 LEXINGTON, Ky. (Dec. 24, 2009) — Dave Mauck, 28, Richmond, had his hands busy recently as he waited in the car for his wife, while talking on the phone and trying to appease a crying, hungry infant, but Dave would not have it any other way.
Life is good.
Mauck was talking with KODA about a Christmas gift he received just a year ago, Dec. 6, 2008, the best Christmas gift possible, he said – the Gift of Life – in the form of a new kidney.   
Life for the former 50-meter swimming star and Eagle Scout had been put on hold.
His energy level had gotten so low, he had to quit his job at a local bank. He and his wife wanted to have their first child, but Mauck knew he did not have the energy for it. He was sleeping 14 to 15 hours a day.
Eventually, he had a fistula placed in his arm in preparation for dialysis and was prepared for an inevitable, long road.
Unless. . . 
Then came the call from the UK HealthCare Transplant Center. They had a matching kidney, not just a match, but a match of four out of six antigens, a match almost as good as a sibling's, Dave said.
A family in their moment of intense grief had said "yes" to organ donation. Mauck was the recipient, according to UNOS, United Network for Organ Sharing, which manages the national waiting list for organ transplantation and determines recipients. Nearly 82,000 in the U.S. currently are waiting for a kidney transplant.
"Dave was very fortunate," said Angela Zimmerman, renal transplant coordinator at UK. "He was so close to dialysis, and that makes recovery from transplantation more difficult."    He is also fortunate, Zimmerman said, because he has such a strong family support system – a family who was eager for him to return home for the holidays.
Mauck was in the hospital for just six days after his transplant by UK HealthCare transplant surgeon Dr. Roberto
Gedaly, so he spent Christmas with this family and looked forward to the New Year
A lot of young men would have been discouraged, Zimmerman said. "Dave has dealt with a difficult hand of cards with his health, but Dave is a very optimistic person."
When Mauck entered puberty, his adopted mother told him about a genetic kidney disorder, Alport Syndrome, that often manifests at the onset of puberty.
Sure enough, Mauck was between the 10th and 11th grades at Madison Central High School when his kidneys began failing. By the age of 21, Dave had to quit his studies at the University of the Cumberlands due to illness.
It was at this point that Mauck received his first kidney transplant, donated by his adopted mother. Eventually, Mauck developed posttransplantation lymphoproliferative disorder (PTLD), a form of Non-Hodgkins Lymphoma, but the young man was able to recover from it.
Still, seven years after his first transplant, his body rejected his transplanted kidney for unknown reasons, which led to his being put on the waiting list – again – this time at UK.
Dr. Thomas Waid, , at the UK Transplant Center, treats Mauck in clinic. Waid said Mauck's second transplant has been successful at least in part because Mauck is young and is otherwise in good health. He also attributed Mauck's success to the Transplant Center's ability to tailor Mauck's immunosuppressant regimen to his needs and past medical history.
"Everybody at UK has been great – great nurses, great doctors, everyone," Mauck said. "I receive really good care."
He especially spoke highly of his donor family and how their generous gift improved his life. "I don't know why anybody would not want to donate their organs," Mauck said.
"Without this kidney, I wouldn't have a normal life," he said, as his daughter, Isabella Rose Mauck, born Sept. 23, 2009, reminded him loudly that she wanted more milk. "I wouldn't have my baby."
There is no doubt that Mauck's life is back on track. In addition to being a healthy father and husband, Mauck will finish a degree in computerized automated drafting in Spring 2010 at Eastern Kentucky University.
It has been a year of blessings, Mauck's wife Brittany said. "Our hearts go out to the family that lost the man they love.  We are thankful that families in the midst of their grief choose to give life. I look forward to spending a healthy Christmas together, now including our little girl!"