How a Chance Encounter – and COVID-19 – Brought this Michigan Resident to Markey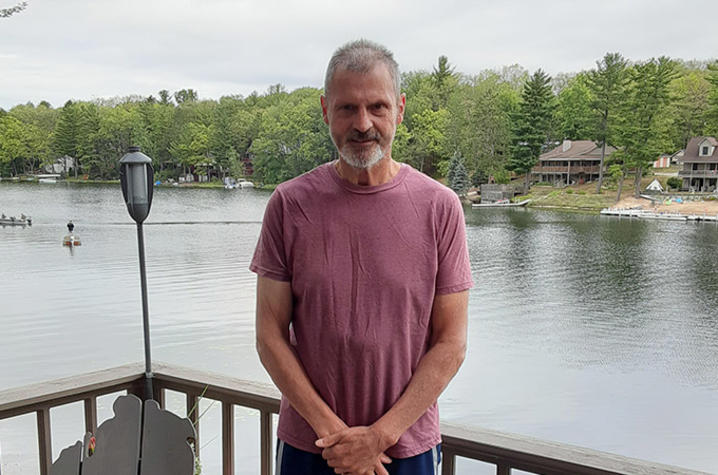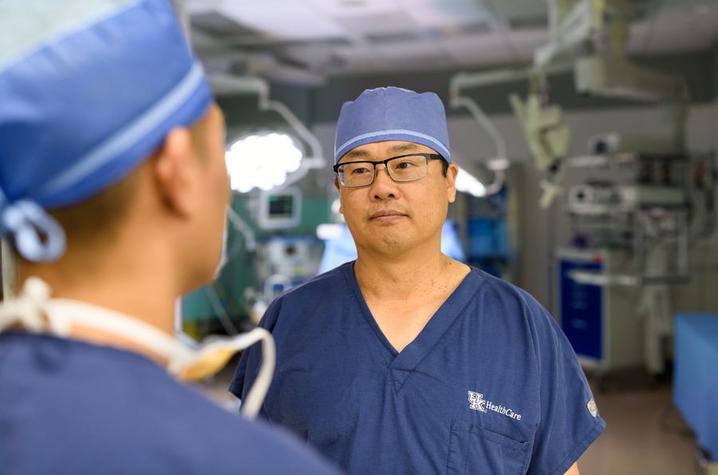 LEXINGTON, Ky. (July 31, 2020) – During his chemotherapy treatments, Scott Storey got used to avoiding cold drinks and foods. The regimen he was on, FOLFOX, includes the drug oxaliplatin, which is known to cause "cold dysesthesia" in some patients. It's a hypersensitivity to the presence of cold that can trigger side effects such as peripheral neuropathy, jaw spasms, shortness of breath and more.
This peculiar fact – and a serendipitous meeting with a stranger – proved to be a lifeline for the retired Air Force veteran.
In 2019, after losing a staggering 40 pounds in six weeks – Storey says he developed acid reflux so severe that he could keep nothing down, not even water – the Michigan resident sought advice of local doctors. After weeks of testing and scans from an emergency department visit, he was diagnosed with metastatic colorectal cancer.
Surgery to remove the primary tumor was first, followed by the aforementioned chemotherapy. However, he says his local physicians warned him that it wasn't enough.
"My surgeon told me that I had more cancer that he couldn't remove without removing my entire intestine, and that this was inoperable," Storey said. "And when I went to my oncologist, he said that it wasn't something that could be cured with chemo, either. So it was kind of depressing for a while."
Storey says his sons, now adults, were the ones who found an interesting procedure during research into available treatment options for his cancer: Hyperthermic intraperitoneal chemotherapy, commonly known as HIPEC.
During this procedure, two catheters are placed in the abdomen to create a circuit with a machine designed to heat the chemotherapy in the abdomen to 103 degrees. One catheter pumps the heated chemotherapy into the abdominal cavity, while the second catheter brings it back into the machine. This circuit can run anywhere from 30 to 90 minutes, depending on the type of chemotherapy used. In essence, it "washes" away the microscopic disease that is not visible to the eye. It sounded promising.
As retirees, Story and his wife are "snowbirds," spending part of their year at their home in Harrison, Michigan and part of the year trying out various destination cities along the Gulf of Mexico. One night while in Gulf Shores, Alabama, they scouted potential restaurants for dinner before deciding on a place with ocean-front views and no wait. Though the restaurant was nearly empty, Storey says, the hostess seated another couple at the table next to them.
When the waiter came by, Storey requested water – warm. The man at the table next to him overheard.
"He noticed that I ordered warm water," Storey said. "And he said, 'Are you on chemo?' And I said yeah, and he asked what kind. Turns out we had the same thing."
That patient told Storey about the doctor who had performed his own HIPEC procedure – Dr. Joseph Kim of the University of Kentucky Markey Cancer Center. A surgical oncologist who specializes in hepatobiliary and gastrointestinal cancers, Kim had been performing the HIPEC procedure for advanced cancers for more than 15 years.
Back in Michigan, Storey made plans to undergo HIPEC earlier this year with a local surgeon that he liked. However, due to the spread of COVID-19, Storey's procedure was put on hold when Michigan imposed temporary restrictions on medical procedures back on March 10. Recalling his conversation with the man he'd met in Alabama, he contacted Kim and swiftly got added to the schedule for a HIPEC procedure at Markey. Though Kentucky medical centers were required to cease elective procedures beginning March 23, cancer care is considered an essential service and Markey continued to perform necessary surgeries, chemotherapy and radiation treatments.
"We were more than happy to have Dr. Kim do the surgery – it's just a one-day drive for us," Storey said. "It wasn't a big deal."
Storey's first meeting with Kim was a telemedicine appointment done via Zoom, the popular teleconferencing app. The consultation was easier than he'd anticipated, Storey said.
"I'm not tech savvy, but they had it all up and all I had to do was click on a link," he said. "It was like being there without being there."
While telemedicine has been in full swing across all of UK HealthCare, Kim says the team at Markey has been vigilant about maintaining strict protocols to keep patients safe from COVID-19 if they need or want to come for a physical visit. He notes that Markey has "remained near full speed" in treating patients, and Kim himself continues to see approximately 20 patients every week.
"We've been using telemedicine for patients who felt uncomfortable coming to see us in person, or who might be a long distance from UK, like Scott," Kim said. "However, many of our patients still want to come see us in person, and we've created a safe environment where none of our staff or patients have been exposed to COVID-19."
A few days before his procedure on March 21, Storey and his wife rented an Airbnb vacation home near Lexington right along the Kentucky river so they could remain close to Markey afterward and allow Storey ample time to recover from the procedure before driving back. Despite not being able to take advantage of Kentucky's tourism industry, he says they were able to enjoy the change of scenery while he recovered.
"[Kentucky] was beautiful, he said. "The horse farms, the landscape and the greenery – it's just amazing."
During Storey's procedure, Kim first performed a right colectomy, a small bowel resection, right hemidiaphragm resection and stripping, and a cholecystectomy (removal of the gallbladder). He also removed a large amount of scar tissue from Storey's pelvis. Once these potentially cancerous areas were removed, Kim finished the procedure with HIPEC to expose Storey's abdomen to the hot chemotherapy, killing any remaining cancer cells that might cause a recurrence of disease.
Storey spent a week as an inpatient in the hospital, and remained close by in Kentucky for another two weeks before returning home. Now back in Michigan, Storey says Kim has called to check on him a few times to make sure he's not experiencing any complications from surgery. Additionally, he's undergoing another round of infusion chemotherapy with his local oncologist under Kim's recommendation.
"Right now, Scott is considered NED (no evidence of disease)," Kim said. "But it's my standard recommendation to bookend surgery with systemic chemotherapy before and after surgery."
After enduring so many treatments, Storey is looking forward to being done with this last round of chemotherapy and its associated side effects. He's hoping to have surgery next year to fix a nagging pain in his hip that affects his ability to walk – an operation he hasn't been able to pursue because of his cancer treatments. And he's looking forward to simply enjoying the simple pleasures of his lakeside home – a retirement property that he spent a year remodeling just before being diagnosed with cancer.
But despite the unexpected barriers he faced in seeking treatment, Storey says he's happy with how things turned out.
"I just can't speak highly enough about [Markey] and Dr. Kim," he said. "I absolutely love him and his staff, and my wife says she loves him, too. In our minds, he was amazing."