'I'm a new person' – UK patient finds answers, relief for rare condition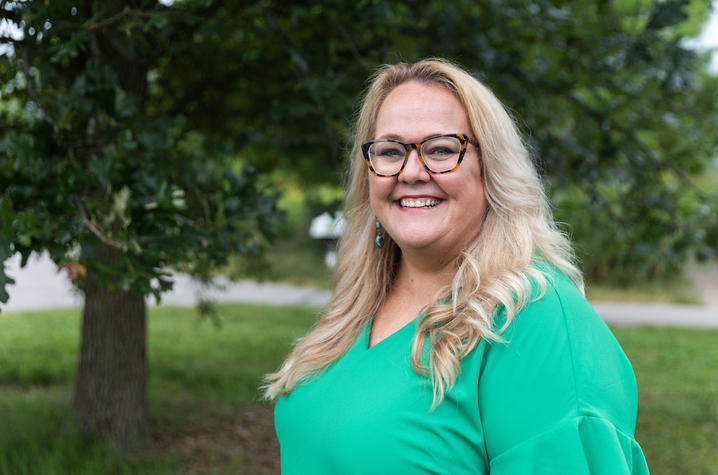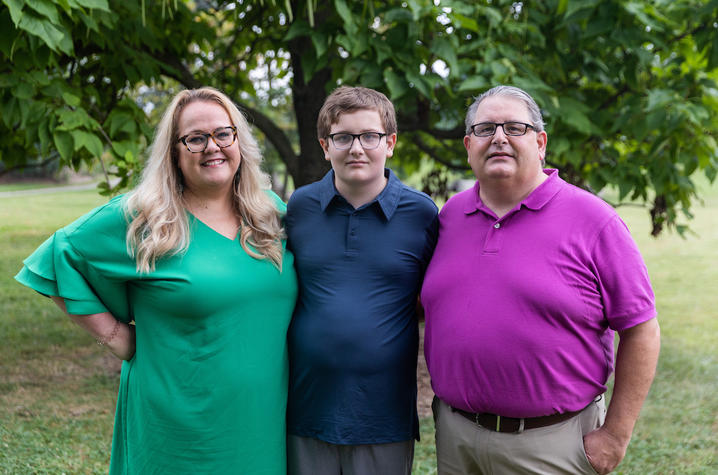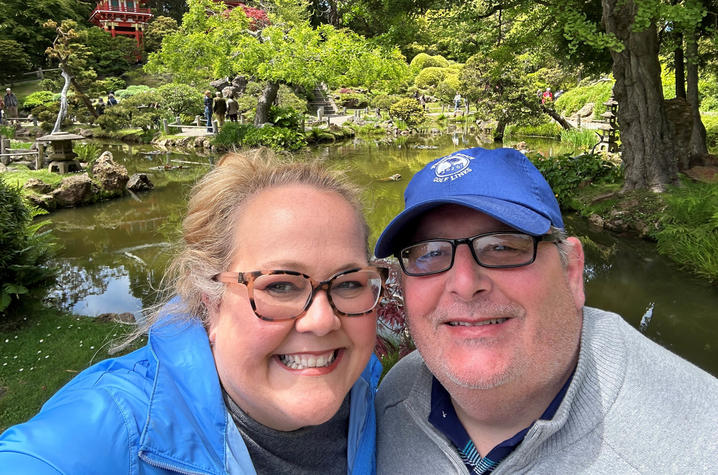 LEXINGTON, Ky. (Aug. 30, 2023) ­– Lori Wilson knows how to party.
As the senior director of Donor Relations, Stewardship and Constituent Engagement for the University of Kentucky Office of Philanthropy – and an event planner for UK HealthCare prior to that – she's planned and managed countless, unforgettable parties and events for UK donors, staff and alumni. She has hobnobbed with some of Kentucky's biggest names, forging connections, raising money and building support for the Commonwealth's flagship institution.
Her latest celebration is a bit smaller in scale. It's her personal victory over more than a decade of chronic pain, frustration and unanswered questions.
***
Before her son, Henry, was born 12 years ago, Wilson started experiencing back pain. At first, the pain was tolerable. It slowed her down but was otherwise manageable. But after giving birth to Henry, the pain got worse. Again, she wrote off the pain as normal. She was a new mom, hauling diaper bags and car seats. As an event planner, she worked long hours on her feet. She thought this kind of pain came with the territory.
Then Wilson describes a "domino effect" of symptoms - one excruciating experience after another. After the back pain came severe joint pain, followed by silent migraines. Unlike a typical migraine, a silent migraine doesn't necessarily include a headache, but other debilitating symptoms such as vision loss. After being hospitalized with pneumonia in 2019, Wilson said every other system in her body "caved in."
"I had a decreased immune system from being sick," Wilson said. "During that time, I had kidney failure and heart failure. I was hospitalized for 10 days. They kept waiting for me to have a stroke because my blood pressure was so high."
The severity of her symptoms was matched by the confusion of her doctors. She consulted with nephrologists, cardiologists and other specialists. They all told her the same thing: you're a very interesting patient, and we can't figure out what's wrong with you.
Everyone seemed to agree Wilson was experiencing inflammation, but they couldn't identify the source or the cause. She underwent a plethora of diagnostic procedures. She was tested for multiple myeloma, a type of cancer that forms in white blood cells; a blood clot disease called antiphospholipid syndrome; and lupus and rheumatoid arthritis. She had a kidney biopsy that determined her kidneys were healthy, but they were overwhelmed by this mysterious inflammation.
All the while, she was getting injections in her spine and joints to try and manage the crippling pain. She tried acupuncture and even had her sympathetic nerves ablated – literally burning the nerves to try and stop the pain. Nothing worked. The frustration she felt with the lack of definitive answers paled in comparison to some decidedly unhelpful advice she got from doctors.
"Most doctors kept telling me, if you lose weight, you're going to be better," Wilson said. "Well, if you can't walk across the house, you're not exercising much. It was hard to do the most basic things. Even if I did exercises in the pool and low-impact exercises, I would pay for it because I would be in so much pain afterwards."
Wilson's deteriorating physical health began to affect her mental health. When she went to the emergency department with abdominal cramping, her concerns were dismissed as just normal menstrual cramps. She felt frustrated, angry and tired.
"I felt like people didn't believe me," she said. "I felt like doctors didn't believe me. I felt sometimes my family might be questioning me. It was hard. There were times I started questioning whether I was losing my mind. I felt like everyone was questioning me. Was I using a handicapped parking spot because it was close? Was I trying to get out of work? It was devastating."
Wilson was ready for answers. She started paying more attention to her symptoms, noting what symptoms occurred and when. She made an appointment with Stephanie Rose, M.D.,  in UK HealthCare's Internal Medicine Group, who agreed that something serious was going on. Under Rose's guidance, Wilson started intermittent fasting and lost a significant amount of weight. Even though her symptoms did not improve, she felt vindicated knowing that her health problems were not a result of her weight.
At Rose's suggestion, Wilson made an appointment with her obstetrician Miriam Marcum, M.D., for an ultrasound. The ultrasound showed her uterus was enlarged – not drastically, but enough to warrant a biopsy. During the biopsy, there was another twist in this medical mystery.
"They weren't able complete the biopsy because my uterus was flipped nearly upside down," said Wilson.
Marcum referred Wilson to Rachel Miller, M.D., gynecologic oncologist with the UK  Markey Cancer Center. As Wilson described her symptoms, Miller suspected right away that the culprit was a rare condition called adenomyosis.
"Adenomyosis is a non-cancerous gynecologic condition where endometrial from the lining of the uterus grows into the muscular wall of the uterus," said Miller. "Adenomyosis is rare and occurs in about one in 500 women."
Researchers aren't sure what causes adenomyosis. Depending on where a person is in their monthly cycle, it can sometimes be undetectable in an MRI. But the enlarged uterus and the inflammation markers in Wilson's bloodwork painted a clear picture to Miller. In addition to the adenomyosis, Wilson also had scar tissue from her cesarean section years prior which caused pelvic congestion.
Miller had a simple solution: If the problem is in the uterus, let's take the uterus out. Medication can alleviate the symptoms, but only a hysterectomy will cure adenomyosis.
"I didn't have a lot of the typical symptoms of adenomyosis," Wilson said. "Some of those are irregular periods and really heavy bleeding. But I did have three miscarriages, which were most likely caused by this."
On March 29, 2023, Wilson had a hysterectomy. Within an hour of coming out of the anesthesia, she felt something she hadn't felt in over a decade.
She felt good.
"It was immediate, I knew it was gone," she said. "My back pain was gone. My joint pain was gone. I used to have random swelling in my hands – that's gone. Brain fog and headaches are gone."
Wilson didn't let herself believe she was cured until her follow-up blood work six weeks after her surgery. But all the inflammation markers in her blood were gone, and all other labs were normal.
"I kept waiting for it to change," Wilson said. "I thought, this is some drug they gave me during surgery, and it's going to wear off."
The physical relief she felt post-surgery was satisfying enough, but she took pride in celebrating another, more personal victory.
"I felt vindicated," she said. "So many people were judging me for my pain and what I should have done differently with weight loss. But there was an actual diagnosis, and somebody could see something wrong and fix it. Finally, somebody believed me."
***
"It's been miraculous. I'm a new person."
Following her surgery, Wilson was both ready to get back out into the world and hesitant to do so.
"I was a little intimidated about just walking out in the world, because I hadn't done it in a while," she said. "I did a lot of what I call 'shop walking.' I would go to HomeGoods, Target or the mall. Somewhere I knew I wouldn't have to walk too far from my car, or where I could sit down."
Her confidence grew, as did her energy level. Before her surgery, Wilson, a talented baker, found it too taxing to stand at the stove. Even moving a chair across the kitchen was too much effort. But now, she can get back to doing the things she loves, much to the delight of her husband Stephen and 12-year-old Henry.
"I feel like I've been catching up," Wilson said. "Now my husband can't keep up with me. I'm running round, picking up projects, going to the farmer's market, planning vacations, going to the park with my son. Doing those things used to be so difficult."
Wilson and her husband went to San Francisco, where they walked five miles a day. During a family vacation to Myrtle Beach, she could once again walk on the beach and put her feet in the water. Prior to her surgery, such adventures would have been inconceivable. But as her health improves, so does her excitement to explore opportunities and experiences that have been out of reach for so long.
"I've got a lot of strength that I have to build up, so I'm still getting to where I should be," she said. "I'm still figuring out my regimen. What's my exercise plan? Do I walk at lunch? But it's amazing. Just amazing."
Wilson posted her story on Facebook and was amazed at the number of friends who chimed in with similar experiences. Most people with adenomyosis don't know they have it since it's not always detectable. She is grateful to Rose for looking at her symptoms holistically and to Miller for having the answers to years of frustrating questions.
"I call Dr. Miller my miracle worker," Wilson said. "If there are miracles in this world, this was a miracle for me. I'm a new person."
UK HealthCare is the hospitals and clinics of the University of Kentucky. But it is so much more. It is more than 10,000 dedicated health care professionals committed to providing advanced subspecialty care for the most critically injured and ill patients from the Commonwealth and beyond. It also is the home of the state's only National Cancer Institute (NCI)-designated cancer center, a Level IV Neonatal Intensive Care Unit that cares for the tiniest and sickest newborns, the region's only Level 1 trauma center and Kentucky's top hospital ranked by U.S. News & World Report.  
As an academic research institution, we are continuously pursuing the next generation of cures, treatments, protocols and policies. Our discoveries have the potential to change what's medically possible within our lifetimes. Our educators and thought leaders are transforming the health care landscape as our six health professions colleges teach the next generation of doctors, nurses, pharmacists and other health care professionals, spreading the highest standards of care. UK HealthCare is the power of advanced medicine committed to creating a healthier Kentucky, now and for generations to come.