Is it time for a new COVID shot? UK pharmacists answer your questions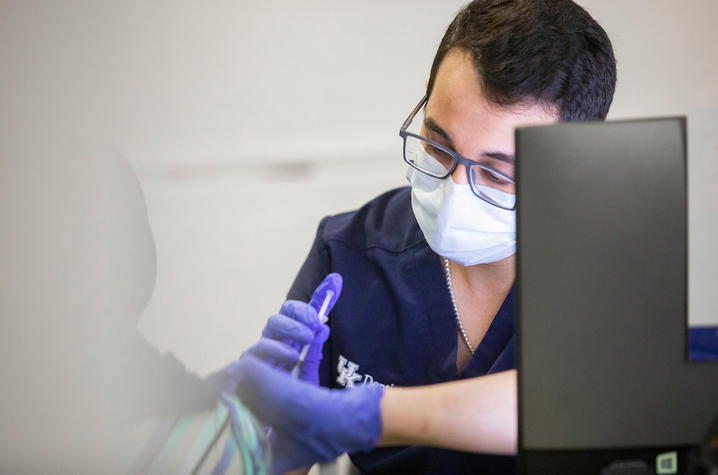 LEXINGTON, Ky. (Aug. 24, 2023) — The COVID-19 public health emergency may be officially over, but COVID has not completely disappeared from concern. In fact, Lexington hospitals are seeing an increase in COVID patients this summer. 
With a new COVID vaccine coming this fall, the UK Pharmacist Care Clinic's Jim Hallahan, Pharm.D., and Ryan Babb, Pharm.D., answer some questions you may have.
When will a new booster be available?
The new booster is currently being developed. The Food and Drug Administration (FDA) is expected to approve it by the end of August, with shots becoming available in late September or October.
Who should get the new COVID vaccine?
The Centers for Disease Control and Prevention's Advisory Committee on Immunization Practices (ACIP) group will provide guidance about who should get the vaccine when they approve it. 
How will the new vaccine be different from what's available now?
Like the annual influenza ("flu") vaccine, the new COVID vaccine will be targeted toward the strains of the virus that are most common in the community. In hopes of creating the broadest possible immunity for those who take the vaccine, this fall's COVID vaccine is expected to be a monovalent formulation targeted toward the XBB.1.5 variant.
I am over 65 and/or have serious health issues. Should I get another booster now, before the new vaccine is available?
It is advised that patients continue receiving boosters as they are eligible. For additional help regarding the timing of your vaccine series, you can call the Pharmacist Care Team at 859-562-2018.
When will the new vaccine be available at UK Retail Pharmacies?
New booster vaccines are expected to be available shortly after FDA and CDC approval, which is expected to be in September or October. 
If I am fully vaccinated and previously received required boosters, do I need to get the new vaccine?
We expect the CDC to recommend this new booster to all eligible individuals this fall, regardless of previous vaccine history. The new vaccine's formulation was created to target virus strains that are currently most prevalent in the community, helping to boost your immunity and fight severe infection. 
Will there be a combined flu-COVID shot this year?                
No. Although researchers are working on this, a combined vaccine won't be available this year.
Can I get the COVID and flu vaccines at the same time?
Yes, receiving both at the same time has been shown to be both safe and effective. 
I've had COVID, do I still need to get boosters?
Getting a COVID-19 vaccine after you recover from COVID-19 infection provides added protection against getting the disease again. You may consider delaying your vaccine by three months from when your symptoms started or, if you had no symptoms, when you received a positive test.
If you are currently infected with COVID, you should not get vaccinated until your quarantine period has ended to avoid potentially exposing health care personnel and others during the vaccination visit.
What should I do if I have never been vaccinated?
Please call your local pharmacist or the UK Pharmacist Care Team (859-562-2018) and they can provide you with information on how to get started. You can schedule an appointment with the Pharmacist Care Team by visiting https://mychart.uky.edu/MyChart/openscheduling, select "Pharmacy," then "COVID vaccine" and fill out the information.
Will there be a charge for the new boosters?          
No. COVID vaccinations continue to be free of charge. 
                                                                                                                                                                                                                                                       ***
UK Retail Pharmacies and the UK Pharmacist Care Clinic, located at 245 Fountain Court, Room 220, off Man O'War near Richmond Road, provide a wide range of point-of-care services, including:
Vaccinations for COVID-19, flu, hepatitis A&B, shingles, pneumococcal pneumonia, tetanus and more.
One-stop testing and treatment for flu, strep A, COVID-19 and more.
Allergic rhinitis (nasal allergies) testing and consultation to help you manage your symptoms.
Tobacco cessation support.
To learn more about UK Retail Pharmacies, visit ukpharmacy.org.
UK HealthCare is the hospitals and clinics of the University of Kentucky. But it is so much more. It is more than 10,000 dedicated health care professionals committed to providing advanced subspecialty care for the most critically injured and ill patients from the Commonwealth and beyond. It also is the home of the state's only National Cancer Institute (NCI)-designated cancer center, a Level IV Neonatal Intensive Care Unit that cares for the tiniest and sickest newborns, the region's only Level 1 trauma center and Kentucky's top hospital ranked by U.S. News & World Report.  
As an academic research institution, we are continuously pursuing the next generation of cures, treatments, protocols and policies. Our discoveries have the potential to change what's medically possible within our lifetimes. Our educators and thought leaders are transforming the health care landscape as our six health professions colleges teach the next generation of doctors, nurses, pharmacists and other health care professionals, spreading the highest standards of care. UK HealthCare is the power of advanced medicine committed to creating a healthier Kentucky, now and for generations to come.