Join UK HealthCare to 'Walk with a Doc' at Fayette Mall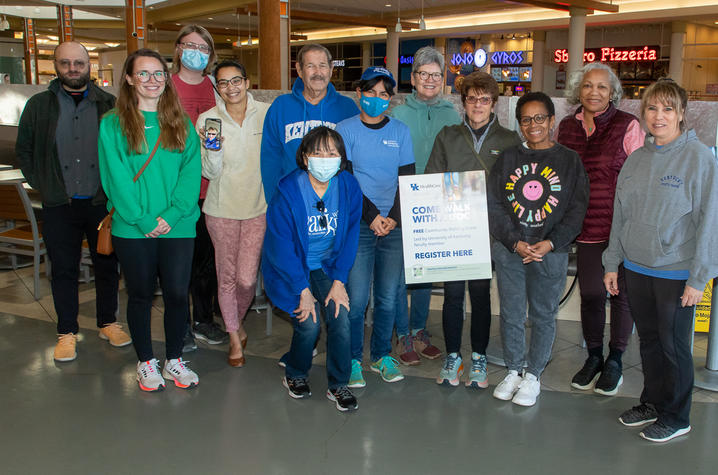 LEXINGTON, Ky. (March 17, 2023) — Fayette Mall is proud to host UK HealthCare and the international Walk with a Doc program to transform our community's well-being. Walkers are joined by a leading health expert to learn about and discuss important health topics. 
Each Walk with a Doc event is free and open to anyone interested in improving their health. Check-in is at 9:30 a.m. inside the food court entrance, then the walk begins. One complete lap in the mall equals one mile.
"This initiative is a wonderful way to stay active while also learning about how to best take care of ourselves in the process. The walkers all walk at their own pace and enjoy the camaraderie that Walk with a Doc brings!" says Fayette Mall Marketing Director Rabiya Syed.
Upcoming walks:
Saturday, March 18: Connie Jennings, M.D., a UK HealthCare Integrative Medicine physician who has been practicing for more than 30 years and is the local leader of the Walk with a Doc.
Saturday, April 1: Dennis Kim, a licensed acupuncturist who specializes in treating a wide variety of issues ranging from pain management and digestive issues to cosmetic acupuncture. 
Saturday, April 15: Wanda Gonsalves, M.D., a retired UK HealthCare Family and Community Medicine physician who currently helps students interested in becoming physicians. 
Gather your friends and loved ones to kick your Saturday off feeling accomplished! Learn more about the event here.
UK HealthCare is the hospitals and clinics of the University of Kentucky. But it is so much more. It is more than 10,000 dedicated health care professionals committed to providing advanced subspecialty care for the most critically injured and ill patients from the Commonwealth and beyond. It also is the home of the state's only National Cancer Institute (NCI)-designated cancer center, a Level IV Neonatal Intensive Care Unit that cares for the tiniest and sickest newborns, the region's only Level 1 trauma center and Kentucky's top hospital ranked by U.S. News & World Report.  
As an academic research institution, we are continuously pursuing the next generation of cures, treatments, protocols and policies. Our discoveries have the potential to change what's medically possible within our lifetimes. Our educators and thought leaders are transforming the health care landscape as our six health professions colleges teach the next generation of doctors, nurses, pharmacists and other health care professionals, spreading the highest standards of care. UK HealthCare is the power of advanced medicine committed to creating a healthier Kentucky, now and for generations to come.