Nathan's Hope 5K Benefits Ky. Children's Hospital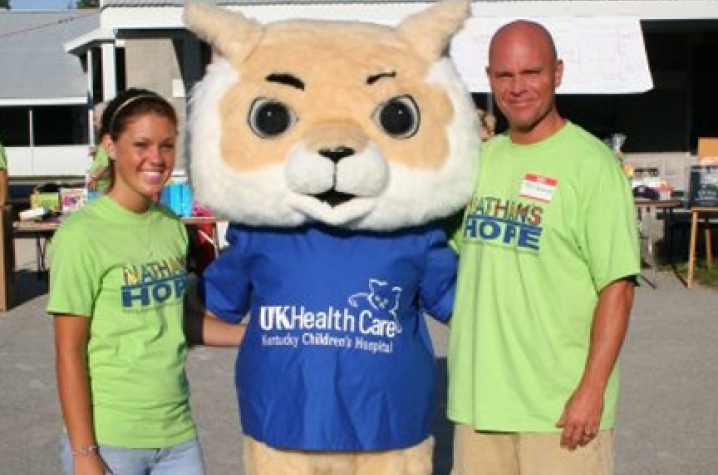 LEXINGTON, Ky. (Aug. 5, 2010) – Kentucky Children's Hospital will benefit from the Nathan's Hope 5K Run/Walk to raise money and awareness for primary pulmonary hypertension. The event will take place Aug. 21 at Keeneland Barn 2, off Versailles Road in Lexington.
Registration begins at 8 a.m. with the run/walk starting at 9 a.m. The cost is $15 for adults, $10 for ages 11-17 and $5 for ages 6-10. Children age 5 and younger may participate free. Each participant will receive a raffle ticket and T-shirt at registration. Extra raffle tickets are $1 each. Besides the raffle, there will be a silent auction.
During the day, participants will have a visit from Stitches, the Kentucky Children's Hospital mascot.
"We would like to invite everyone to come join the fun as we kick off the 12th Annual Nathan's Hope 5K Run/Walk," said Lynette Crist. "This event is being held in memory of my son, Nathan Matuszewicz, who passed away suddenly due to a rare disease called primary pulmonary hypertension. Our family and friends want to raise awareness of this disease. All money raised will benefit Nathan's Hope Pulmonary Hypertension Clinic at Kentucky Children's Hospital and a scholarship fund named in Nathan's honor for a University of Kentucky College of Agriculture animal sciences student."
Two years ago, a fund was established by Crist in honor of her son, Nathan, for Nathan's Hope Pediatric Pulmonary Hypertension Clinic at Kentucky Children's Hospital. The fund will be used to help the clinic provide enhanced patient care and research. The fund will also make it possible for the clinic to offer support services for patients and their families from all over Kentucky.

Nathan was born in 1990 in Van Nuys, Calif., the son of Lynette Crist and Bryan Matuszewicz. When he was 2 years old, the family moved to Lexington. In 1993, Nathan was diagnosed with primary pulmonary hypertension. He was an active child who loved his family, friends, animals and playing outdoors. The only outward sign of his disease was shortness of breath with exertion. Nathan died at the age of 8.
"Nathan loved life so much," said Crist. "He never met a stranger and was always trying to make people smile. In the journals his friends wrote to me about him after he passed away, they all remarked about him always smiling and being everybody's friend. I am so happy to be able to be helping others in his memory this way. I know Nathan would have wanted this. I believe he is watching over us with a big smile on his face."
Primary pulmonary hypertension is a rare disorder in which the pressure in the blood vessels of the lungs becomes abnormally high and life-threatening.  Although the symptoms can be managed with a number of medications, no drug or treatment has been developed to cure or halt the progression of the disease.
Dr. Thomas DiSessa, professor of pediatrics, division of pediatric cardiology, UK College of Medicine, is director of Nathan's Hope Pediatric Pulmonary Hypertension Clinic at Kentucky Children's Hospital.
"We are very grateful to Lynette Crist for establishing this fund and also for hosting the upcoming run/walk," DiSessa said. "I have been caring for children with pulmonary hypertension for many years. When this disease occurs, it is a lifelong illness and could be terminal. Some patients could require a heart and lung transplant. Over the past 10 years, medical therapy has advanced significantly with new medications and new ones on the horizon. The outcome for our patients also has improved significantly."
The expected survival rate for children is 30 to 35 percent after diagnosis. With new medications, it is 60 to 70 percent. The survival rate has doubled and the quality of life has been improved for patients.
There is a need for a special group of people to care for children with pulmonary hypertension. There is a team of physicians and health care professionals from a number of specialties providing important care to these children.
"We so appreciate Lynette and all those involved in Nathan's Hope Run/Walk," said Cathy Johnson, nurse coordinator of the clinic at Kentucky Children's Hospital. "It will be a fun and exciting day for all of us. While working for the department of pediatric cardiology, I have recognized the need for comprehensive care for the pediatric pulmonary hypertension population. My goal is for us to be able to provide this type of comprehensive care in a manner that promotes comfort to patients and their families."
For more information and to register, call or e-mail Lynette Crist at (859) 333-6458 or lcrist2@gmail.com or call Karen Crist at (859) 223-1185.