'Run to Remember' Helps Children's Hospital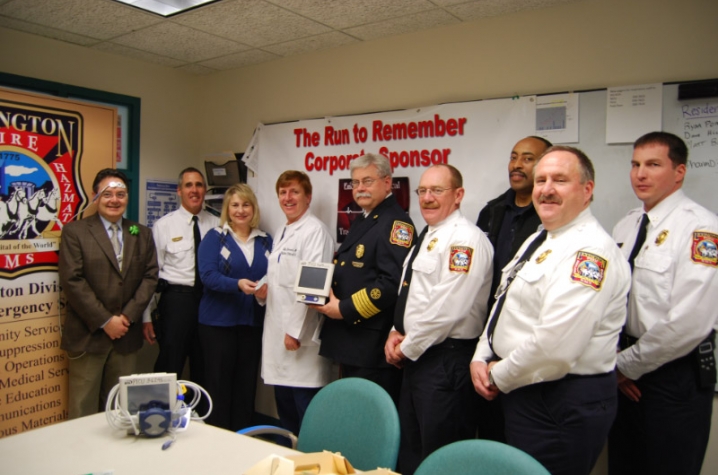 LEXINGTON, Ky. (March 18, 2010) – Kentucky Children's Hospital recently recognized Lexington firefighters for their donation from the annual Run to Remember.
The firefighters donated $3,766 to purchase bispectral index monitors – more commonly called BIS monitors – for use in the pediatric intensive care unit. The monitors help anesthetists and caregivers by giving an indication of patients' consciousness under anesthesia.
The run is sponsored by the Fellowship of Christian Firefighters, the International Association of Firefighters Local 526 and by the corporate sponsor, Emergency Medical Training Professionals.
The Run to Remember is a 4.03-mile run/walk held at Coldstream Research Park in Lexington to remember and honor the 403 New York City firefighters and 60 police officers and Port Authority police officers who died in the line of duty on Sept. 11, 2001, in response to the terrorist attack on America. It also is a fundraiser for Kentucky Children's Hospital. 
"Because of our sponsors, every penny not designated to our memorial monument to the fallen, goes to the children's hospital," said Lt. Stewart Dawson, chaplain, Lexington Fire Department.
It was with this in mind that in 2004 Dawson initiated what is now known as "The Week of Giving." Occurring annually around Sept. 11, this week is set aside specifically for the members of the Lexington Fire Department to give back to the community that continually supports its public servants. During this week, firefighters go above and beyond their normal duties to perform acts of charity and goodwill as a "thank you" to the residents of Lexington.
"Lexington Firefighters are on the front lines helping children in our community," said Dr. Phillip A. Bernard, assistant professor of pediatrics, University of Kentucky College of Medicine and a pediatric critical care specialist at Kentucky Children's Hospital. "We are grateful for their service everyday. Their contribution for BIS monitors is a great example of our community coming together for kids."
In addition to its purpose to remember and honor the public safety officers who died that week of Sept. 11, 2001, Dawson said they also use this race as physical outreach for the firefighters to children at Kentucky Children's Hospital. 
"Before the race we pay a few visits to children's hospital. We play games with them, have tea, or just chat — whatever that child desires," Dawson said. "We also ask them to place their own personal art of some kind on some of our race shirts. We tell them that we will be running in their honor because they are winners in our eyes for the battles they are fighting in the hospital."
Those special shirts are worn by runners during the race. Then, after the race, the firefighters return to the hospital and give their medals — every firefighter who runs gets a medal —  to the children.
"It is usually a whole different group of children," Dawson said. "We tell those children that they too are winners in our eyes. They are winners as they fight whatever illness they have. This is always a great time for our firefighters and the children. Last year we had a few children who had received treatment at Kentucky Children's Hospital participate in the race." 
For more information about the children's hospital, go to the Kentucky Children's Hospital Web site at www.ukhealthcare.uky.edu/kch.