UK Social Worker Surprised with 2013 Make-A-Wish Medical Professional of the Year Award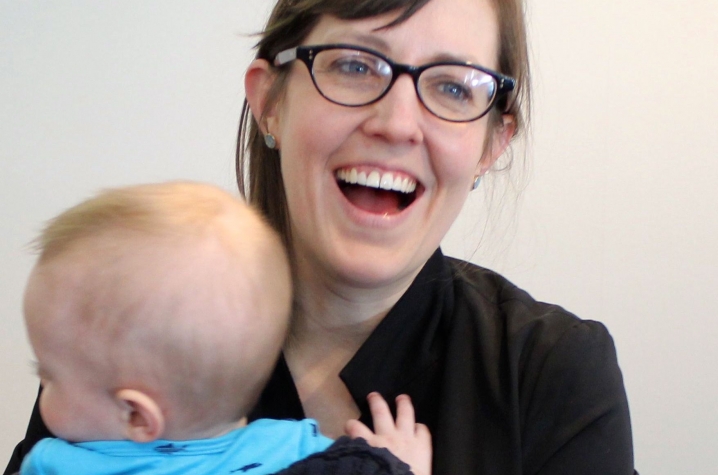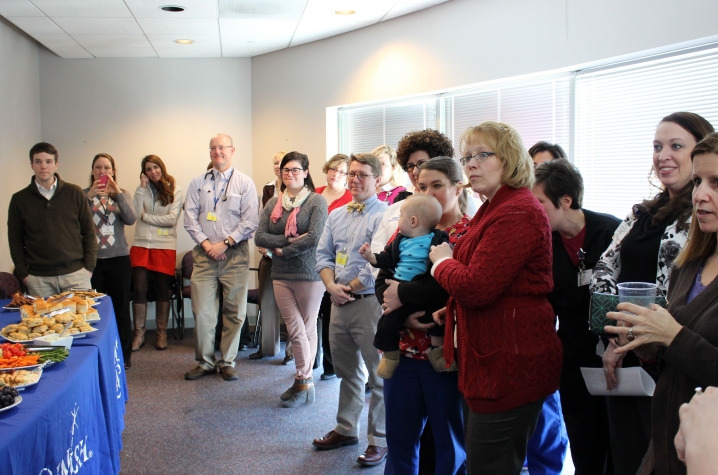 LEXINGTON, Ky. (March 4, 2014) - A day as a fighter pilot, a swim with dolphins and a trip to the Big Apple are only a few of the wishes Rachel O'Farrell has helped the Make-A-Wish Foundation grant for children battling cancer.
O'Farrell received a special moment of her own Feb. 27 when the Make-A-Wish Ohio, Kentucky & Indiana staff surprised her with the chapter's 2013 Medical Professional of the Year honor. The UK HealthCare social worker is a referral source for Make-A-Wish, an organization that grants the wishes of children with life-threatening medical conditions.
Make-A-Wish arranged a surprise reception to present the award to O'Farrell at the Kentucky Clinic. She was congratulated by her co-workers in the DanceBlue Kentucky Children's Hospital Hematology/Oncology Clinic and Make-A-Wish chapter staff. Special guests Brendan, O'Farrell's husband, and their 8-month-old son Finn also attended the party.
O'Farrell has gone over-and-above to help create magical experiences for as many as 30 young cancer patients at UK pediatric hematology/oncology clinic. Make-A-Wish staff members were especially impressed with O'Farrell's recent efforts to help one ailing patient and her family. The patient couldn't decide on a wish and the family didn't own cellphones, so communication was an additional challenge for Make-A-Wish coordinators. O'Farrell served as the point of contact for the family and helped the teen communicate her wish - a family trip to the Walt Disney World Resort in Orlando, Fla.
"Rachel fully embodied our mission with this wish by approaching every situation with the frame of mind of, 'how can we make this happen for the child?'" Kim Pettingell, senior medical outreach manager for the local Make-A-Wish chapter said. "We were able to make this wish come true because of Rachel's assistance and sincere dedication to seeing her patient experience the power of a wish."
Typically, Make-A-Wish Ohio, Kentucky & Indiana honors its Medical Professional of the Year during its annual BIG Wish Gala held in August. O'Farrell was unable to attend last year's gala because she was on maternity leave. She is the first medical professional in Kentucky to receive the honor from Make-A-Wish.
As part of the award, O'Farrell received a photo album containing pictures of the many children she has referred to Make-A-Wish. A social worker at UK for nearly four years, O'Farrell said many children and families "latch on" to the Make-A-Wish experience. She presents the opportunity to all of the patient cases she manages and takes time to listen to each family's unique story.
"I was just doing what anyone in my position would do," O'Farrell said. "I take a lot of meaning from the work I do. I am constantly inspired by the resilience of these families and these kids. The way they make meaning out of their experience is rejuvenating."
For more information about referring a child to Make-A-Wish, contact Kim Pettingell at 877-206-9474 or visit www.md.wish.org.
MEDIA CONTACT: Elizabeth Adams, elizabethadams@uky.edu