Kids Leading Kids In the Fight Against Cancer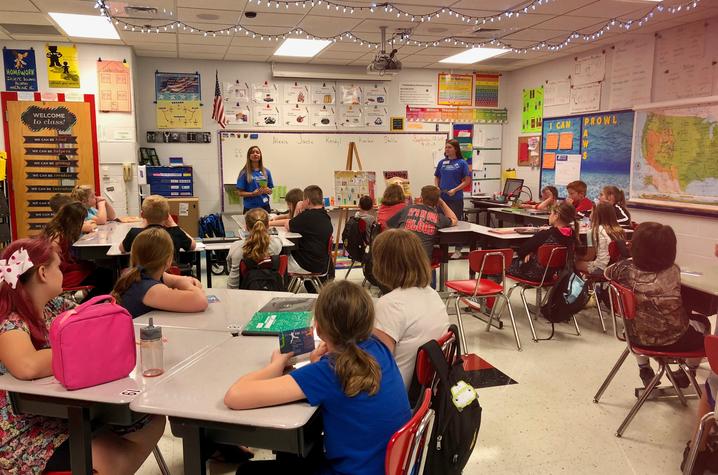 LEXINGTON, Ky. (May 8, 2019) – Melissa Hounshell wants to lower cancer rates in the state of Kentucky. To work toward this goal, she looked to an unlikely place – her own elementary school experience and the peer influence of older classmates.
"I remember when I was in first grade, I thought the fourth graders were the bomb," Hounshell said. "When I was in fourth grade, I thought the same about the sixth graders. That helped me realize that leaders who kids would look up to would be kids themselves."
As the University of Kentucky Markey Cancer Center's Community Outreach Director, Hounshell began a youth outreach program in 2017 called Get Fit, Be Smart, Don't Start. She travels to local communities to educate children on health habits that help prevent cancer: eating healthy foods, not smoking or vaping, and prioritizing dental and mental health.
Kentucky is ranked first in both cancer incidence and mortality in the country, so the program is driven by the goal of reducing cancer rates across the state by increasing knowledge and education about cancer prevention, especially among youth.  Hounshell explained that reaching out to children can have multiple effects; they will hopefully implement better health practices for themselves and also urge adults in their lives to do the same.
Remembering the ways that younger children idolize the older ones inspired Hounshell and her team to begin a Youth Ambassador Program. In 2018, the program underwent a substantial change by adding six new student members – all in high school.
Working with Highlands Regional Medical Center in Prestonsburg, Ky., to pilot the program, they recruited high schoolers through an application, interview and training process. Allison Campbell, Alexis Click, Alexia Hall, Trey Layne, Jaxon Ratliff and Sarah Thompson were chosen as the program's first six ambassadors.
"The students serve as ambassadors in their own communities by reaching out to teachers from their former elementary schools," Hounshell said. "By connecting with teachers with whom they already have relationships, they're able to explain the program really well and help us get inside more schools."
The pilot program began in September 2018, and as of January 2019, the ambassadors have presented to 152 fourth and fifth grade students in Floyd County.
"We're already getting great feedback from kids and teachers," Hounshell said. "It's a wonderful homecoming for the high schoolers, and the kids identify better with them than they would an adult."
The program plans to expand into western Kentucky in during the rest of 2019. Hounshell just hired a western Kentucky coordinator at the end of January and is working on a pilot program with local high schools.
"We'd love to grow more across the state in the years to come," Hounshell said. "But for the rest of this calendar year, we will focus on the western and eastern Kentucky pilots and see where it takes us."