In Kloiber Foundation Teen Lounge, teens can be themselves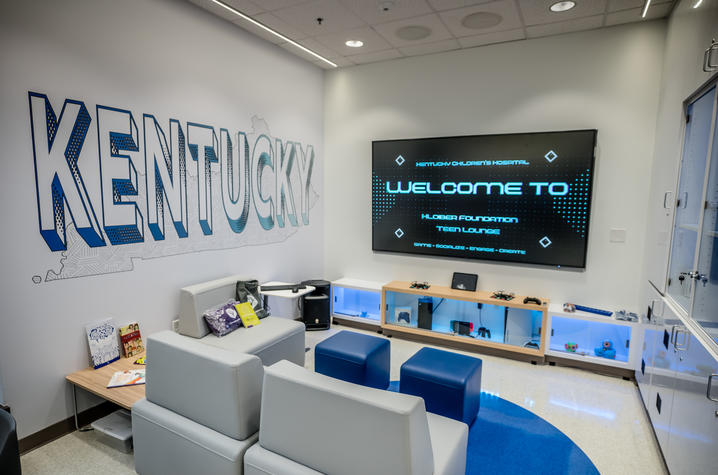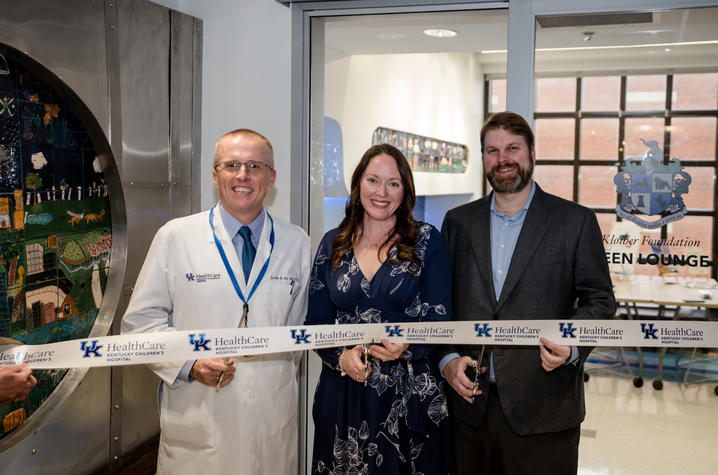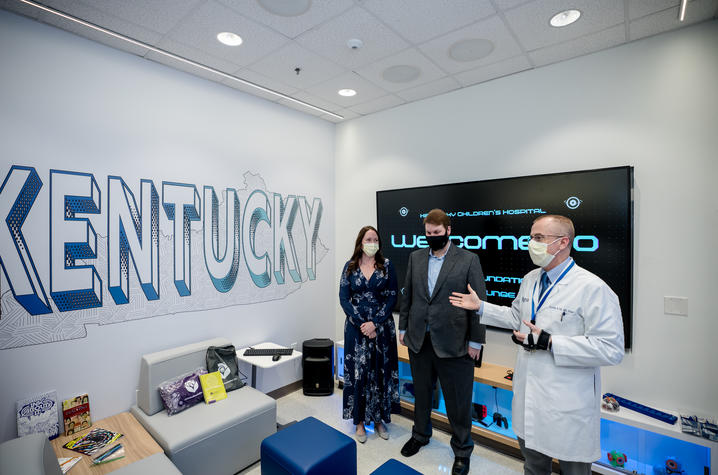 LEXINGTON, KY. (Feb. 23, 2023) — Recently, Kentucky Children's Hospital unveiled a new space designed exclusively for the hospital's adolescent patients. The Kloiber Foundation Teen Lounge is a recreation room that has been renovated with teens in mind and outfitted with the latest tech gadgets.
Scottie B. Day, M.D., physician-in-chief of Kentucky Children's Hospital, and David and Marci Kloiber were among those present to celebrate the grand opening. David Kloiber is the president of the Kloiber Foundation, which provided the necessary support to renovate the space.
Adolescent patients at Kentucky Children's Hospital will have an assortment of cool gadgets in the Teen Lounge that addresses their needs for both fun escapism and intellectual exploration. The space features a giant screen for watching Apple TV or playing the newest video game consoles. Teens can experience virtual reality with a Meta Oculus 2 VR headset or control flying drones and programmable, app-enabled robots, or they can explore basic electrical engineering with a Snap Circuits set and experiment with newer tech like 3D printers and pens. Amenities include:
PlayStation 5
Xbox Series X
Nintendo Switch
art supplies
MakerBot 3D Printer
Nintendo Switch Lite (2)
Meta Quest 2
Sphero Robots
LEGO Education Kits
Tello Drones
3D Doodlers
Snap Circuits
Apple TV
"We are incredibly grateful to the Kloiber Foundation for their generosity and support for this space. While the hospital already has colorful playrooms and activities for younger kids, the Teen Lounge provides adolescents with an environment where their maturity and need for independence is respected," said Day.
Kentucky Children's Hospital strives to provide for patients' emotional, social, and psychological needs while they are undergoing treatment. Teens are at a crucial stage of growing up and need space to be themselves. In the Kloiber Foundation Teen Lounge, Kentucky Children's Hospital now has a spot for that. Thanks to the Kloiber Foundation's generous support, adolescent patients or siblings of patients can now use the new space to unwind and socialize with other teens.
UK HealthCare is the hospitals and clinics of the University of Kentucky. But it is so much more. It is more than 10,000 dedicated health care professionals committed to providing advanced subspecialty care for the most critically injured and ill patients from the Commonwealth and beyond. It also is the home of the state's only National Cancer Institute (NCI)-designated cancer center, a Level IV Neonatal Intensive Care Unit that cares for the tiniest and sickest newborns, the region's only Level 1 trauma center and Kentucky's top hospital ranked by U.S. News & World Report.  
As an academic research institution, we are continuously pursuing the next generation of cures, treatments, protocols and policies. Our discoveries have the potential to change what's medically possible within our lifetimes. Our educators and thought leaders are transforming the health care landscape as our six health professions colleges teach the next generation of doctors, nurses, pharmacists and other health care professionals, spreading the highest standards of care. UK HealthCare is the power of advanced medicine committed to creating a healthier Kentucky, now and for generations to come.