Legislators Join UK HealthCare in Highlighting Importance of Ovarian Cancer Screening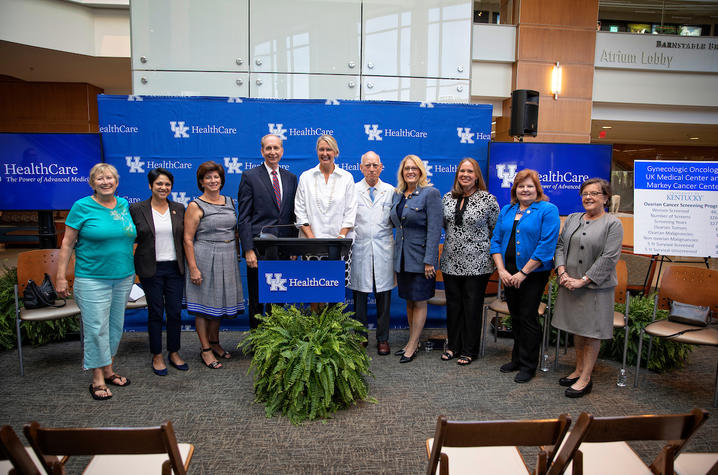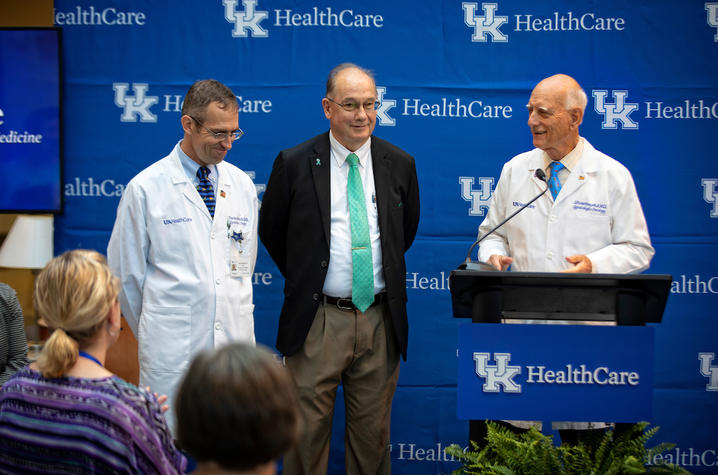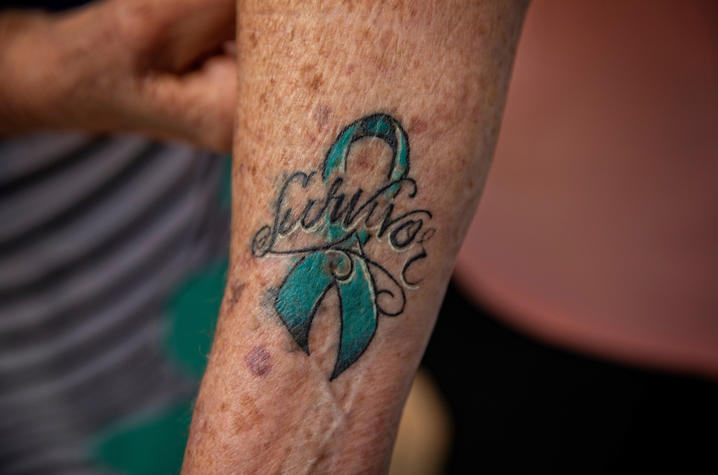 LEXINGTON, Ky. (Sept. 11, 2019) — As part of National Ovarian Cancer Awareness Month, several of Kentucky's female legislators joined UK HealthCare to highlight results from the University of Kentucky Markey Cancer Center's Ovarian Cancer Screening Program.
The program is an ongoing, 32-year research study showing that annual screening continues to detect ovarian cancer at an earlier stage than is possible with a clinical examination. Senate Majority Caucus Chair Julie Raque Adams, House Majority Caucus Chair Suzanne Miles, House Minority Whip Joni Jenkins and Senator Robin Webb visited UK HealthCare to offer their support for the program.
Joining the legislators to talk about the program were Markey gynecologic oncologist Dr. John R. van Nagell Jr., and Nancy Cox, dean of the UK College of Agriculture, Food and Environment.
Markey's Ovarian Screening Program was initiated in 1987 by van Nagell and his colleagues. The goal was to determine whether transvaginal sonography (TVS) could be an effective means of early ovarian cancer detection.
For the past 50 years, ovarian cancer has remained the leading cause of gynecologic cancer mortality in the United States. This year, more than 14,000 deaths from ovarian cancer will be reported in the United States, making it the fifth leading cause of female cancer mortality. 
When it is detected early, women often can be cured with existing treatment methods. However, most women have no symptoms until the disease has progressed to an advanced stage. As the disease progresses, survival rates drop sharply. Last year, van Nagell published a study in Obstetrics and Gynecology that shows that annual ultrasound screening of at-risk asymptomatic women increases the survival rates of women with type I and type II epithelial ovarian cancer.
"While regular pelvic examinations are important and can detect many other abnormalities, including cervical cancer, they are not effective in detecting ovarian cancer in its earliest and most treatable stages," van Nagell said. "Early detection is vital to saving lives. In fact, the 5-year survival rate of women whose cancer was detected by screening is 86% – that's twice as high as those who do not get screened."
Transvaginal sonography (TVS) is painless, radiation-free, and can be completed in less than 15 minutes. During the examination, a small vaginal probe is used to take a sonographic picture of the ovaries, and to measure ovarian volume. This procedure is able to detect ovarian tumors even when they are too small to be diagnosed during an annual gynecological examination.
So far, nearly 350,000 free screening examinations have been provided to more than 48,000 Kentucky women, and women from every county in the state have participated in this program. Through the screenings, 607 ovarian tumors and more than 100 malignancies have been detected. Currently, screenings are being performed at six locations throughout the state, including Lexington, Elizabethtown, Somerset, Prestonsburg, Maysville and Paducah.
"Kentucky has the highest rates of cancer in the country, and providing Kentuckians access to the best means of cancer prevention, treatment and research is incredibly important," said Dr. Mark Evers, director of the UK Markey Cancer Center. "As the state's only National Cancer Institute-designated cancer center, it's our mission to significantly reduce the burden of cancer in the state, and Markey's Ovarian Cancer Screening Program is one of the many unique ways we can do that."
The initial funding for the program came from the Telford Foundation and the Kentucky Extension Homemakers Association (KEHA). The late Virginia McCandless, a Barren County Extension Homemaker started the ovarian cancer research fundraising effort with van Nagell in 1977. Their goal was to raise $1 from each member of KEHA, which then had 31,000 members. Her idea took off, and KEHA members have supported it by participating in regular screenings and donating $1 per member annually.
"We are extremely proud of the Kentucky Extension Homemakers Association's dedication to this life saving program," said Cox. "Their fundraising efforts have raised nearly $1.5 million but their work really goes beyond fundraising. They routinely participate in the screening program, organize trips to screening sites from around the state, promote ovarian cancer awareness, and host educational events regarding ovarian cancer. This program positively impacts Kentucky women and represents the kind of research that should be conducted by a state's land-grant university."
The Ovarian Cancer Screening Program is open to women age 50 or older, or women over the age of 25 who have a family history of ovarian cancer. Screening is free. For more information, call (859) 323-4687 or (800) 766-8279.