Lexington High School Senior Organizes Markey DineAround to Benefit Markey Cancer Foundation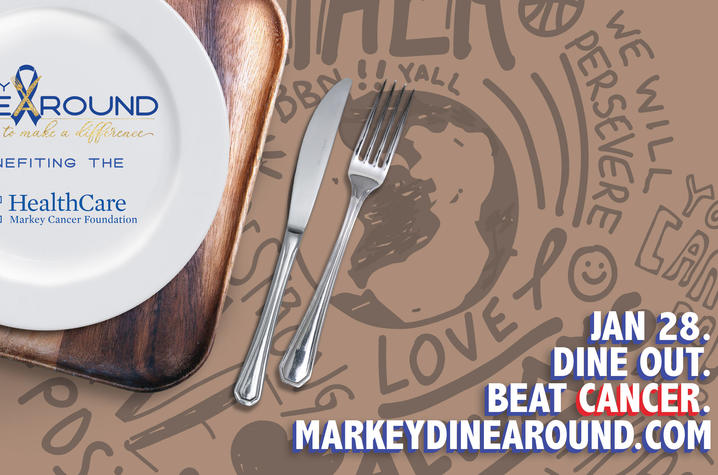 LEXINGTON, Ky. (Jan. 23, 2020) – On Jan. 28, restaurants around Lexington will open their doors for a "day to make a difference" by participating in the first ever Markey DineAround.  The committee, led by 17-year-old Frederick Douglass High School senior Drew Rodriguez, arranged for 14 local restaurants to donate 25% of their proceeds from the entire day of January 28 to the University of Kentucky Markey Cancer Foundation.
"I wanted to organize a fundraiser to benefit the Markey Cancer Foundation after realizing how nearly everyone is affected by cancer in some way," said Rodriguez. "I want to make a difference in the community and tap in to the generous spirit of friends and neighbors, so we can all try and help enrich the lives of those around us."
Hoping to bring awareness to Kentucky's staggering cancer incidence and mortality rates, Markey DineAround is an opportunity for the Lexington community to support the UK Markey Cancer Center in their work to increase the survival rate of not just the people of Lexington, but all of Kentucky.
"The people of Lexington are not only passionate about this city, but about the entire state of Kentucky," said UK Markey Cancer Foundation President and CEO Michael Delzotti.  "We, at the Markey Cancer Foundation, are excited to be a part of an opportunity that brings the community together to support one another and support those working to decrease cancer incidence in this state and around the country."
Restaurants slated to participate in Markey DineAround on January 28 are:
The Blue Heron Steakhouse
Coles 735 Main
Dudley's on Short
Eppings on Eastside
The Grey Goose
J. Render's Southern Table & Bar
Jeff Ruby's Steakhouse
Lockbox
Pasta Garage
Ranada's Bistro & Bar
Rolling Oven
The Sage Rabbit
Saul Good
Spotz Gelato
For more information, visit markeydinearound.com.