Life After Vaccination: UK Experts Share Personal Stories and Recommendations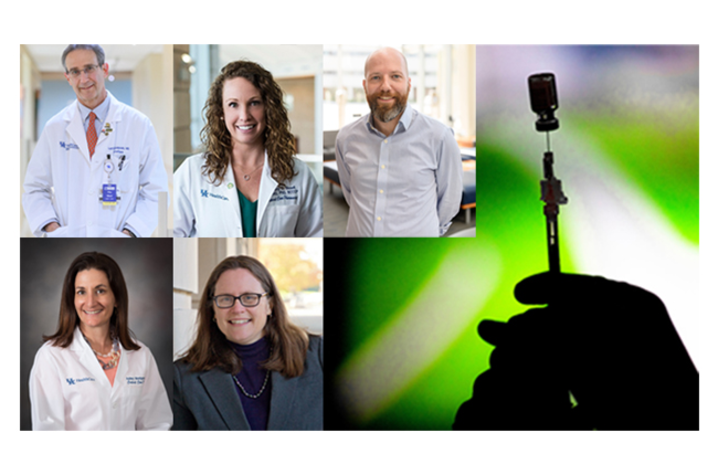 LEXINGTON, Ky. (April 20, 2021) – We are to a point now that seemed nearly impossible one year ago – having millions vaccinated against COVID-19.
Thanks to the hard work and dedication of UK HealthCare and University of Kentucky employees and volunteers, hundreds of thousands of emergency authorized vaccines have been distributed to Kentuckians. The COVID-19 vaccination clinic at Kroger Field surpassed 200,000 vaccines in the beginning of April.
As people continue to schedule their shots, many are breathing a sigh of relief – including experts at UK who have been helping our community navigate the coronavirus from the start. Whether working on the front lines and treating COVID-19 positive patients at UK Chandler Hospital, or breaking down the complicated processes that have brought us to where we are today, they are sharing their thoughts and recommendations based on current data trends, about living life amid a pandemic.
Dr. Ashley Montgomery-Yates stays busy working for UK HealthCare. Besides her role as an associate professor in the division of Pulmonary, Sleep Medicine and Critical Care Medicine, she is in charge of Intensive Care Units, and played a major role in helping to create the COVID-19 vaccination clinic at Kroger Field.
She is fully vaccinated against COVID-19 and, in accordance with CDC guidelines, has changed her level of interaction with others. She continues to mask up in public and at work, but says she feels comfortable forgoing masks during family gatherings or while interacting with those in her social circle.
"Everyone I know was super excited to get vaccinated, so most people in my life are fully vaccinated," she said. "Our home private life feels much more normal."
In the beginning of the pandemic, Montgomery-Yates admits she was scared just going to the grocery store. Now she feels much safer.
"The idea that I can go to the mall or stay in a hotel room for my son's soccer tournament or go to the grocery without constant fear of getting sick or taking the virus home to my loved ones, has lessened my general anxiety level," she said.
Vince Venditto's extensive background in vaccine development has rendered him one of UK's go-to experts from the College of Pharmacy for all questions and answers about COVID-19 vaccines. He is fully vaccinated against COVID-19, but until his wife is, too, he continues to limit his exposure to others.
"New variants that are not targeted by the vaccines may start spreading through the population and could require a complete shutdown again if we revert back to pre-pandemic activities too quickly," said Venditto, assistant professor in the Department of Pharmaceutical Sciences. "If we remain diligent until enough people are vaccinated, we will be able to come out of this sooner than if we all let our guard down now."
Venditto enjoys visiting the office more frequently and interacting with his team in individual face-to-face meetings, which he feels have been greatly beneficial, but continues to physical distance himself during those meetings and wears a mask.
Once his wife is fully vaccinated, the couple looks forward to small get togethers in their backyard but will continue sharing drinks at a physical distance.
"We are also tentatively planning a late-summer trip to visit family in Philadelphia for the first time in over a year, which we are looking forward to," Venditto said. "We are driving instead of flying. Driving is less risky for us and we also want to consider all of the employees working in airports and on planes who may not be vaccinated."
A trip to visit family for the first time in over a year was just what the doctor ordered for Dr. Larry B. Goldstein, chair of the UK Department of Neurology and co-director of the Kentucky Neuroscience Institute.
"I and my wife are fully vaccinated. We drove to North Carolina to see our granddaughter, daughter and son-in-law, and then flew to Portland, Oregon to see our son and daughter-in law," he said. "The trips were more than welcomed!"
Though fully vaccinated, Goldstein continues to double mask, wash his hands after touching any surface and maintains appropriate physical distancing.
Brittany Bissell works directly with COVID-19 patients at UK HealthCare as a medical ICU clinical pharmacist. She is also an assistant professor in the UK College of Pharmacy and College of Medicine. Getting vaccinated was a no-brainer.
"I was lucky to be in one of the first few waves of employees to be vaccinated through UK HealthCare," she said. "It went very smoothly, and I had minimal side effects with both doses."
Though fully vaccinated, she still limits public outings unless absolutely necessary.
"I do not think we are ready for 'normal,' or at least our previous definition of what that was," she said. "While there are many getting vaccines, there are also many who are not. There are also a lot of questions that remain about efficacy across different strains of the virus and among different age groups."
For the last year, Lisa Wright, a respiratory therapist manager for UK HealthCare, has taken her work laptop home with her out of fear that she would need to quarantine.
"I worried that I would need the laptop to access my team if I was suddenly quarantined," she said. "Now I am no longer concerned about that possibility, so I leave my laptop at work most days – it is very freeing."
Wright is encouraged by the decrease in COVID-positive patients at UK HealthCare.
"We are definitely digging out and making progress," she said. "But we need to go slow and continue to follow the latest Centers for Disease Control and Prevention (CDC) guidance as more people get vaccinated."
All in all, Wright did not experience any remarkable side effects from her two vaccine doses but recalls how emotional she felt receiving her first dose. "Just the thought of moving into the next phase of making it through this pandemic was overwhelming," she said.
She is especially grateful to reunite with her vaccinated elderly parents who live out of state.
"I met up with my parents recently, who are in their late 70s," she said. "It was wonderful to be able to spend time with them without our masks on and without worrying that I might make them sick."
*****
These UK HealthCare and UK employees have varying opinions and levels of risk tolerance, but all agree that while they share a collective sense of hope, there is still a lot of work to do before the pandemic is over.
As the University of Kentucky marks the end of the academic year, we're reminded of our promise to the Commonwealth and each other.  Every corner of our campus — from UK HealthCare to Athletics, from our Emergency Operations Center to volunteers in our health colleges and across this university — has united for a common purpose in the battle against COVID-19. And, when members of our community come together with the heart to step up, there is almost no challenge too large, no obstacle too daunting, to overcome. Because of this community – its resilience, compassion and expertise – we have experienced — even in the face of a global pandemic — what is wildly possible.