'The magnet is always on' — UK HealthCare observes MR Safety Week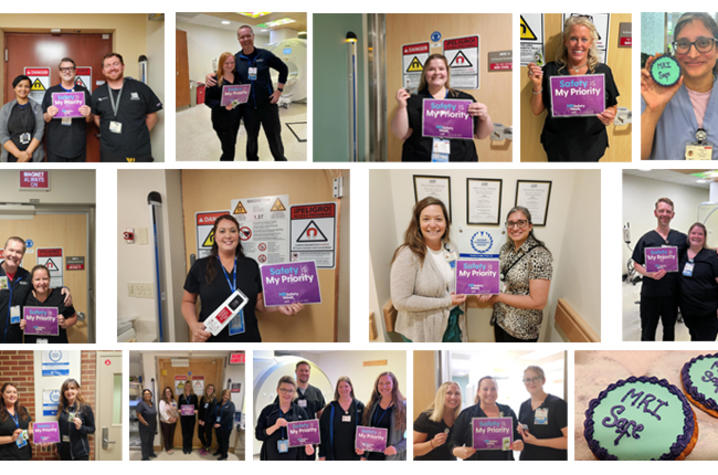 LEXINGTON, Ky. (Aug. 21, 2023) — In July, UK HealthCare participated in MR Safety Week, a program that highlights the dedication to patient safety during magnetic resonance imaging and provides educational opportunities to both technologists and other staff about safety protocols.
MR Safety Week is observed by health care facilities all over the world. It was established following an incident in New York in 2001, when a steel oxygen tank was brought into an MRI room, resulting in the death of 6-year-old Michael Colombini. MR Safety Week was established to develop more comprehensive safety measures during imaging. The goal of MR Safety Week is not only preventing future incidents but highlighting safety protocols to protect patients while also providing radiologist and technologists educational opportunities about the latest safety technology and practices.
"Our MRI techs are trained specifically to monitor and ensure safety in the MRI environment," said Rashmi Nair, M.D., medical director of magnetic resonance at UK HealthCare and associate professor of radiology. "The magnetic field surrounding the MRI is always present, even when the scanner is not in use. We take extra precautions and carefully screen each patient to ensure their safety during imaging."
Patients undergoing magnetic imaging at UK HealthCare are asked to complete a detailed screening form in which they disclose any metallic implants that could be hazardous in or around the scanner. Any implants not already recorded in the patient's electronic medical record will be added to the medical record in the event the patient requires future imaging. Additionally, staff screen anyone who accompanies the patient in the scanner room.
"This is vital for safety," said Nair. "The strong magnet can turn any ferromagnetic object into a projectile." MRI techs are charged with ensuring safety in the MRI suite. We ask that all staff and visitors respect the technologist's duty to screen and to stop personnel from entering the MRI scan room."
UK HealthCare is the hospitals and clinics of the University of Kentucky. But it is so much more. It is more than 10,000 dedicated health care professionals committed to providing advanced subspecialty care for the most critically injured and ill patients from the Commonwealth and beyond. It also is the home of the state's only National Cancer Institute (NCI)-designated cancer center, a Level IV Neonatal Intensive Care Unit that cares for the tiniest and sickest newborns, the region's only Level 1 trauma center and Kentucky's top hospital ranked by U.S. News & World Report.  
As an academic research institution, we are continuously pursuing the next generation of cures, treatments, protocols and policies. Our discoveries have the potential to change what's medically possible within our lifetimes. Our educators and thought leaders are transforming the health care landscape as our six health professions colleges teach the next generation of doctors, nurses, pharmacists and other health care professionals, spreading the highest standards of care. UK HealthCare is the power of advanced medicine committed to creating a healthier Kentucky, now and for generations to come.