Clinical Nursing Specialist Student Uses Training to Reduce Patient Stress at Markey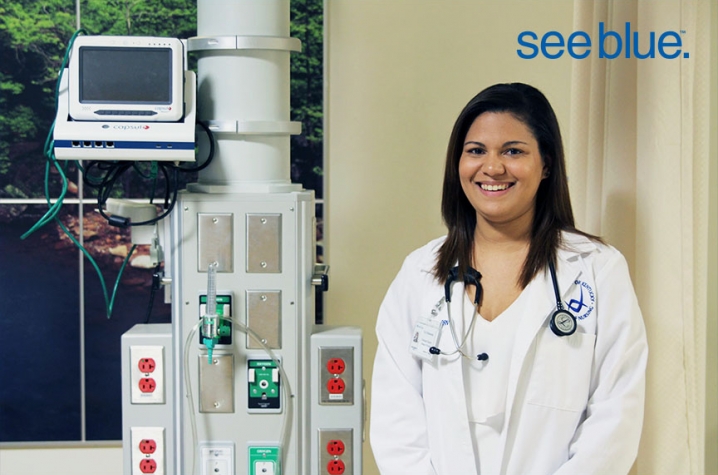 LEXINGTON, Ky. (April 12, 2016) — Five weeks at the University of Kentucky Markey Cancer Center seemed like an eternity for bone marrow transplant recipient Earl Harris.
Two days after he started the treatment, his 91-year-old mother died, and the demands of the transplantation process meant he couldn't attend her funeral. As days of inpatient treatment turned into weeks, the bus driver who transports special needs children to school in Jefferson County was anxious to return to his bus route — and his golf clubs.
Harris, a lymphoma survivor from Valley Springs, Kentucky, spent the entire month of April 2015 in isolation after receiving a bone marrow transplant at the UK Markey Cancer Center. Even close family members were discouraged from visiting Harris because his compromised immune system was vulnerable to infection. Harris experienced a number of medical scares, such as a sudden drop in his blood level counts and an episode of colitis, and needed highly specialized care just to recover from the transplantation.
Harris benefited from the specialized care of Tia Thistlewood, his primary care nurse who reminded him of the many reasons to persevere through the transplantation process. Thistlewood, a student on the clinical nurse specialist (CNS) track of the doctor of nursing practice (DNP) program at the UK College of Nursing, is tailoring her education to provide advanced clinical expertise caring for patients undergoing the risk-laden process of bone marrow transplantation.
"She was just a relief to see," Harris said of Thistlewood. "Her expertise seemed to standout."
Thistlewood has learned the priceless skill of coaching Markey patients through the trial of a bone marrow transplantation, which can require weeks or even months of inpatient care. While blood cancer patients who receive a bone marrow transplant can extend their life by several years, the temporary trade-off is subjecting their bodies to a stripping of all abnormal cells, which also devastates the immune system. Bone marrow transplant patients receive stem cells or donor cells, which migrate to their bone marrow and replenish damaged or destroyed cells. A number of complications can arise during the transplantation process, and nurses must know how chemotherapy and cancer affects the entire body and immune system.
"They can become critically ill very quickly and it takes a lot of training and skill to recognize when your patient needs extra care," Thistlewood said. "It humbles me to think I'm that person keeping you well and getting you those interventions."
In addition to the isolation from their daily lives and families, the transplantation process puts an emotional, physical and mental strain on patients. Nurses must monitor vital signs and watch for numerous complications during recovery, but they also help patients keep their eye on the prize of getting home to their families and lives.
"You get to know your patients and their family, and you become almost as close as family with your patients," Thistlewood said. "You learn so much about life and relationships — you almost forget cancer is part of the equation."
While the CNS track helps develop leadership and organizational skills, its primary purpose is to prepare advance practice nurses with a specific clinical expertise to assist patients and care providers in complex health care settings. This specialized training and emphasis on leadership gives nurses a competitive edge in their workplaces and equips them with the knowledge to enact positive change in health systems management.
"In my experience as a staff nurse, I have identified many ways to make the system better," Thistlewood said. "In order to make the most impact, I chose to go back to school. The CNS track was attractive to me because of the role's diversity." 
Thistlewood said applying her knowledge in clinical practice is an important component of the CNS track. In addition to providing individual care directly to patients, CNS students are also trained to identify ways to improve patient outcomes through systematic health care delivery.
In applying her advanced knowledge to clinical practice at Markey, Thistlewood is identifying checkpoints along the bone marrow transplant trajectory where nurses have the opportunity to clarify information for patients. Through her interactions with patients, Thistlewood has noticed many patients are unclear or confused about what to expect during transplantation, and tension builds as they spend more time away from their homes and families. This tension can lead to conflict and adverse patient outcomes.
In response to these concerns, Thistlewood has formed a patient and family education committee at Markey to develop written materials that explain the transplantation process to patients and their caregivers prior to admittance. In addition, Thistlewood's committee is introducing a two-hour transplant preparation class for patients and their caregivers.
Thistlewood has also turned her attention to the need for more nursing staff training on basic bone marrow transplant team and in March 2015 held courses for nurses to teach evidence-based practices and improve the confidence of staff nurses in this area. Thistlewood also hopes to develop a system for patient follow-up, as many patients leave Markey needing long-term care and support from home.
"Since Tia started in the clinical nurse specialist track in the DNP program, she has demonstrated outstanding initiative to improve the care of oncology patients receiving bone marrow transplant," Martha Biddle, assistant professor and coordinator of the CNS track in the UK College of Nursing, said. "Her desire and ability to recognize unmet patient needs and develop programs that will improve patient care outcomes are a true asset to the Markey Cancer Center."
When Earl Harris was yearning for the golf course on the fifth week of his treatment, Thistlewood provided him with as much information as possible to give him hope, but also managed his expectations. Harris said the extra time she spent ensuring he was engaged and informed led to a long-term friendship. Harris and his wife Bonnie related to Thistlewood on their shared backgrounds in Louisville, and after his treatment was complete, they celebrated with Thistlewood and her boyfriend — a bone marrow transplant recipient — at their mutual favorite restaurant, Captain's Quarters.
Now a year out from his transplant, Harris is cancer-free and driving his school bus. He's getting good reports from his doctors. He makes trips to Lexington to volunteer and serve meals to other patients receiving long-term cancer care at the Markey Cancer Center. He and Bonnie maintain contact with Thistlewood, who sometimes consults them for gardening advice.
"Not everyone has a happy ending, but to see Earl happy and healthy was the best payment of all," Thistlewood said. "Having the ability to make positive impacts for people who were once complete strangers is the entire reason why I do what I do."
For more information about the CNS track part of the UK College of Nursing DNP program, click here.