National Pharmacogenomics Expert Joins Markey, College of Pharmacy Faculty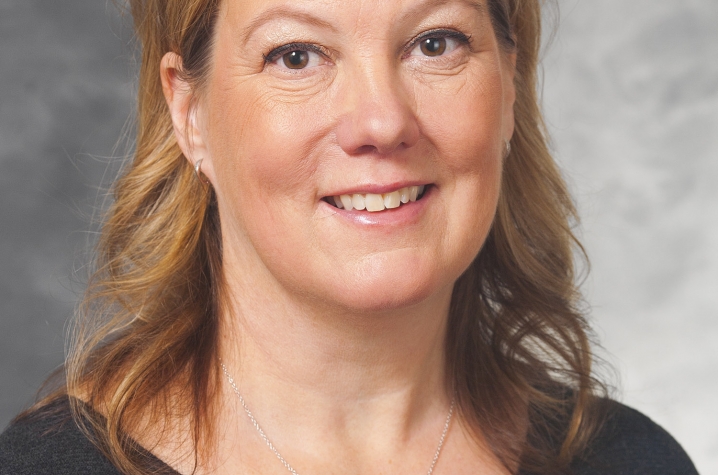 LEXINGTON, Ky. (Oct. 21, 2016) – The University of Kentucky Markey Cancer Center and UK College of Pharmacy welcome clinical pharmacologist Dr. Jill Kolesar to their respective teams.
Kolesar has extensive experience in oncology pharmacogenomics and the implementation of clinical trials, and she will serve several roles at UK with a focus on enhancing the UK Markey Cancer Center's precision medicine initiatives.
Alongside Markey oncologist Dr. Rachel Miller, Kolesar will co-lead the cancer center's Molecular Tumor Board, a new initiative that allows for truly personalized cancer treatment through advanced genomic diagnostic tests and discussion of individual cancer patient cases among a multidisciplinary team of experts. This program will provide direct clinical benefit to patients with cancer and help direct the development of new therapies that target the types of cancers found in Markey's patient population.
Kolesar will also direct the Early Phase Clinical Trials Center, which will focus on developing these new therapies by providing patients with better access to phase I and II clinical trials.  
"Dr. Kolesar brings a wealth of experience and expertise in this type of personalized cancer care," said Dr. Mark Evers, director of the UK Markey Cancer Center. "This new phase in Markey's commitment to precision medicine will have a direct impact on the patients we treat from across the state and beyond."
Additionally, Kolesar will co-lead the Drug Discovery, Delivery and Translational Therapeutics Program and serve as a professor in the UK Department of Pharmacy Practice and Science.
Previously, Kolesar served as co-chair of the Precision Medicine Molecular Tumor Board and co-leader of the Cancer Therapy Discovery and Development Disease Oriented Working Group at the University of Wisconsin Carbone Comprehensive Cancer Center. Prior to joining UW-Madison, she completed a specialty practice residency in hematology/oncology and a two-year fellowship in molecular oncology pharmacotherapy for the Division of Clinical Pharmacy at the University of Texas Health Science Center in San Antonio.
Kolesar's research involves the clinical pharmacology of anticancer and chemoprevention compounds. She holds two patents for developing novel technologies for evaluating gene expression and point mutations and is a co-founder of Helix Diagnostics. She is a member of the National Cancer Institute Cancer Prevention and Control Central IRB and is the president-elect of the American College of Clinical Pharmacy.
"Jill Kolesar is a tremendous researcher and educator that will be an outstanding addition to the College of Pharmacy and Markey Cancer Center," said David Burgess, chair of the UK Department of Pharmacy Practice and Science. "She has established a national reputation as a leader in the area of pharmacogenomics, oncology, and precision medicine."
MEDIA CONTACT: Allison Perry, (859) 323-2399 or allison.perry@uky.edu