Sutphin Wins Local Woman of the Year Award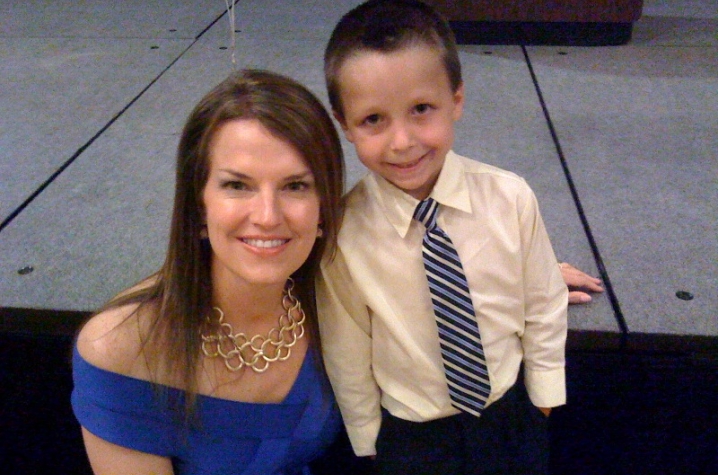 LEXINGTON, Ky. (June 22, 2011) — Stephanie Dixon Sutphin of the University of Kentucky Markey Cancer Center was named the local 2011 Woman of the Year by the Leukemia & Lymphoma Society's Kentucky & Southern Indiana Chapter.
Each year, the LLS conducts a 10-week Man & Woman of the Year fundraising campaign. Participants from across the nation raise money in honor of children in their area who are impacted by blood cancer. The candidates were judged solely on their success in raising money to help the LLS fund research to find cures and better therapies and provide information and support to blood cancer patients and their families.
Sutphin, a hematology/oncology pharmacy specialist, was UK's official candidate and the only Woman of the Year candidate from the Lexington area. During her 10-week campaign, Sutphin raised $21,388, which will go directly to the LLS for blood cancer research and patient services.
"When I was asked to consider this Woman of the Year nomination, I couldn't say no," Sutphin said. "This was my turn to go beyond my comfort level and reach out to help raise awareness and funds for this important organization and the patients it supports – my patients."
All together, the 10 candidates in the Kentucky & Southern Indiana Chapter raised more than $132,000. They competed in honor of the LLS's Boy & Girl of the Year, Aiden Johnson and ViviAnne Bohannon, local children who are blood cancer survivors and sources of inspiration to others. 
"The Leukemia & Lymphoma Society congratulates all of the candidates in the 2011 Man & Woman of the Year campaign. Each of them used their passion and determination to raise funds that give thousands of people battling blood cancers the chance to live better, longer lives and they are all champions," said Karyl Ferman, Executive Director of the Kentucky & Southern Indiana chapter. "This is a campaign that celebrates not only the individual accomplishments, but the collective success of all these amazing candidates." 
This year's local Man of the Year honor went to Drew Martin of Louisville. The national titles are awarded to the top fundraisers in the country and will be announced later this summer.
MEDIA CONTACT: Allison Perry, (859) 323-2399 or allison.perry@uky.edu.