Markey Patient, Culinary Author Enjoying Life 'One Bite at a Time'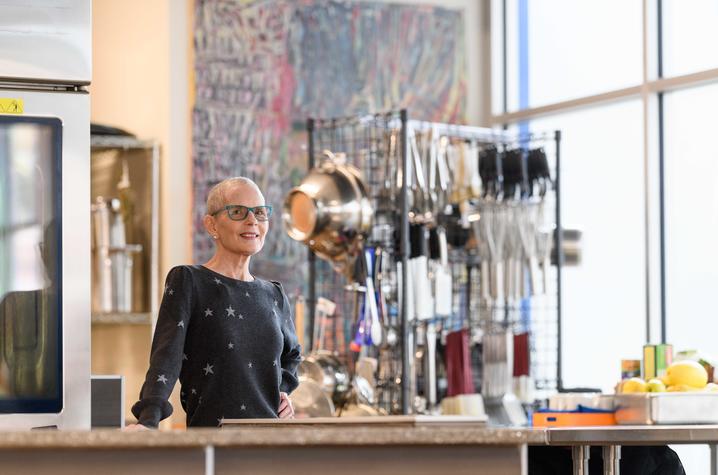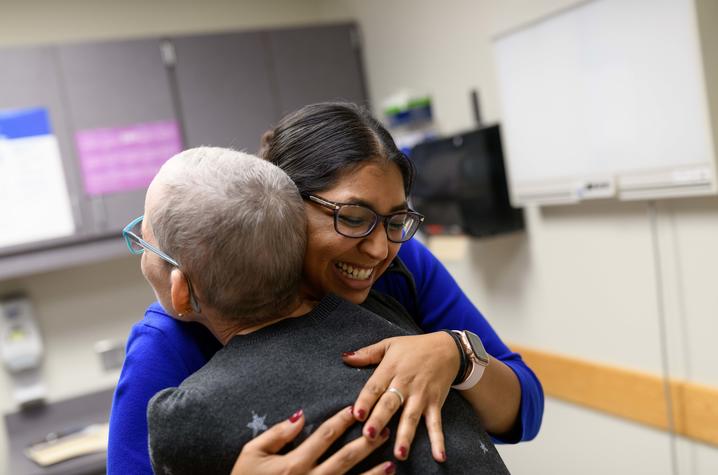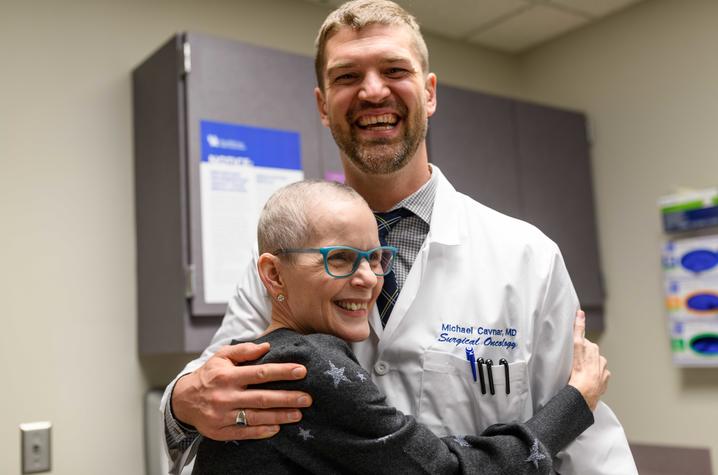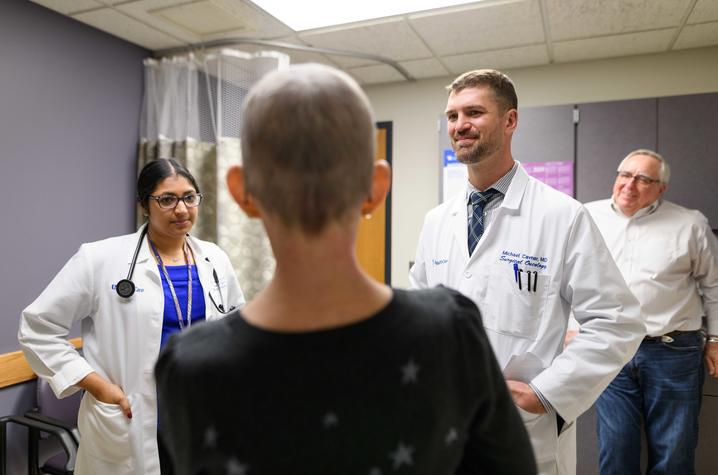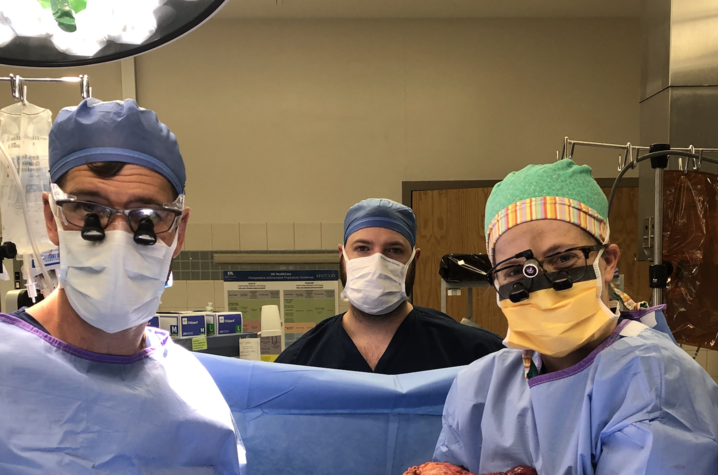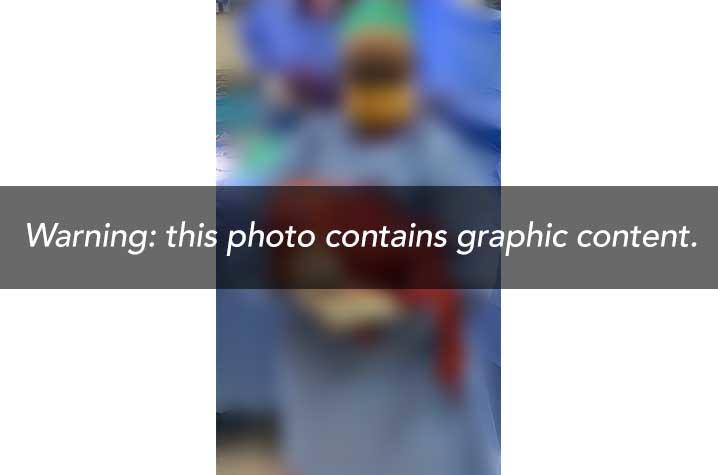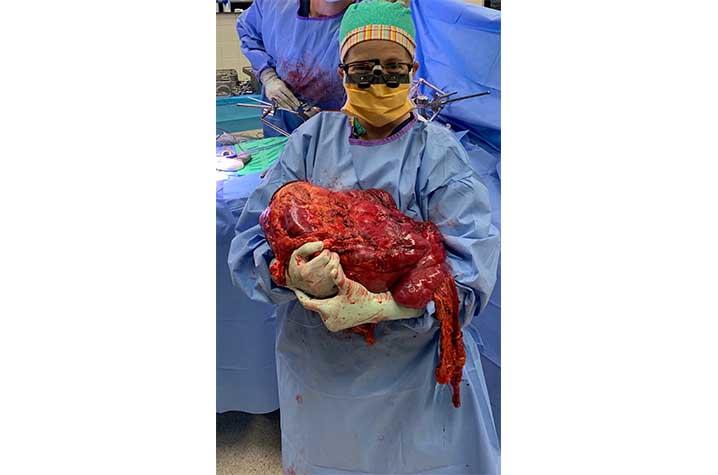 LEXINGTON, Ky. (Dec. 6, 2019) — For culinary author Maureen Cavanaugh Berry, food is life.
The 58-year-old Madisonville resident had originally studied criminology in college, with future plans to join the Secret Service. But after moving to Florida in 1989, she transitioned into the restaurant business – first living "the Jimmy Buffet lifestyle" while running her own diner in the Florida Keys, then working for Sysco in Orlando, then eventually selling commodity fish to seafood restaurants around the region.
After marrying her husband, Larry, she decided to make another transition: freelance food writer, cookbook author and photographer. While freelancing, she began working with major aquariums around the country to give presentations on sustainable seafood, and currently runs a podcast called Green Fish Blue Oceans. In 2011, she and Larry moved to Western Kentucky to be closer to his roots, but Maureen continued to travel across the country for speaking engagements.
As someone who had previously struggled with disordered eating and had once viewed food as a necessity "for survival, not luxury," she was able to flip her perspective into something positive.
"Food changed my life," she said. "Eventually, I conjured my relationship with food into a career that included a new, healthy lifestyle."
So when she first began noticing a peculiar feeling of fullness in mid-February, she assumed it was just the typical "middle-aged spread" that often comes as we age. She began keeping a food journal and was shocked to realize that she was eating no more than 1,000 calories a day, well below the daily recommended amount for an active woman in her 50s.
"[It was] not because I didn't want to eat," she said. "But because I couldn't."
After experiencing some stabbing pain under her breastbone, she visited a local gastroenterologist for an upper GI endoscopy, CT scan and colonoscopy. The results showed a "softball-sized mass" in her abdomen, and she got an immediate consult with a local surgeon. He suspected her mass was a gastrointestinal stromal tumor (GIST), and gave Maureen some even more startling news as he showed her the scans.
"I said, 'My gastroenterologist told me I have a mass the size of a softball on my stomach,'" she said. "And he said, 'Well, it's a little larger than that.'"
Maureen's abdomen was filled with a large mass roughly the size of a basketball, and it was pushing against her organs, particularly her stomach – explaining her discomfort while eating. She immediately began pursuing her options, researching the best surgeons for GIST. Though she checked out opportunities at medical centers outside Kentucky, her online searching yielded an option inside the state and closer to home: Dr. Michael Cavnar at the University of Kentucky Markey Cancer Center.
Maureen had her first appointment with Cavnar in early April. By then, the tumor had grown even larger in an alarmingly short amount of time.
"At that point, I looked like I was nine months pregnant," she said. "It happened pretty quickly, like within a month."
Cavnar suspected the mass was something other than a GIST, and biopsied the tumor. In the meantime, Maureen was still working – while waiting for the biopsy results, she travelled to the Seattle Aquarium, where she spoke to a crowd of seafood enthusiasts and ocean conservationists about sustainable seafood. She was still in Seattle where Cavnar called her with her official diagnosis: dedifferentiated liposarcoma.
Liposarcomas are a rare form of cancer that develop in the fat cells of soft tissue, commonly growing in the legs and abdomen. These cancers can be extremely aggressive and deadly.
"These tumors can become massive overtime, involving any and all nearby organs," Cavnar said. "While they do not usually metastasize, they eventually cause major problems with the surrounding organs, such as blockage of the intestines, which can be fatal. If possible, surgical removal is the single best treatment – we knew it had to be taken out."
While there are genetic markers for this disease, there are no known specific causes. For Maureen – a yoga-loving, vegetable-growing foodie in the best shape of her life – learning that she had a cancer that began in deep-seated fatty tissue was an ironic and unjust deal.
"I was living my best life," she said. "This cancer diagnosis didn't seem fair. And it wasn't. But I also know that life is not about fairness."
Three days after returning from Seattle, Maureen began treatment at Markey, beginning with medical oncologist Dr. Reema Patel. Because Maureen's tumor was so large, the team hoped to shrink it with aggressive chemotherapy. She received a 24-hour infusion inside the hospital for five straight days every three weeks.
"Sarcomas are rare cancers, and the goal is to get them all out if possible," Patel said. "And data shows that doing chemotherapy ahead of time helps, so it would hopefully make the surgery easier for Dr. Cavnar."
Chemotherapy was rough on Maureen – she was hospitalized multiple times with infections and low blood counts, she experienced hallucinations, and she became severely malnourished because eating caused her tremendous pain. Patel changed her medications to help alleviate her symptoms, and she ultimately completed four rounds of chemotherapy.
In July, new scans showed some disappointing results: her tumor had resisted the chemotherapy and hadn't shrunk in size. Based on the scans, Cavnar wasn't sure how much of the tumor the team would be able to remove without compromising her health. The tumor had already wrapped itself around many of her vital organs, making surgery even more difficult, if not impossible.
"We had an honest discussion about how we'll only be able to tell if it's resectable if we tried," Cavnar said. "I had significant concerns about not being able to remove it, and we talked about it. In the end, she decided to proceed."
"At that point, I was exhausted, but I just forged ahead," Maureen said. "Dr. Cavnar said, 'You only get one shot at this surgery.' I was prepared to do what I had to do, and it saved my life."
On August 28, she underwent surgery to remove the massive liposarcoma. The 10-hour procedure went smoothly, with excellent results: after hours of careful work, Cavnar got clean margins on the tumor, meaning the entire mass could be removed. Along with the tumor, the team had to remove Maureen's distal pancreas, spleen, left kidney and left colon.
Surgery resident Dr. Callie Dowdy was tasked with lifting the nearly 20-pound, 39-centimeter tumor out of Maureen's abdomen.
"It's always a big moment," Cavnar said. "It's one of the more satisfying things you get to do as a surgeon."
Standing on a stool to get enough leverage to pull it out, Cavnar says Dowdy was shocked at the weight of the mass.
"It was so heavy, she thought it was still attached," Cavnar said. "I remove a lot of big tumors, but this is probably the biggest one I've done to date."
Now a little more than three months out from her surgery, Maureen is gradually returning to normal. She still deals with some post-surgical pain, though it's improving. She's able to eat more, with her caloric intake approaching 1,800 calories a day. And she's been taking longer and longer walks to build up her stamina and strength, even returning to some gentle yoga. Maureen's drive to maintain a healthy lifestyle – and perspective – has been a huge benefit to her throughout the process, says Patel.
"She's one of the most health-conscious individuals in my practice, and the people who are healthier going into treatment are the ones who fare the best," Patel said. "And despite everything she's been through, she's been one of the most positive patients I've ever taken care of. Every time she had a roadblock, she just powered through it."
Cavnar agrees. "She's an incredibly resilient person who does not give up," he said. "Her attitude is a big part of what got her through this."
Meanwhile, Maureen is eager to get back to work – she's already putting together her second cookbook, and is lining up new speaking engagements for when she's more fully recovered. She's written an essay about her experience, WTF, I Have Fat Cancer? that she's currently shopping for publication. And last week, she and Larry celebrated 11 years of marriage on a holiday that occasionally coincides with their anniversary – Thanksgiving.
Because this type of cancer has a high recurrence rate, Patel has started her on a chemotherapy maintenance pill to reduce the risk of that happening – Maureen will stay on the medication for at least six months, maybe longer. She'll also get regular CT scans and bloodwork, and will follow up with Cavnar every 4-6 months for a decade ("We're going to become good friends," he says). Because of the high recurrence rate of liposarcomas, he says it's likely she may need further operations down the line if new growth occurs.
"But," he said, "if 10 years pass and it hasn't come back, we'll call it cured."
Maureen knows the statistics she's facing – Cavnar told her that her liposarcoma is more likely than not to recur – but as she writes in her essay, she's learned to embrace life in the same way that she has embraced her food experiences.
"All I can do is make smart choices about what I eat and not associate food with my past traumas nor romanticize it," she said. "I simply celebrate and savor each meal, one bite at a time."