New Clinic Will Serve People with Substance Use Disorders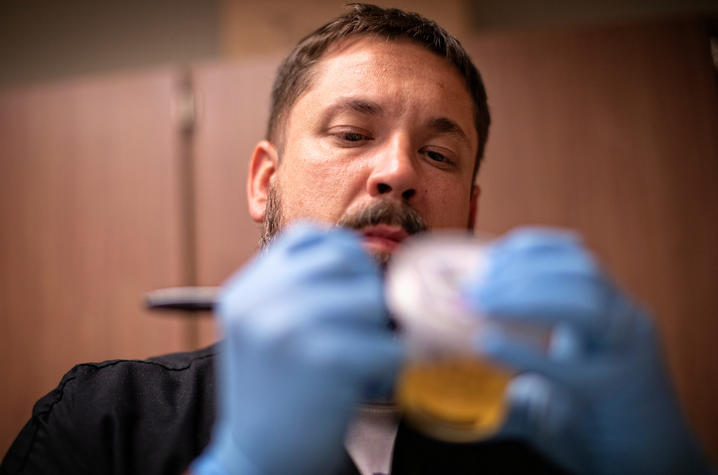 LEXINGTON, Ky. (July 23, 2019) – An estimated 21 million Americans struggle with substance use disorders each year. Unfortunately, according to the Substance Abuse and Mental Health Services Administration, only about 10 percent of those people are able to access treatment. Few regions have been hit harder by the drug epidemic than Kentucky and need increased access to evidence-based treatment for substance use disorders. The University of Kentucky Department of Psychiatry saw that need and developed a new clinic to better support patients.
After receiving a grant from the Kentucky Opioid Response Effort in October 2018, Lindsey Jasinski, an associate professor of psychiatry in the UK College of Medicine, and Elizabeth Riley, a doctoral student in the College of Arts and Sciences, began meeting with a team comprising individuals from across UK HealthCare. The momentum to expand current clinical services was initiated by Dr. Seth Himelhoch, chair of the department, and several clinicians. Jasinski and Riley were tasked with developing and implementing the expanded model. Experts from various departments offered their expertise in the field of addiction medicine and in the development of new services.
"UK HealthCare has been really helpful; we've had a lot of departments offer expertise and really collaborate," Jasinski said. "Response across the board has been, 'What can we do to help?'"
From those meetings, the Supportive Medication Assisted Recovery and Treatment (SMART) Program was developed. The SMART program offers medication-assisted treatment (MAT) in combination with group and individual therapy to comprehensively address the needs of individuals with substance use disorders. Initially, sessions are scheduled weekly, and then phase into less frequent visits over time. A visit will include 30 minutes of group medication management, regular and random urine drug screenings and one hour of group therapy with eight to 12 other people in recovery. Individual therapy, case management and peer support are also available. Participants are expected to engage in recovery activities outside of weekly sessions, and actively support their peers in the program.
By 2019, renovations were underway in the existing Department of Psychiatry space on Fountain Court in Lexington. The new clinic includes two therapy rooms, a group therapy space and a lab area where drug screens can be conducted. This location was chosen to provide a central location for patients to receive all the care they need.
"The needs of these patients are complex, and we want to provide the care they need in one place," Jasinski said.
The team that makes up the new clinic includes 10 clinicians, as well as peer support specialists and a case manager who will soon be hired. Initially, the clinic will focus on addressing the opioid crisis and treating people with opioid use disorder, but eventually could expand to treat all types of substance use disorders. They also expect to see patients with polysubstance use disorders (an addiction to multiple substances). Jasinski also hopes this new clinic can serve as part of a continuum of care in collaboration with clinics that have already been established at UK including PATHways, Beyond Birth and the First Bridge Clinic.
The SMART Program is now open and beginning its phased opening. To learn more about the SMART Program and services, call 859-257-9341 or email SMART@uky.edu.