New Procedure Provides 'Complete Turnaround' for Patient with Rare Condition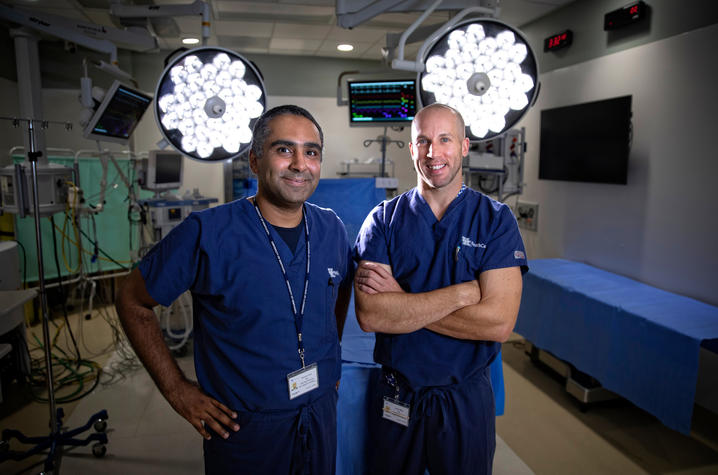 LEXINGTON, Ky. (Oct. 3, 2019) – Since about 2010, Brian Rice has had a difficult time keeping food down. He mostly ignored it, and would just re-swallow again and again to get food and liquid down his throat. But in 2018, his condition worsened, to the point where he couldn't get any food or liquid down at all.
"I lost close to 50 pounds in a nine to 10 month period," Rice said. "I couldn't hold fluids down, I was dehydrated."
Rice was suffering from a rare condition called achalasia, in which the lower esophageal sphincter, a ring-shaped muscle at the bottom of the esophagus does not relax during swallowing. Compounding this issue is the fact that the esophagus does not squeeze properly to move food from the mouth to the stomach.
Often the cause of achalasia is unable to be found and is due to dysfunction of the nerves of the esophagus. It affects men and women equally, and both children and adults. The onset is gradual, to which Rice can attest. What started as something Rice could ignore became a condition that threatened not just his physical health, but his emotional well-being.
"I was losing hope, the will to live, everything," said Rice. "I was weak-minded, not just physically weak."
Rice was referred to UK HealthCare by a specialist in his hometown of Hazard. There he met with Dr. Moamen Gabr in the Department of Digestive Health and Interventional Endoscopy and Dr. Jordan Miller in the section of Thoracic Surgery. There he learned about the peroral endoscopic myotomy, or POEM, a new, minimally invasive procedure in which the muscles of the esophagus are divided in order to allow the esophagus to empty better.
"Achalasia is an uncommon diagnosis in the general population but something that we encounter frequently. It often takes years for patients to be diagnosed," said Miller. "The traditional approach is by laparoscopy and involves multiple small incisions in the abdomen to divide the esophageal muscle. With this new procedure, are able to accomplish the same thing using an endoscope without making any incisions on the skin."
The POEM procedure is the first multidisciplinary effort between Digestive Health and the Division of Thoracic Surgery. With their experience in this innovative technique and expertise in the field, Miller and Gabr are able to not only diagnose but treat the entire spectrum of esophageal disorders. Currently, UK HealthCare has the only active POEM program in the state.
Rice was excited about the new the procedure. He wanted his achalasia completely corrected, and POEM patients see drastic improvements after the surgery.
"Mr. Rice was diagnosed with type II achalasia," said Gabr. "The severity of achalasia is measured by a scale known as the Eckardt score that rates from zero to 12 the severity and frequency of symptoms such as food regurgitation and difficulty swallowing. When I saw Mr. Rice in clinic for the first time his Eckardt score was nine, meaning he has severe achalasia symptoms with every meal."
After the procedure, Rice spent one night in the hospital and maintained a full liquid diet for two weeks. Even during that time, he felt a drastic improvement.
"When I saw Mr. Rice in clinic for follow-up, about a month after the procedure, I reviewed his symptoms, his Eckardt score was zero and his symptoms have completely resolved," said Gabr. "Nothing on earth can express my joy when I see how we can help our patients restore their quality of life. It's actually the ultimate goal that we work for."
Nearly five months later, Rice is a new man. He has regained 25 pounds and is back to work full-time.
"It changed my mind spiritually," Rice said. "I was losing all my faith. I'd say I'm back at 97%. It's just been amazing. A complete turnaround."
POEM is a safe, minimally invasive procedure for the complete resolution for achalasia. For a referral, please contact the advanced endoscopy scheduling team at 859-323-4695 or by fax at 859-323-5274 or the section of thoracic surgery at 859-323-6494 or by fax at 859-257-4682.
UK is the University for Kentucky. At UK, we are educating more students, treating more patients with complex illnesses and conducting more research and service than at any time in our 150-year history. To read more about the UK story and how you can support continued investment in your university and the Commonwealth, go to: uky.edu/uk4ky. #uk4ky #seeblue