Patient Care is a Family Affair for UK HealthCare Respiratory Therapists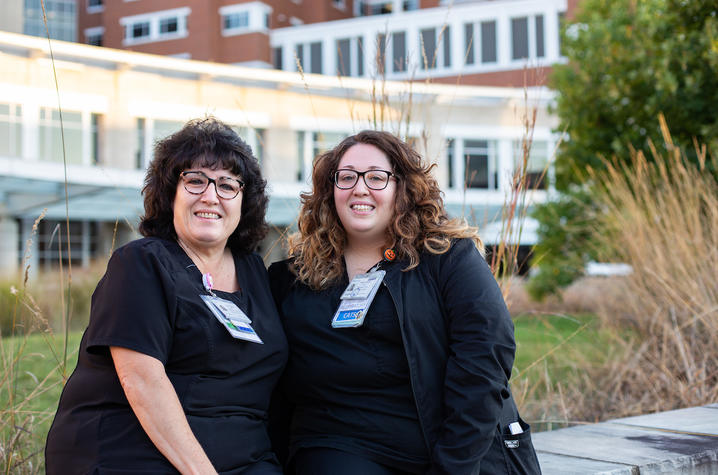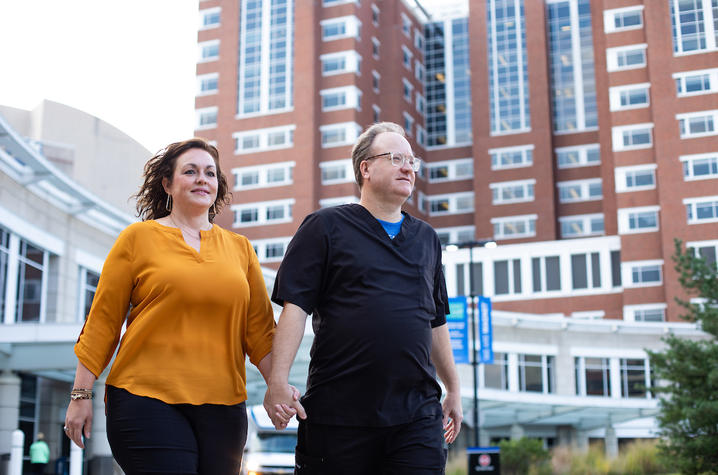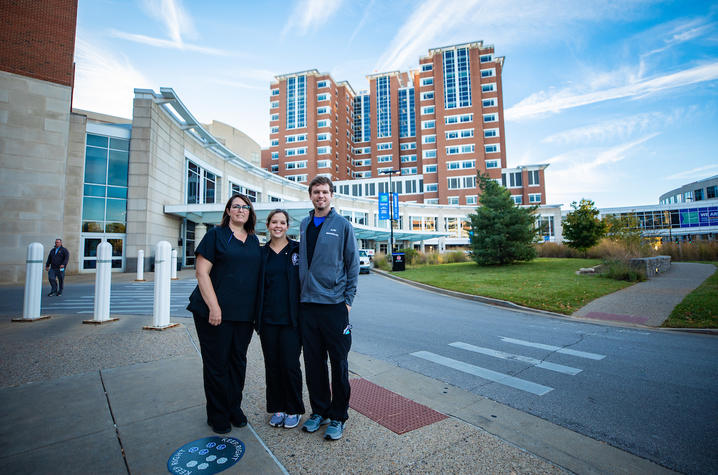 LEXINGTON, Ky. (Oct. 29, 2021) — When Morgan Mellott shows up to work on the adult COVID-19 floor at the University of Kentucky Albert B. Chandler Hospital, it's anyone's guess what the day will bring.
Which COVID-19 patients are still hanging on? Which COVID-19 patients have declined? Which COVID-19 patients who were here the day before are gone and what is the extent of illness in the new COVID-19 patient in their place?
The past year and a half has been the most stressful time in Mellott's nearly decade-long career as a registered respiratory therapist (RRT). The novel coronavirus has largely dominated the hospital's patient population — and the latest surge from the highly contagious delta variant has challenged UK HealthCare staff and pushed nearly everyone to their breaking point.
"This go around, the patients are younger and sicker," Mellott said. "Working is hard day in and day out. Staff are exhausted and stretched thin, but we are doing everything we can to try and help our patients because we are invested in them and their families."
The large team of respiratory therapists at UK HealthCare help to treat some of the sickest patients — specifically those who have trouble breathing, a common symptom of COVID-19. The therapists administer oxygen therapy, treat patients with nebulizer medications, assist with intubating patients who are then placed on a ventilator — which respiratory therapists also set up and maintain.
At times, the weight of the pandemic is difficult to handle, Mellott said. But they have learned to power through and take every opportunity to celebrate success.
"My colleagues have become family and I am incredibly grateful to work among the best," Mellott said. She is especially thankful for the support of her biggest cheerleader — her mom and work colleague, Sandy Carver.
"Having a front row seat to watch Morgan's growth as a respiratory therapist is wonderful," Carver said.
Carver works as a registered respiratory therapist at UK HealthCare's Good Samaritan Hospital.
"At Good Sam, we mainly get post-COVID patients in our unit, and a lot of them are coming from UK," Carver said. "It is amazing to see how far they've come to be able to get to that point. A lot of that success is attributed to the care they receive from UK HealthCare staff, including from respiratory therapists like my daughter."
A career in respiratory therapy has been in the back of Mellott's mind since she was a young teenager. She remembers watching her mom study for her respiratory classes, thinking she would also like to pursue a job that would allow her to help others.
Though they work in separate facilities today, the mother-daughter duo agree that having each other to navigate the COVID-19 pandemic is invaluable.
"It is nice to have someone you can relate to, someone you can talk to about your day, and they just get it," Carver said. "Regardless of the pandemic, respiratory is a rewarding career. You work side by side with some of the greatest people you will ever meet. And it is especially rewarding to be able to care for a patient and know that you are helping them to get well."
*****
February 2022 will mark an important, and impressive, milestone for Greg Allen. It will make 30 years that he has walked through the doors of UK Chandler Hospital to treat patients in their time of greatest need.
He started his career in respiratory therapy treating adults at UK Chandler Hospital and never looked back. He now covers care at UK HealthCare Kentucky Children's Hospital.
"Our team of RTs at UK HealthCare is unmatched," Greg said. "I can't imagine working anywhere else."
Besides his colleagues, there's another big factor that keeps Greg motivated day after day — his wife, Sharon.
Sharon Allen is a respiratory therapist who is currently working as a pulmonary function technologist. She started at UK HealthCare 22 years ago.
Greg and Sharon met as co-workers in adult acute care at UK. They initially agreed to keep their relationship a secret.
"I was very hesitant to even go on a date because I was not too keen on starting a relationship in the workplace," Sharon said. "But before we knew it, we were in love."
Because they work in separate areas of the hospital, and on different schedules, the Allens find it easier to keep a good work-life balance.
"The nice part is that we understand each other's workflow," Sharon said. "When one of us has a rough day or we are exhausted, we 100% understand what that means."
Sharon and Greg are not alone — there are several other respiratory therapist spouses who work together at UK HealthCare. It is not always rainbows and butterflies — working in the same field as your spouse certainly has its challenges, especially when it comes to juggling work and kids. The Allens have not always been able to enjoy holidays together as a full family, and the COVID-19 pandemic has been especially hard on their schedule.
"I work five days a week and Greg works 12 hours shifts, which created significant challenges, especially during the beginning of the pandemic," Sharon said. "We had to get creative to manage having the kids at home for virtual school and keep up with our work responsibilities."
Sharon said the workload greatly increased for both herself and Greg — the UK Pulmonary Lab grew exponentially with post-COVID patients.
"We are very grateful for the support of our work family," Sharon said. "And having a spouse who truly understands the stress has been helpful."
Despite the challenges, Greg is thankful to work alongside Sharon.
"I think working with your spouse goes pretty well, really," Greg said. "Other co-workers enjoy seeing the couples and the different family groups together. We have been at UK for so long that there are still people around who knew us before we got married, watched us become a family, having kids, so that's nice."
*****
Gretchen McDowell will never forget the phone call she received from her son, JD, during his senior year of college.
JD was on the dean's list, pursuing a degree in criminal justice and was less than a year away from graduating when he had a change of heart. He decided to scrap his plans in criminal justice and pursue a career in respiratory therapy instead. "I was floored, absolutely floored … And he was almost done!" Gretchen quips.
Gretchen knew the road to respiratory care wouldn't be easy — she was speaking from experience. Gretchen works as a registered respiratory therapist at UK Chandler Hospital.
But JD was determined, and nothing would deter him from pursuing a career that he started to consider back in high school. "I used to ride with my mom to her respiratory therapy class because I didn't have my license yet," he said. "Sometimes I would actually go into the classroom and sit in the corner. What they were talking about sounded like a fun experience, something I might want to look into."
Gretchen is going on 12 years working as a RRT for UK HealthCare — this will be her fourth year working alongside JD. Right now, they are assigned to the Kentucky Children's Hospital, and often find themselves working on the same cases, in the same room. Gretchen said it can be hard to stay out of "mom-mode" at work. She sometimes double-checks on JD to make sure he is wearing his personal protective equipment (PPE) correctly, and to make sure he is doing okay.
"Sometimes I'll call him 'Bub' by mistake," she said, laughing. "He'll look at me and say, 'Okay, Gretchen.'" The pair always get a good kick out of watching the doctors' reactions when they learn of their mother-son connection.
"I am just so proud of him," Gretchen said, with tears in her eyes.
Gretchen said she does worry about JD catching COVID-19. He helps out with a lot of the COVID-19 baby deliveries.
"His nickname at work is the 'midwife,' Gretchen said. "But he knows what he is doing. More times than not, he knows what to do better than I do."
Four years into his respiratory therapy career, JD does not regret his decision to change careers. If he hadn't, he probably would have never met his wife, Hannah. The couple met on the job at UK HealthCare. Hannah is currently assigned to work with adult COVID-19 patients at Chandler Hospital.
"Especially on the hard days, it is really helpful to have both my mom and my wife with me to walk in and out of work," JD said. "It's a source of comfort for me."
While JD and Hannah lean on each other at work and at home, Hannah notes that it is especially important to do their best to leave work at work, so they can focus on raising their young son together at home.
"I think working together actually helps our relationship because you're both going through the same things together and you know where each other are coming from," Hannah said. "But we make sure that when we are home with our little boy, the focus is on him."
*****
Taking care of patients is a team sport, especially during the COVID-19 pandemic, and some of the most valuable players are respiratory therapists.
A respiratory therapist's job is wide-ranging — from performing diagnostic testing, analyzing oxygen levels, managing ventilators and responding to emergent situations that call for urgent care. Now, more than ever, respiratory therapists are in high demand as the COVID-19 pandemic continues to impact communities.
While there are many adjectives that you could use to describe those who work in health care, the American Association for Respiratory Care (AARC) is choosing "resilience, strength and hope" to honor respiratory therapists and the work they do each day to help patients.
For those interested in pursuing a career in respiratory therapy, contact Bluegrass Community and Technical College to learn more about their Respiratory Care program.
As the state's flagship, land-grant institution, the University of Kentucky exists to advance the Commonwealth. We do that by preparing the next generation of leaders — placing students at the heart of everything we do — and transforming the lives of Kentuckians through education, research and creative work, service and health care. We pride ourselves on being a catalyst for breakthroughs and a force for healing, a place where ingenuity unfolds. It's all made possible by our people — visionaries, disruptors and pioneers — who make up 200 academic programs, a $501 million research and development enterprise and a world-class medical center, all on one campus.   
In 2022, UK was ranked by Forbes as one of the "Best Employers for New Grads" and named a "Diversity Champion" by INSIGHT into Diversity, a testament to our commitment to advance Kentucky and create a community of belonging for everyone. While our mission looks different in many ways than it did in 1865, the vision of service to our Commonwealth and the world remains the same. We are the University for Kentucky.