Radon Study Participants Recognized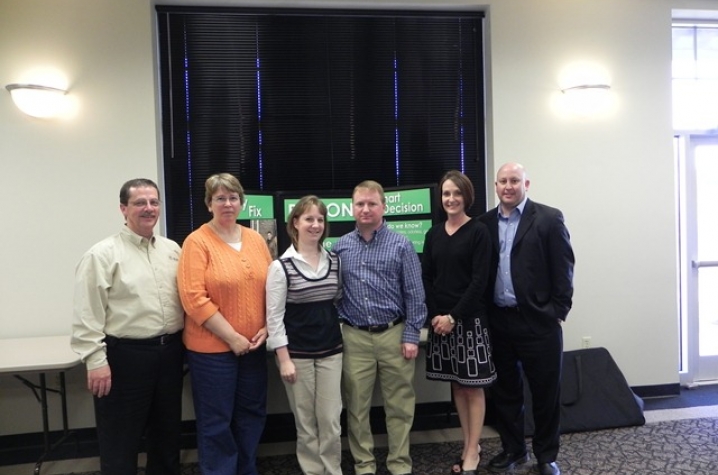 LEXINGTON, Ky. (May 5, 2011) − Boyle County homeowners who participated in a University of Kentucky College of Nursing radon study earlier this year were recently recognized at a reception hosted by UK's Radon Policy Research Program. The purpose of the reception was to recognize the recipients of the free home mitigation systems and to provide all the study participants with additional information on radon and the mitigation process.
The "Test and Win" study involved recruiting Boyle County homeowners who were interested in testing their homes for radon, an odorless, colorless, naturally occurring, radioactive gas that is known to cause lung cancer in humans. Eligible participants completed an online survey, received free radon test kits, tested their homes for radon and returned the test kits for analysis.
The homes with the three highest radon levels were eligible to receive free radon mitigation systems, installed by a National Environmental Health Association (NEHA) certified radon mitigation professional, Kyle Hoylman of Protect Environmental Service Group in Louisville.
As part of the study, Reed Cash, a Danville native and businessman, is training with Hoylman to become a certified radon mitigation specialist.
"Testing for radon in your home is the first step to reducing your risk for lung cancer," said Ellen J. Hahn, a registered nurse, professor and principal investigator of the research study. "High radon levels are easily fixed by home mitigation."
The three Boyle County recipients of the free mitigation systems are: Larry and Linda Thygesen, Jennifer and Ben Satterly, and Annhall and Joda Norris.
For more information about radon, visit www.radon.uky.edu or contact your local health department or the state radon program at 502-564-4856. To find qualified radon testing and mitigation services in your area, visit www.radongas.org . 
MEDIA CONTACT: Ann Blackford, (859) 257-1754, ext. 230 or ann.blackford@uky.edu