Students, Alumni Share Bond as Veterans and Love for Medicine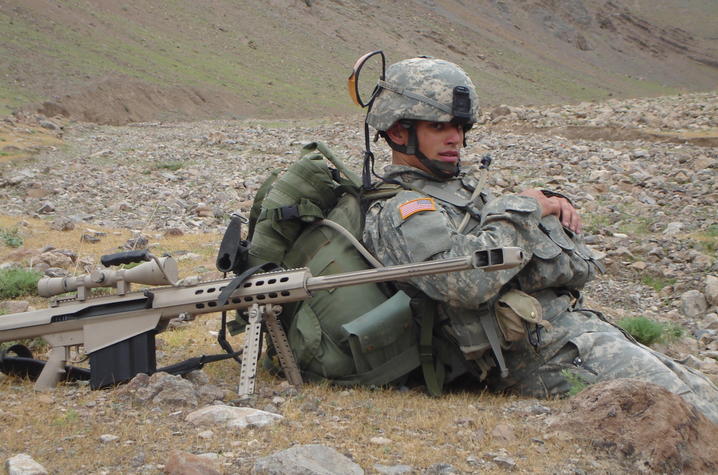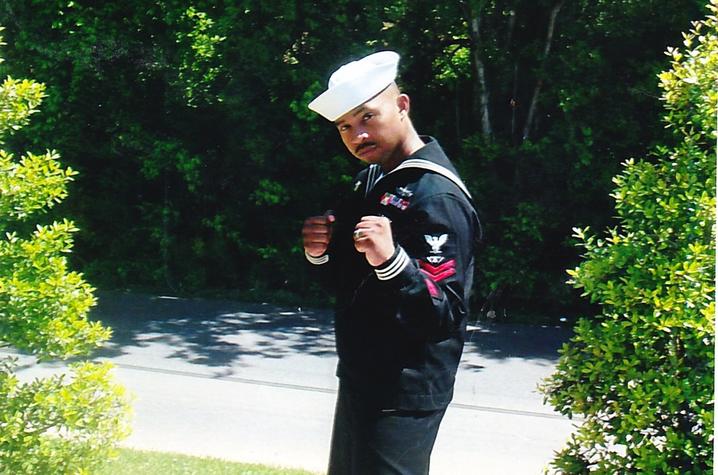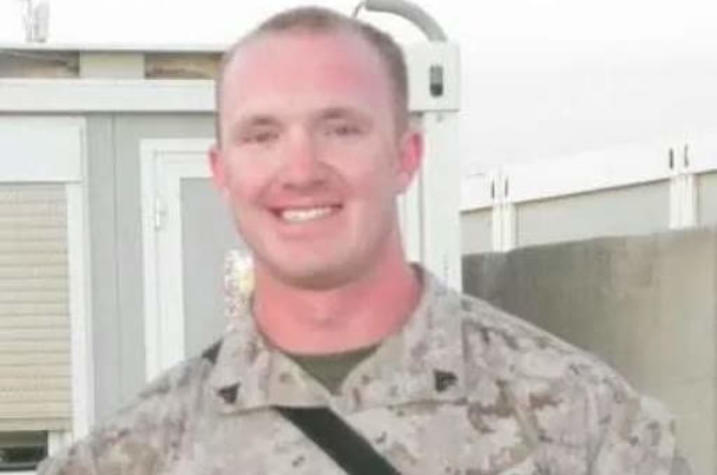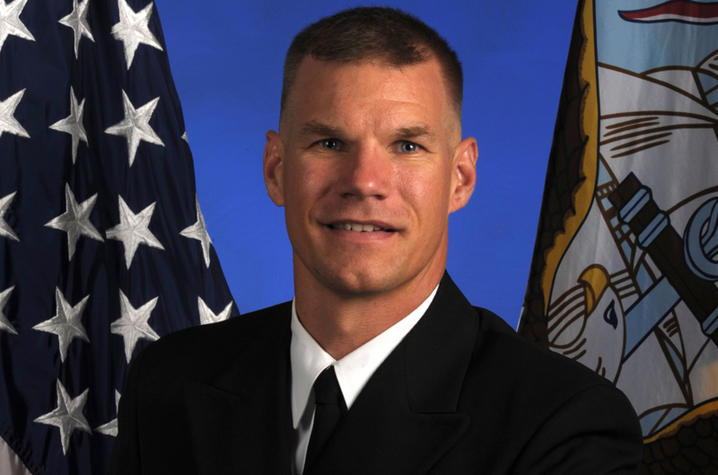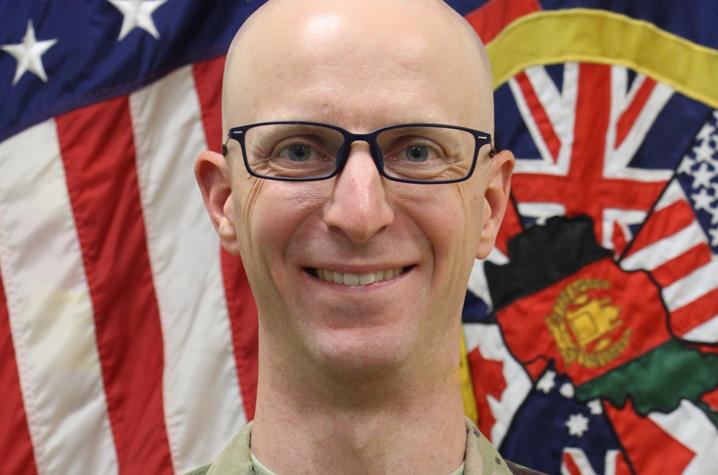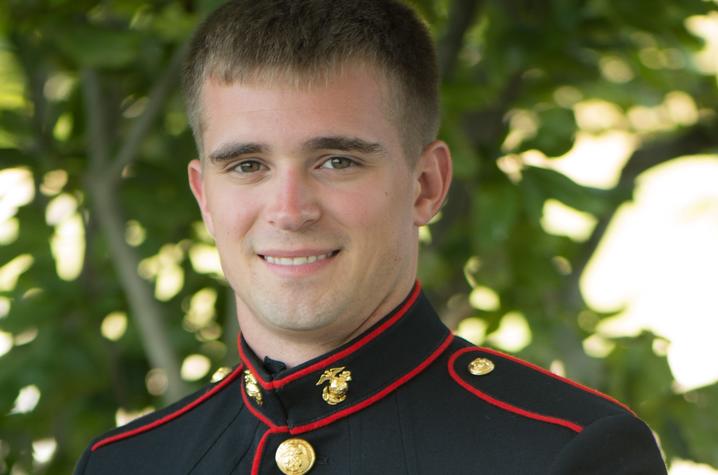 LEXINGTON, Ky. (Nov. 8, 2019) — In honor of Veteran's Day, the University of Kentucky College of Medicine is highlighting the stories of three medical students and a doctoral student who also are veterans as well as two alumni.
Everett Curry is a U.S. Army veteran enrolled in the college's Rural Physician Leadership Program; Navy veteran Michael Sherrod is a first-year medical student at the UK College of Medicine-Bowling Green Campus; Sean Thornton, a Marine Corps veteran, is a member of the inaugural class of the UK College of Medicine-Northern Kentucky Campus; UK College of Medicine alumni Eric Stedje-Larsen and Ryan Phillips are both Navy officers; and Benjamin Shaw served three years in the Marine Corps and is currently a PhD candidate with the UK College of Medicine Department of Physiology.
*****
Everett Curry: After a Scare on the Battlefield, Army Veteran Inspired to Pursue Medical School
Sgt. Everett Curry enlisted in the U.S. Army Infantry in 2004 when he was 18 years old and worked his way up to becoming a sniper, a job that put him on the frontlines.
During his first deployment, a nine-month stint in Afghanistan, Sgt. Curry was hit by a bullet in his calf. A helicopter rushed to the scene and took him to a medical station, where he received quick, efficient care from a trauma surgeon. It was witnessing that treatment firsthand, and understanding its importance, that made Sgt. Curry decide he wanted to do that someday.
"Once something gets in my head, it doesn't go away," he said. "And right there I knew I wanted to be a doctor."
Curry, a Kentucky native, is true to his word. He's back in his home state pursuing a medical degree at the University of Kentucky College of Medicine. He has chosen to practice rural medicine after graduation, so he is enrolled in the college's Rural Physician Leadership Program, during which he will spend his first two years at the Lexington campus and his final two years in Morehead, Kentucky, learning how to become a physician with specialized training for care in rural settings. The program is made possible through a partnership with Morehead State University and St. Claire HealthCare.
The Commonwealth is currently facing a physician shortage, making health care less accessible for citizens, particularly those in rural areas. RPLP is a major step in the College of Medicine's initiative to bring medical students to Kentucky for their education and encouraging them to stay within the state for their practices.
Sgt. Curry is from Pilot View, Kentucky, a small town near Winchester and he attended Morehead State University. Not only was he was aware of the challenges that rural areas faced when it came to health care access, but he also had a desire to help. After his Army experience he landed a job with the U.S. Department of Energy for six years to help pay for medical school.
He and his wife, Emily, currently live on a farm in Winchester, with Sgt. Curry commuting to the Lexington campus for his first year while Emily opens a salon in Mount Sterling. The couple actually met in the Army as members of the same breaching and clearing team in Iraq. Emily was a corporal.
Being in his first year, Curry is far from officially deciding what specialty he hopes to take on after medical school, though he is leaning toward general surgery or vascular surgery. He believes some of that has to with his Army experience.
The time spent in the military has given him the qualities he will need to push through, mainly discipline and time management. In the Army, he woke up at 5 a.m. sharp. Now, he wakes up even earlier, 4:30 a.m., so he can make the most of his days that are full of learning, studying, and retaining all of the new information associated with becoming a physician.
It's difficult, but he maintains his gratitude for reaching this point.
"I was shot, and I was bleeding, but I wasn't on my death bed," he said. "They got a helicopter, and the doctors were efficient.
"I feel very fortunate to be here." 
*****
Michael Sherrod: Bowling Green Campus Leads Navy Veteran Toward New Career Path
Petty Officer 1st Class Michael Sherrod's final duty before closing his 10-year Navy career was as a recruiter, traveling across the region to teach young, prospective military members about the opportunities the Navy offered.
During that time he became familiar with area colleges like the University of Kentucky and also made plenty of visits to Bowling Green, Kentucky. He appreciated the city for its small-town feel and scenic views, but also its growth and potential.
Now, as he chases a new career path, he calls this place home.
At 40 years old, Sherrod applied to the UK College of Medicine-Bowling Green Campus. During his interview he was introduced to the campus's state-of-the-art facilities and its promising opportunities in medical education, which made him feel that the location would lead him to reach his potential as a physician.
He currently is one of 30 first-year students, and 60 students overall, at the campus that is in its second year.
A career in medicine had always been in the back of Sherrod's mind, given that becoming a doctor runs in his family. His father has been an obstetrician-gynecologist for several years.
Sherrod also saw the career path as another way he could serve his country.
"I think the biggest thing I learned was how much misinformation was out there, and I felt like that might be an issue I could help solve for my community by helping them be informed correctly about health care," he said.
He ultimately joined the Navy first to seek direction after receiving a psychology degree from Emory University in 2000. In the Navy he served as a fire controlman, a job focused on weapons operations. He was in charge of a long-range missile system: its maintenance, loading and unloading, and firing the system. His specialty was the NATO Seasparrow Missile System, and the majority of his 10 years was spent stationed in San Diego onboard the USS Bonhomme Richard, a Marine transport vessel.
His military experience helped him establish leadership and teamwork skills, and the discipline he developed through vigorous training has helped him conquer medical school's challenges. For example, he maintains sharp focus during study sessions, and he is able to push himself to his limits.
In a way, medicine shares the same concept as the military in that he's working to find a solution to a problem. So, the timing of his pursuits proved to be beneficial.
"The time spent traveling the world and having job responsibilities gave me the experience I've always wanted, and the time onboard the USS Bonhomme Richard prepared me for the decision to go back to school and become a doctor," Sherrod said. "I have more patience and resolve now than I did in my 20s, so I know I made the right decision."
After the Navy, Sherrod earned the necessary prerequisites with a biology degree and chemistry minor from the University of Memphis. While it's still early in his journey toward a medical degree, he has been drawn to radiology after shadowing doctors with Med Center Health, Bowling Green Campus's medical partner.
He would cherish the opportunity to stay in Bowling Green or to practice near Memphis, his hometown, when he graduates medical school. No matter where he ends up, he finds it rewarding to be following a passion he always had and proving that it's never too late to do so.
"This is what I've dreamed of," he said.
*****
Sean Thornton: College of Medicine's Northern Kentucky Campus Provides 'Blessing' for Marine
Staff Sgt. Sean Thornton joined the Marine Corps in 2009 for a variety of reasons. He wanted to serve his country. He wanted to continue the tradition within his family. He also wanted to improve himself, both physically and mentally.
He served a combined eight years, five in active duty and three in the reserves, before being honorably discharged as a staff sergeant, a coveted position with responsibilities such as leadership, training, and maintaining an efficient platoon of more than 40 Marines.
Thornton had always wanted to serve in the military, partially because of family influence. His father is a retired Marine, and his grandfather served in the Army. All the while, he also had a dream of becoming a doctor. He was in awe of the mystery, prestige, compassion, and challenges associated with the medical field.
A major, emotional life moment recently led Thornton to make the latter dream a reality.
While he was stationed in Japan, his mother was diagnosed with Nasopharyngeal Carcinoma, a rare type of head and neck cancer that begins in the upper part of the throat. Given its seriousness, he learned very quickly how important it was to have highly-qualified physicians available to treat her. 
"I didn't understand her condition, what could be done or what doctors were saying, so I began to learn," he said. "When the oncologist notified us that the cancer had been eliminated, my entire family was full of joy. It was then I decided to get out and pursue medicine as soon as I could."
Thornton is now a member of the inaugural class of the University of Kentucky College of Medicine-Northern Kentucky Campus, a four-year campus located within Northern Kentucky University offering educational programs that complement those from the main campus in Lexington.
The campus opened this fall and is only in its first few months, yet Thornton already enjoys its close-knit feel. With just 35 medical students in the class, opportunities are available for one-on-one interaction with faculty.
Thornton had already become familiar with the medical field after working as a patient transporter at St. Elizabeth Healthcare while he earned his undergraduate degree. The hospital also happens to be the University of Kentucky's medical partner that helped make the Northern Kentucky Campus possible. Students like Thornton who attend the campus have opportunities to learn alongside St. Elizabeth Healthcare's team of doctors, nurses, and other medical professionals.
"I really enjoyed my time there working as a transporter," Thornton said. "I would love to continue there as a physician."
Returning to St. Elizabeth Healthcare would mean being closer to his family, and after traveling across the world in the Marines – to California, Thailand, Japan, Afghanistan, and more – that proximity to his hometown is one of the biggest advantages of attending medical school in Northern Kentucky. He calls it a "blessing" because he can be available to assist his mother on short notice.
When Thornton needs some extra motivation in medical school, he keeps his mother in mind. He knows for sure that he wants to play a role in helping improve the health care system, and he wants to help others, just like the doctors who helped his mother through her cancer battle.
The skills he has developed from both the military and medical school will allow him to do that.
*****
Eric Stedje-Larsen and Ryan Phillips: Navy Officers Find Bond as 'Wildcats'
Capt. Eric Stedje-Larsen, MD, and Cmdr. Ryan Phillips, MD, had worked with one another in the Navy for years, but on opposite sides of the country, Stedje-Larsen on the east coast in Portsmouth, Virginia, and Phillips on the west coast in San Diego. It wasn't until last May that they met in person while attending a training in California.
That's when they learned they had something significant in common – they're both graduates of the University of Kentucky College of Medicine.
Stedje-Larsen graduated in 1997, while Phillips graduated in 2006, so they never crossed paths in medical school. But with their professions in the military so specialized – they're the only two program directors for an Accreditation Council for Graduate Medical Education (ACGME) Pain Medicine Fellowship with the Navy – their shared experience was a rather remarkable discovery.
"That's the thing about Wildcat fans," Stedje-Larsen said. "We find each other."
Phillips had been a part of Big Blue Nation all of his life, having grown up in Lexington as a UK fan. He earned his undergraduate degree just 16 miles away at Asbury University and took the opportunity to work at one of UK's immunology labs during those summers, which allowed him to become familiar with the UK campus. 
"I never really considered going to a different medical school after getting that research experience as an undergrad," Phillips said. "I liked the campus, and I enjoyed the faculty, so it was a very natural flow to go to UK for medical school."
Phillips's original plan was to become a trauma surgeon. It wasn't until his residency when he was drawn to pain medicine.
"I didn't want to be that surgeon who's not sure that's what he wants to do," Phillips said. "During my residency I had opportunities to work with other specialists, and I learned that pain medicine was the path I wanted to follow."
Stedje-Larsen also pursued his undergraduate degree in Central Kentucky, attending Transylvania University. Though he didn't grow up in Lexington, his college experience helped him fall in love with the city, so he stayed there for his medical education.
"I didn't know anything about this when I signed up," Stedje-Larsen said. "My assumption was I would have a job. I thought, 'How bad could it be?' Medical school was the same way. I saw people being accepted, and I go, 'Well, how bad could it be?'"
Both Dr. Phillips and Dr. Stedje-Larsen took advantage of the Health Professions Scholarship Program (HPSP) to help with expenses, such as tuition and living costs, for medical school. Now, they serve as specialty leads for the Navy for complex chronic pain patients, and they find the field to be very rewarding.  
Their specialty becomes particularly important and timely – and maybe more complex – amid current issues such as the national opioid crisis. Stedje-Larsen said he's able to share his expertise across the Navy through video teleconference so that physicians, physical therapists, pharmacists and more can work together to establish personalized plans to help patients struggling with pain and addiction. 
"Our role in trying to curb opiate abuse is to help reduce the need for opiates. That's our focus," Stedje-Larsen said. "Poorly managed pain is everywhere, and I think we both enjoy our expertise because our specialization allows us to help those who are so vulnerable in these struggles."
During their time with the Navy, the two UK College of Medicine graduates also traveled to several countries caring for uniformed armed forces members, retirees, and dependents. Stedje-Larsen completed a year in Guantanamo Bay and went to Iraq in 2004 as part of a combat support unit. Phillips has been an anesthesiologist in Japan and was deployed in Afghanistan.
"The opportunities the Navy has given me have just been amazing," Phillips said.
And with their current positions as program directors for the pain medicine fellowship, they're training the next generation in a variety of specialties including neurology, family medicine, psychiatry, emergency medicine and physical medicine and rehabilitation.
They agree pursuing pain medicine in the military was the right path for them. It's even better now knowing they have a fellow Wildcat to turn to.
*****
Lance Cpl. Benjamin Shaw:  From Rocket Launchers to Alzheimer's Research
For Lance Cpl. Benjamin Shaw, enlisting in the military was almost inevitable. Dedication to serving the country ran in his family.
Something else was also a significant part of his family history: autoimmune disorders. More specifically, rheumatoid arthritis and multiple sclerosis, a disease that affects the central nervous system. Also, his wife has autoimmune hepatitis. Seeing the effects of these disorders firsthand is what prompted Lance Cpl. Shaw to seek training in science, hoping to someday utilize his passion for helping others through research.
Now, he's a veteran who served three years in the Marine Corps and a current PhD candidate with the University of Kentucky College of Medicine Department of Physiology.
In the military, Lance Cpl. Shaw was an infantry explosives specialist, which involved using rocket launchers for antitank operations and making breaching charges using C4. During his time in the military, he also gathered knowledge in sciences, undergoing training in basic physiology and pharmacology.
After he left the Marines in 2013, he finished his undergraduate and secondary education at Eastern Kentucky University.
"I learned more about biomedical research and how what I learned in lectures can apply to a research lab, then translate to real-world impacts on disease treatments," he said.
He is currently in his fourth year of the UK College of Medicine's PhD program in physiology, studying the effect genetic differences have on immune cell function related to Alzheimer's disease risk. Much of his day is spent in a research laboratory, using cell culture models and human samples from the Alzheimer's Disease Core to understand the mechanisms.
He works closely with Steven Estus, PhD, professor of physiology who works in the Sanders-Brown Center on Aging. Dr. Estus's laboratory focuses on Alzheimer's research, seeking to understand the mechanisms underlying the disease and utilizing the findings to discover new means of disease prevention and treatment.
"My favorite part of biomedical education here at UK is the interactions between different disciplines," Lance Cpl. Shaw said. "I've worked on exciting projects I never thought would interest me. The opportunities for collaborations afforded by the UK College of Medicine are incredible."
His goal after graduating is to run his own laboratory and research the autoimmune disorders that have impacted his family.
The University of Kentucky is increasingly the first choice for students, faculty and staff to pursue their passions and their professional goals. In the last two years, Forbes has named UK among the best employers for diversity, and INSIGHT into Diversity recognized us as a Diversity Champion four years running. UK is ranked among the top 30 campuses in the nation for LGBTQ* inclusion and safety. UK has been judged a "Great College to Work for" three years in a row, and UK is among only 22 universities in the country on Forbes' list of "America's Best Employers."  We are ranked among the top 10 percent of public institutions for research expenditures — a tangible symbol of our breadth and depth as a university focused on discovery that changes lives and communities. And our patients know and appreciate the fact that UK HealthCare has been named the state's top hospital for five straight years. Accolades and honors are great. But they are more important for what they represent: the idea that creating a community of belonging and commitment to excellence is how we honor our mission to be not simply the University of Kentucky, but the University for Kentucky.