Students, Postdocs and Faculty Present Latest Findings at Markey Research Day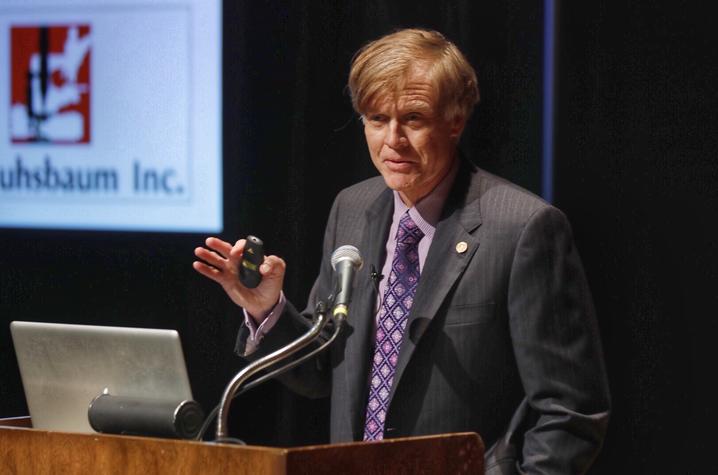 LEXINGTON, Ky. (May 11, 2018) — The University of Kentucky Markey Cancer Center recently held its ninth annual Markey Cancer Center Research Day, highlighting the work of UK students, postdoctoral fellows and faculty from the past year.
Research Day provides an opportunity for investigators to showcase their work and also view the work of their colleagues across the campus. Markey researchers are housed all across the University, spanning eight colleges and 28 departments.
This year's event featured 142 posters and oral presentations from a graduate student, postdoctoral fellow, two medical fellows, and a junior faculty member. The afternoon's faculty oral presentations comprised six research program overviews from Robin Vanderpool (Community Outreach and Engagement), Chunyan He (Cancer Prevention and Control), Rina Plattner (Cancer Cell Biology and Signaling), Dr. John D'Orazio (Genomic Instability, Epigenetics and Metabolism), Jill Kolesar (Drug Discovery, Delivery and Translational Therapeutics), and Kathleen O'Connor (Cancer Research Career Enhancement).
Following the faculty presentations, Evers presented his annual State of the Cancer Center Address, highlighting major accomplishments from Markey over the past year.
This year's Susan B. Lester Memorial Lecture was presented by Dr. Nancy E. Davidson, director and member of the Clinical Research Division and senior vice president at Fred Hutchinson Cancer Research Center in Seattle.
Several faculty were honored for their work. Sally Ellingson and Kathleen O'Connor each received this year's $50,000 research grant from the Markey Cancer Foundation's Markey Women Strong program, and the Kentucky Center for Smoke-free Policy recognized Dr. Tim Mullett with a namesake award to honor his excellence in lung cancer prevention.
Poster awards were presented in two different categories - basic science and clinical/translational science - for both graduate and postdoctoral fellows.
OVERALL BEST POSTER
Poster #45, presented by Julia Schulz

A Mouse Glioblastoma Model to Study New Therapeutic Strategies
BASIC SCIENCE – GRADUATE STUDENTS
SECOND PLACE
Poster #7, presented by Nathalia Araujo

Uncoupling the effect of Par-4 loss and obesity on breast tumor growth and metastasis
FIRST PLACE
Poster #30, presented by Kaidi Wang

Investigation of targeted PI3K inhibition in KRAS mutant and wild type colorectal cancer cell lines
BASIC SCIENCE – POSTDOCS
SECOND PLACE
Poster #41, presented by Monica Chau

Microenvironmental homing of glioblastoma stem cells in the brain
FIRST PLACE
Poster #26, presented by Yangan Wen

The mitochondrial retrograde signaling regulates cancer stem cell function to promote tumorigenesis in colon cancer
CLINICAL AND TRANSLATIONAL SCIENCE – GRADUATE STUDENTS
SECOND PLACE
Poster #142, presented by Carolyn Jordan

Investigation of controlled release curcumin-conjugated poly(beta-amino ester) microparticles for the treatment of radiation induced oral mucositis
FIRST PLACE
Poster #32, presented by Paras Vora

Using artificial intelligence to facilitate eye disease detection
CLINICAL AND TRANSLATIONAL SCIENCE – POSTDOCS
SECOND PLACE
Poster #86, presented by Dan Nichols

Pharmacologic potential in advanced cancer patients
FIRST PLACE
Poster #31, presented by Brian Burgess

A novel approach to PARP inhibitor resistance