Twenty Years Later, the Legacy of Jarrett Mynear Rolls On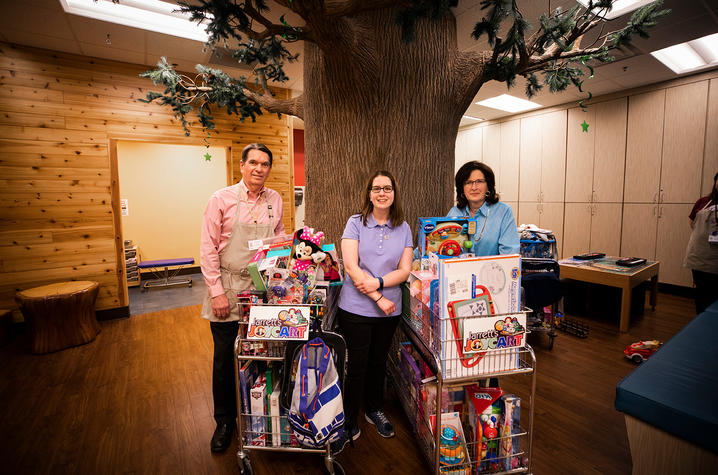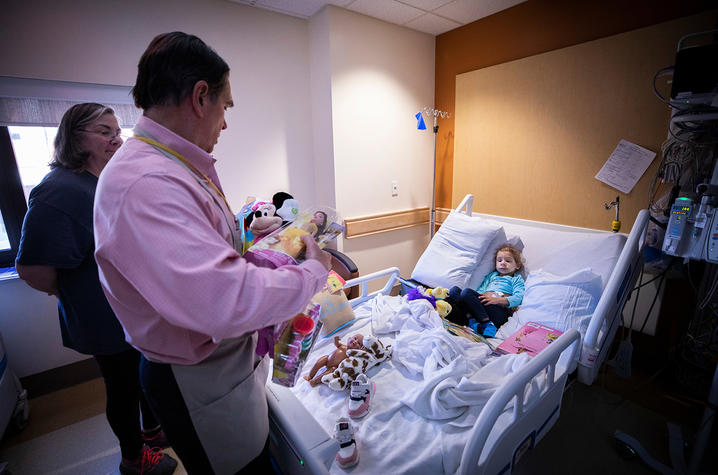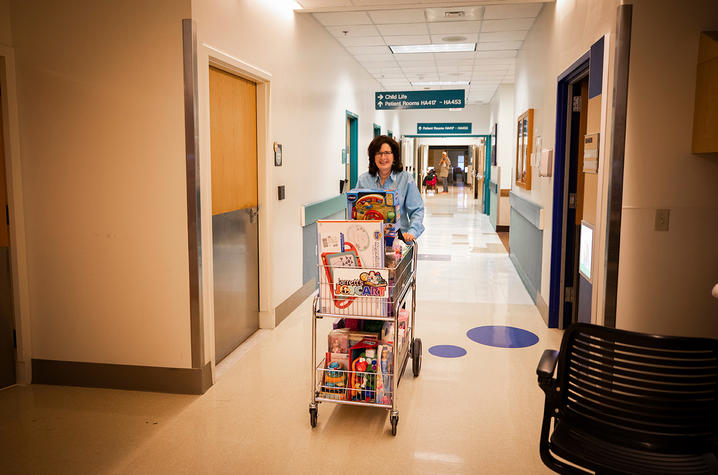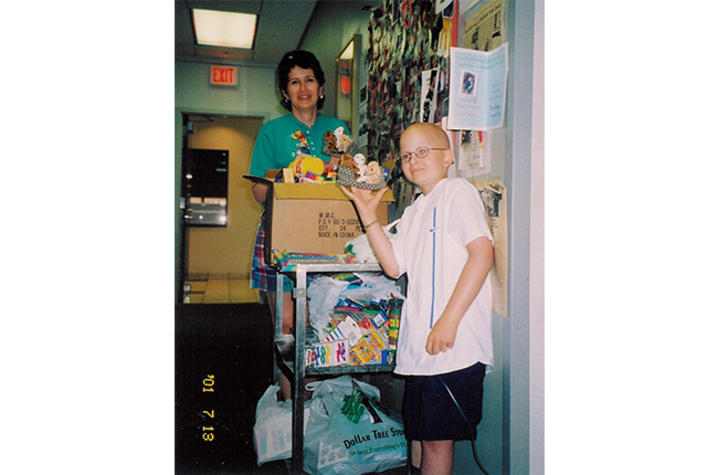 LEXINGTON, Ky. (April 12, 2019) – It's a Tuesday evening at Kentucky Children's Hospital, and Doug Mynear rolls a cart filled with toys down the hall. He stops outside a patient's room and consults his list. The patient inside is a four-year-old girl named Marie. From his cart of toys, Doug selects a princess doll, Minnie Mouse and My Little Pony. Marie, who looks so small in her hospital bed, lights up when Doug comes in.
"My name is Doug," he says cheerfully. "I brought the Joy Cart. Would you like to have one of these toys?"
Ecstatic, Marie chooses the My Little Pony whom she immediately names "Pony". Doug bids her a friendly goodbye, and goes back into the hall where his wife Jennifer and daughter Claire are waiting.
For the Mynears, this has been their ritual, every Tuesday for the last 20 years. The Joy Cart is the legacy of their son Jarrett, who gave toys to children at Kentucky Children's Hospital when he himself was a patient.
Diagnosed at age two with an aggressive bone cancer called Ewing's Sarcoma, Jarrett spent most of his life in and out of various hospitals and clinics. From extended hospital stays to daylong chemotherapy sessions, Jarrett knew firsthand not just the fear and anxiety of treatments, but the extreme boredom that came with treatment. While at a hospital in Seattle for a stem-cell transplant, some volunteers came by Jarrett's room with a cart full of toys. In his book, "The Boy Who Delivered Joy," co-anchor of Lexington TV station Fox 56 news and Mynear family friend Marvin Bartlett described the pivotal moment when the idea was planted in Jarrett's head. The volunteers made the rounds every Friday, and Jarrett was there long enough to see them three times. Their visits not only provided him with a much-needed distraction, but it gave him something to look forward to. Jarrett thought his fellow patients at Kentucky Children's Hospital could benefit from such a service. Jarrett's Joy Cart was born.
Jarrett got straight to work. He networked with local business owners and received donations of toys and money. He used the shopping sprees gifted to him to stock the Joy Cart. His generosity made him something of a celebrity; he made five appearances on the "Rosie O' Donnell" show and taped a segment for Oprah. He visited the White House, where he not only met President Bill Clinton, but got to walk the President's dog, Buddy. He traveled across the country, accepting awards, giving speeches and advocating for his fellow patients. All while battling the cancer that kept coming back.
On Oct. 4, 2002, Jarrett succumbed to his disease. Shortly before he died, he made a list of things he wanted to accomplish before his death as well as what he wanted his parents to do after he was gone. On the list was a simple five-letter phrase: keep the Joy Cart rolling.
The 20th anniversary of the Joy Cart is 2019. His parents, sister and an army of volunteers keep Jarrett's legacy alive by delivering toys to every patient in KCH, not just the oncology patients. But Jarrett's influence did not end there.
Within weeks of Jarrett's funeral, the Jarrett Mynear Fund was established to raise money for improvements for the oncology clinic and The Holiday Store, described as "the Joy Cart in reverse" which allows patients to shop for holiday gifts for their families. Soon other Joy Carts popped up in hospitals around the country. Children used their birthday parties as toy drives for the Joy Cart. One patient started a tailgate toy drive at UK football games. Another sold her art work and raised money at yard sales and donated over $4,000 to the fund. In 2006, Jennifer teamed up with the University of Kentucky Office of Philanthropy and the UK student body to create DanceBlue, an annual 24-hour dance marathon that has since raised over $13 million dollars for pediatric oncology treatment and research and founded the DanceBlue Hematology/Oncology Clinic at KCH.
The Mynears are far from finished. Through the Jarrett Mynear Fund, they gave $10,000 toward the health education center at KCH. They purchased a 55" table tablet for the older KCH patients. In each pediatric specialty clinic at UK HealthCare, they provide a "treasure box" from which each patient can choose a prize after treatment. In the Makenna David Pediatric Emergency Center, young patients are given a Joy Cart branded backpack filled with age-appropriate games and toys. The newest purchase is a $17,000 sanitizing machine that can sterilize the clinic's toys, books, games and crafts to 99 percent in just 30 minutes. The list of contributions goes on.
"What we hope to do is have more of a program impact," said Jennifer. "We'll continue to do things we're doing at the grassroots level, because at this point we've seen over 45,000 patients, not counting the tens of thousands touched with the treasure box items in the pediatric specialty clinics and bags in the emergency department. I want to make sure that we keep doing what we do well and that we honor the mission of our donors and that we also try to have more of a solid impact financially, whether through endowments or purchasing large items."
The newest venture is one that is close to the Mynears' hearts. The Jarrett Mynear Fund established a $125,000 endowment to establish a sibling support program in KCH's palliative care service. Often during a child's illness, so much of the parents' time, energy and attention are diverted away from their other children. Jennifer cites her daughter Claire as an example.
"We had to schedule our c-section around Jarrett's chemo," said Jennifer. "Claire lived the first 10 years of her life getting shuffled from pillar to post among friends during Jarrett's treatment. Then there's the planned chemo, the radiation, the surgeries, the hospital stays. We've seen thousands of patients and the impact it has on the siblings."
The Mynears are working with Dr. Lindsay Ragsdale and the Kentucky Children's Hospital Pediatric Advanced Care Team to provide materials for families to help their other children understand and cope with their sibling's illness.
"Dr. Ragsdale wants to provide materials and start support groups for the kids, not just the ones that are losing or have lost a brother or sister, but those who have a sibling who is facing a traumatic situation," said Jennifer.
The legacy of Jarrett Mynear has touched tens of thousands of lives. Jennifer remembers numerous instances of meeting former patients who received toys from Jarrett, nearly all of whom can remember exactly what toy they got from the cart. More importantly, they remember how Jarrett made them feel.
In an interview, Jarrett said, "It's not about toys; it's about giving children something to look forward to."
"Jarrett was right," said Jennifer. "It's not about the toys, it's about connecting with people."