UK Anticoagulation Clinic Provides Curbside Clinic Visits for Patients Taking Blood Thinners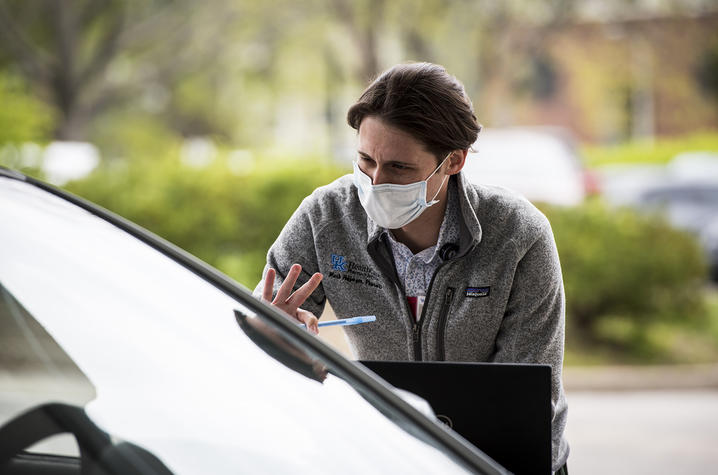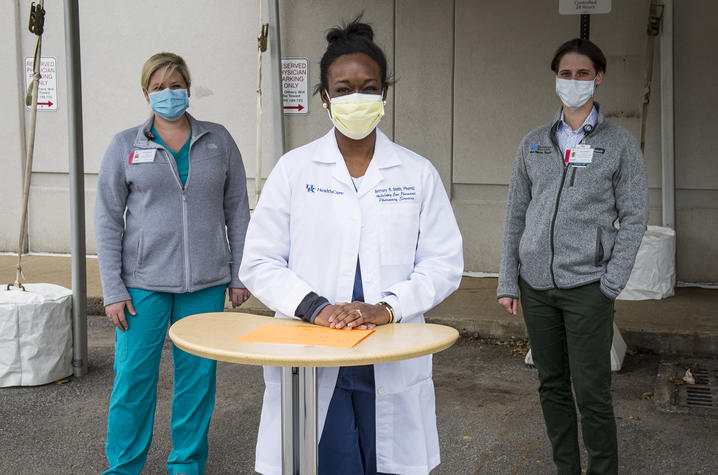 LEXINGTON, Ky. (April 29, 2020) – To keep patients safe during the current COVID-19 outbreak while continuing to provide necessary care and monitoring, the UK Anticoagulation Clinic has created a curbside option for clinic visits.
The UK Anticoagulation Clinic provides safe, convenient and effective outpatient management of warfarin (brand name Coumadin) therapy for patients receiving care from a UK Healthcare provider.
Anticoagulation therapy helps prevent blood clots. It is also often described as a "blood thinner." This therapy may be prescribed to help treat and/or prevent a serious blood clot or stroke.
These medications can be life-saving, but without careful monitoring by medical professionals, they can also dangerous. If levels of the medication are too high, there is an increased risk of bruising and bleeding; if levels are too low, the patient is at greater risk of blood clots or stroke.
 The UK Anticoagulation Clinic provides full-service monitoring and medication management tailored to each patient's therapy needs. There are about 300 patients currently enrolled in the clinic. Most are seen weekly over the first six weeks they are on the anticoagulant therapy; all will require regular monitoring while they remain on the medication.
The clinic is staffed by Mark Huffmyer and Brittany Smith, trained clinical pharmacists skilled in managing anticoagulation therapy. They are aided by medical assistant Danielle Snellen.
On Monday, April 13, the team began seeing patients under a tent in the parking lot of the UK Good Samaritan Medical Office Building on Maxwell Street in Lexington. 
"The curbside model allows us to still provide our patients with the care they need from us while maintaining a safe distance and decreasing exposure for patients," said Huffmyer.
During a curbside visit, patients do not have to get out of their vehicle at all, which allows for protection for the clinic staff as well.
So far, patients overall have been pleased with the extra effort.
"I just love this. It makes me feel really safe," said Lorraine Love, who has been a patient with the clinic for several years. "I feel like you all are doing everything you can to keep me away from this virus."
"The curbside visits are only a temporary response to the COVID-19 pandemic, but we have had several patients already request that we continue this model indefinitely," Smith said. "Some of our mobility-impaired patients (those in wheelchairs, on crutches, etc.) have been some of the most grateful."
Many of the clinic's patients are at high risk for complications of COVID-19 because of existing heart or lung conditions, and most are over 65.
"Anything we can do to reduce their exposure to the virus is invaluable," Huffmyer said.
The clinic is open Monday-Friday and is an option for any UK HealthCare patient who has been prescribed an anticoagulant. Interested patients should reach out to their provider for a referral.