UK Board of Trustees approves moving forward with King's Daughters becoming part of UK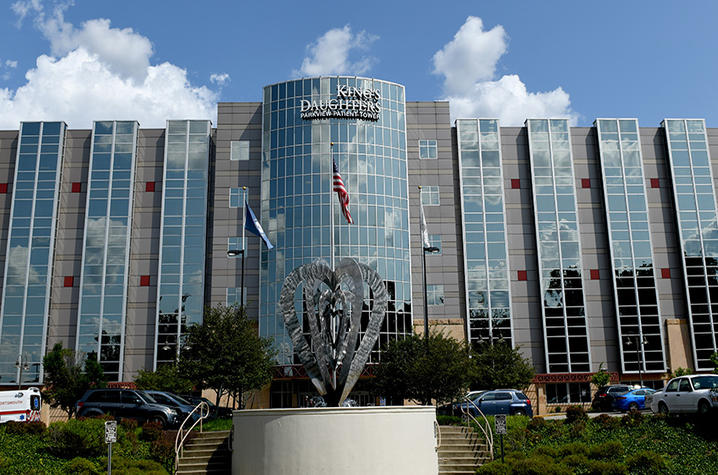 LEXINGTON, Ky. (Oct. 27, 2022) — The University of Kentucky Board of Trustees approved proceeding with plans later this year for Ashland-based King's Daughters (KD) to become part of UK – a move that will create greater access to high-quality care for more Kentuckians.
"Our vision is for the University of Kentucky to advance the Commonwealth in everything that we do. The health and well-being of our people is critical to that vision," said UK President Eli Capilouto. "King's Daughters and its team will help UK move this vision forward in Eastern Kentucky and the success of this relationship is a testament to the power of UK's work to advance the Commonwealth."
"King's Daughters has been serving the health care needs of Eastern Kentucky, southern Ohio, and western West Virginia for more than 120 years. Expanding the relationship with the University of Kentucky gives me great confidence we are positioning the health system and all its subsidiaries to be stronger for generations to come," said Kristie Whitlatch, president/CEO of King's Daughters.
After working together for the past 18 months as members of Royal Blue Health LLC (RBH), leaders with both King's Daughters and UK believe this next step will significantly expand health services offered to communities while positively driving the economic engine in the region through investments in people and infrastructure. Expanding this relationship so that King's Daughters becomes part of the University of Kentucky will not impact local operations. 
RBH is the company that was established by UK and King's Daughters to facilitate growing the relationship between King's Daughters and UK. Today, the RBH Board, including representatives from King's Daughters, received notice that UK wants to finalize making King's Daughters part of UK HealthCare.
The RBH Board voted unanimously in favor of developing and implementing a plan to finalize this transition.  Now, UK and King's Daughters will seek regulatory approvals and finalize transition documents.
Throughout the relationship, King's Daughters has experienced significant growth in employees and revenues and has begun to build and expand important infrastructure to improve access and care for people in the region.
King's Daughters grows and expands services
At the end of fiscal year 2022, ending Sept. 30, King's Daughters employed nearly 5,000 team members. This has been an increase of more than 1,000 employees since the end of fiscal year 2020.The increased employment is a result of King's Daughters focus on expanding access to care.
This includes:
Continued expansion of Primary and Urgent care facilities. There are now more than 50 King's Daughters facilities throughout the region. 
A new floor on KD's Parkview Patient Tower has opened and is to be used to enhance clinical access and adds 36 new inpatient beds.
A new Sleep Lab was constructed and expanded to 16 rooms serving people age 5 and older.
The Lung Center expanded to 31 exam rooms with additional testing and treatment areas.
A facility upgrade was completed on the Mother-Baby Unit to provide a more modern and comfortable environment.
A new Specialty Pharmacy was added, bringing better access to complex specialty medications and pharmaceuticals.
Construction is beginning this month on new Imaging and Emergency departments (ED). The 44,400 square foot ED expansion will allow KD to better serve the more than 70,000 patients who seek emergency care annually.
Details of the transaction as Dec. 1 approaches
The UK Board approved making King's Daughters part of UK Dec. 1.
The transaction will involve what is known as a "member substitution," which is a common method for bringing nonprofit systems together.
Member substitution, in this case, involves UK (through a subsidiary called "Beyond Blue") obtaining all of the membership rights for RBH.
King's Daughters corporate structure will remain intact. RBH owns King's Daughters now, and RBH will own King's Daughters after the transition. The only difference will be that UK will own RBH.  
About UK HealthCare: UK HealthCare is committed to the pillars of academic health care — clinical care, research and education. Albert B. Chandler Hospital is ranked by U.S. News & World Report as the state's top hospital and is supported by a growing faculty and staff who provide advanced subspecialty care for the most critically injured and ill patients throughout the Commonwealth and beyond. UK HealthCare is more than an enterprise of hospitals and clinics; it is 9,000 people – physicians, nurses, pharmacists and other health care professionals ­– all dedicated to providing the most advanced and effective care available, not just in Kentucky but anywhere.
About King's Daughters: Serving nearly 400,000 residents in eastern Kentucky, southern Ohio and western West Virginia, King's Daughters is comprised of two acute-care hospitals totaling 465 licensed beds; an integrated network of more than 400 physicians and advanced practitioners; more than 50 ambulatory centers and practice locations; a long-term care facility; medical transport company; six urgent care centers; and a child development center. King's Daughters is the region's largest employer, with nearly 5,000 team members providing a broad range of primary and specialty care services, including cardiovascular, orthopedics, oncology, digestive health, stroke/neurology, maternity, and Level 3 neonatal intensive care.