UK Celebrates 10 Years of Markey Research Day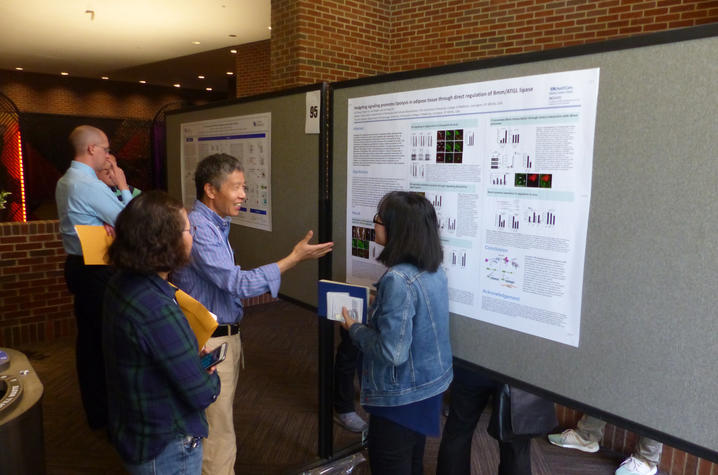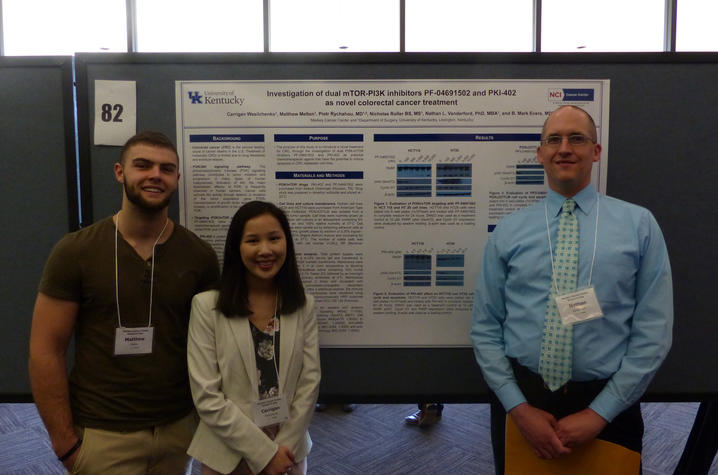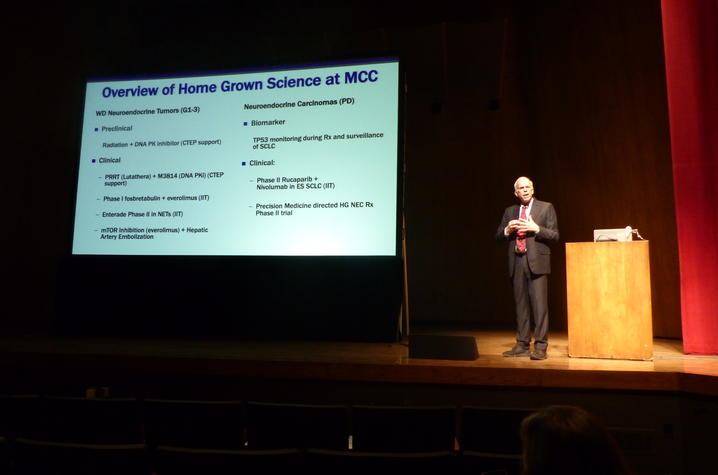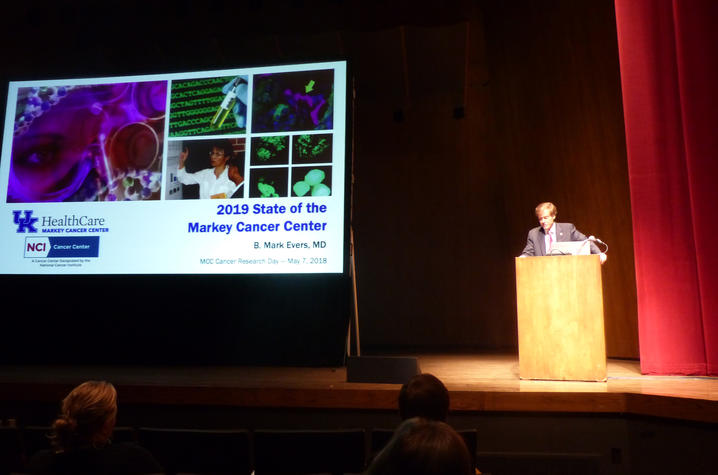 LEXINGTON, Ky. (May 10, 2019) – The University of Kentucky Markey Cancer Center celebrated 10 years of Markey Research Day this past Tuesday. Sponsored by the Markey Cancer Foundation, Markey Research Day is an opportunity for researchers who study any aspect of cancer to share their work and receive feedback from colleagues across campus. Markey's reach extends across 10 of UK's 16 colleges, and the work on display at Research Day showcases the wide variety and diversity of perspectives that fall under the Markey umbrella. 
Nearly 450 people were in attendance at the event, which featured 138 poster abstracts. Many posters are presented by seasoned researchers; however, high school, undergraduate, graduate and postdoctoral students, as well as junior researchers and staff, can submit work and have their poster presentation judged by faculty members.
The morning session included oral presentations by:
Megan Haney, M.D./Ph.D., graduate student - "A Protein Tyrosine Phosphatase 4A3 (PRL-3)/Wnt signaling axis as a novel therapeutic target in Acute Lymphoblastic Leukemia (ALL) relapse"
James R. Castle, Ph.D., post-doctoral fellow - "Estimating breast tissue-specific epigenetic age using next-generation methylation sequencing data"
Tianxin Yu, Ph.D., research associate - "Lung tumorigenesis involves KLF4-regulated lineage of stem/progenitor cells"
Reshma Ramlal, M.D., assistant faculty - clinical track - "Number of Somatic Mutations Is an Independent Predictor of Overall Survival in Acute Myeloid Leukemia"
In the afternoon, three faculty members gave presentations:
Yvonne Fondufe-Mittendorf, Ph.D., UK College of Medicine - "Epigenomic Reprogramming in Response to an Environmental Toxicant to Drive Carcinogensis"
Thomas Tucker, Ph.D., UK College of Public Health – "The Importance of Population-Based Data for Cancer Research and Control"
Lowell Anthony, M.D., UK College of Medicine - "Clinical and Translational Research in Neuroendocrine Neoplasms at Markey"
This year's Markey Women Strong Distinguished Research award was presented by Katie Alford, founding member of the Markey Women Strong program. This $100,000 prize is split between two researchers whose groundbreaking work addresses the cancer burden among women. This year's award was given to Tianyan Gao, professor in the UK Department of Molecular and Cellular Biochemistry, and Eva Goellner, assistant professor in the UK Department of Toxicology and Cancer Biology.
Dr. Mark Evers, director of the UK Markey Cancer Center, gave his annual "State of the Cancer Center" address. Finishing off the presentations, the Susan B. Lester Memorial Lecture was given by Dr. James H. Doroshow, director of the Division of Cancer Treatment and Diagnosis at the National Cancer Institute.​
Markey Research Day concluded with an award ceremony. Winners are:
Graduate Students – Basic Science
Second Place: Gongbo Liang
Abstract #23: "Breast Cancer Classification Using Combined Whole Mammography and Digital Breast Tomosynthesis"
First Place: Nathalia Araujo
Abstract #100: "Tumor Suppressor Par-4 Regulates Obesity and Mammary Tumor Growth"
Postdocs – Basic Science
Second Place: Carolyn T. Jordan, Bluegrass Advanced Materials, LLC
Abstract #12: "Curcumin-Conjugated Poly(beta-amino ester) Microparticles Barrier Rinse Promotes Suppression and Healing of Ulcers in a Radiation Induced Oral Mucositis Hamster Model"
First Place: Jacqueline Rivas, PhD
Abstract #55: "Enhancing anti-tumor immunity and responses to immunotherapy by reversing interleukin-10 mediated immunosuppression in chronic lymphocytic leukemia"
Graduate Students – Clinical Science
Second Place:  Gabriella E. Puleo
Abstract #50: "A Mixed Bag of Challenges: A Qualitative Study of Barriers to Smoking Cessation after Cervical Cancer Diagnosis"
First Place: Tia Borger
Abstract #107: "Cancer Patients' Tobacco Use, Readiness to Quit, and Help Seeking Behavior: Early Implementation Outcomes from the Markey CARES Tobacco Treatment Program"
Postdocs – Clinical Science
Second Place: Zin Myint, M.D., Fellow, UK Hematology/Oncology
Abstract #53: "Number of Somatic Mutations Is An Independent Predictor of Overall Survival in Acute Myeloid Leukemia."
First Place: Richard Lee O'Neal, M.D., Fellow, UK Oncology
Abstract #44: "Rechallenging with immune checkpoint inhibition after a treatment-limiting immune-mediated adverse event."
Overall Winner:
Tianxin Yu, Ph.D., Research Associate, Molecular and Cellular Biochemistry
Abstract #90: "Lung tumorigenesis involves KLF4-regulated lineage of stem/progenitor cells"
Shared Resource Facility Award:
Jieyun Jiang, Ph.D., Research Faculty, Microbiology, Immunology & Molecular Genetics
Abstract #10: Role of transcription factor zinc fingers and homeoboxes 2 (ZHx2) in diethylnitrosamine (DEN)-induced liver cancer development