UK College of Dentistry Doctor Named Kentucky Oral Health Champion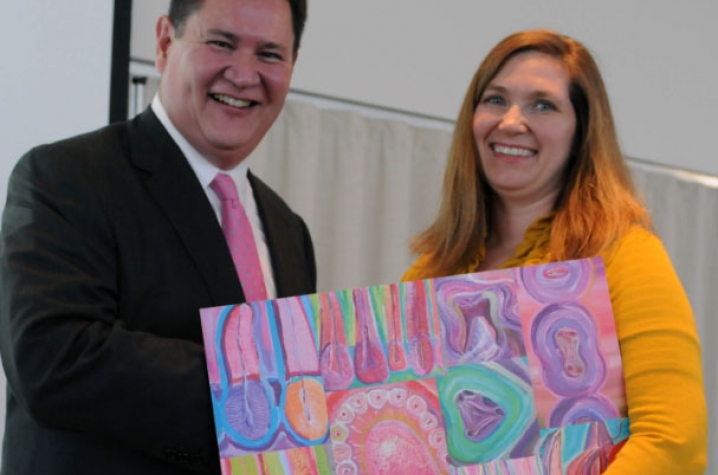 LEXINGTON, Ky. (Dec. 22, 2015) - The Kentucky Oral Health Coalition (KOHC) has named University of Kentucky College of Dentistry (UKCD) faculty member Dr. Laura Hancock Jones a Kentucky Oral Health Champion. Jones received the inaugural award at the November Kentucky Oral Health Summit, the first statewide oral health summit in nearly four years.
As part of the UKCD Department of Public Health Dentistry, Jones currently works at the UK Dan A. Martin MD Dental Clinic and Dental Outreach in Madisonville, Ky.
"I am honored to be rewarded by my peers for my commitment to improving the oral health experience in our state. Tremendous gains are possible when those invested in common goals come together," said Jones. "The growth of the Kentucky Oral Health Coalition has been tremendous over the last several years, and I am glad to see that so much is being accomplished through the work of the KOHC."  
Described by colleagues as "a connector of people, concepts, and ideas," over the years she has been involved in numerous efforts working to care for low-income residents of western Kentucky. In addition to her many local efforts, Jones has served on the KOHC, the Foundation for Healthy Kentucky Community Council, and the American Network of Oral Health Coalitions.
"My work in dental outreach focuses on stopping oral infections before they start, managing those children who are experiencing dental disease, and to help families connect with dental homes. I feel compelled to be an advocate for my patients and to help the communities we serve improve their oral health knowledge," said Jones.
"The Kentucky Oral Health Coalition honored three very special people — true Kentucky Oral Health Champions. Each of these people have put hours upon hours into making Kentucky the best place to live, be healthy, and grow up successful," said Dr. Nikki Stone, former KOHC chair and UKCD faculty member and director of the Eastern Kentucky Ronald McDonald Care Mobile.
Fellow Kentucky Oral Health Champion Award recipients included Governor Steve Beshear, for putting oral health on the radar, and former State Dental Director and past UKCD part-time faculty member Dr. James Cecil, for his efforts as a key leader in both iterations of Kentucky's oral health coalitions.
In speaking on what fuels Jones' passion, she said, "Our team has seen a tremendous drop in oral health needs through our partnership with several school districts in Western Kentucky. One partnership in particular has seen a great reductions in the number of children experiencing decay. The school based program in the Dawson Springs Independent School system has seen in a drop of early/urgent needs from 41 percent down to 23 percent. Over 50 children became cavity free due to the care delivered on site and ready to learn as a result of the partnership."
Media Contact: Ann Blackford at 859-323-6442 or ann.blackford@uky.edu